This membership training course includes:
30-Day Money-Back Guarantee
The thing in life and poker is that success always leaves tracks. If you want to achieve something, there's many people who have gone the same path as you're about to take. Why not learn from them instead of making mistakes and learning everything the hard way?
Let's say that you wanted to become a great tennis player. It would be a huge advantage to have Roger Federer as your coach. But, as you know, Roger isn't available to almost anybody. Same goes for becoming the best investor ever known. Warren Buffett would likely decline your request to become his apprentice – or even more likely, it would be almost impossible to reach him.
Things are different with poker though. Some of the best poker players in the world, who have been massive winners for +10 years at high stakes poker, are teaching the game for any aspiring poker players. They don't even charge you massive amounts of money for that! One of these high-level poker players is Doug Polk, a big winner in No-Limit Texas Hold'em games. His poker training site called Upswing Poker has produced a Poker Lab for teaching you all the essential poker strategies to start crushing the game. By creating an Upswing Poker review, we want to help you to make a decision whether this poker training program is worth your investment and time.
Upswing Poker Lab is designed to turn beginners into winners at micro or low stakes online tables in a matter of a few months. You can apply this knowledge to make money playing poker at your local casino as well, for example full-ring $1/2 No-Limit Hold'em. The point is, what you'll learn if you study through the materials of Upswing Poker Lab, will be enough to beat +80% of poker games offered online and live. In fact, thousands of members have already studied poker this way to become crushers!
Sound good? Let's dive into the contents of Upswing Poker Lab to see what the different modules in it are and how you can benefit from purchasing:
Learning Modules created by elite players
All the Upswing Poker Lab Modules are created by established professional poker players. Poker pros like Ryan Fee, Fried Meulders, Dan Ott, Daniel DANMERR Merrilees and Parker Talbot aka tonkaaaap have added both theory & play and explain videos for you to learn from. Thanks to active coaches, the poker course is updated regularly with new video content and strategy advice. This way you'll always stay on the top of the latest winning strategies you can use at the tables.
Whether you like cash games or poker tournaments, Upswing Poker Lab has you covered. The Poker Lab contains guides for Texas Hold'em and Omaha cash games as well as tournaments. Strategies and tips are explained by the Upswing Poker pros in a way that can be grasped easily by your Average Joe. Learning poker is not rocket science after all! What you need is the right knowledge and enough practice both outside the tables & at the tables.
The poker training course is most suitable for players who want to improve their poker skills in No-Limit Hold'em and perhaps to make some extra money by playing at online poker rooms. Let's review the contents of the Poker Lab more in detail so that you know what to expect during studying:
As any good learning class, the Lab starts from the basics and fundamentals of poker strategy. Later on, it builds towards more advanced concepts. With online learning content like the Upswing Lab, you can always go back to the previous section that you want to rewatch or skip ahead if you're an advanced player or a poker pro.
Here's some examples of sections found in the Lab Core Strategy:
In total, 30 different poker topics are covered here with lessons and videos. Taking these lessons are important steps to becoming a winning poker player and beating your opponents.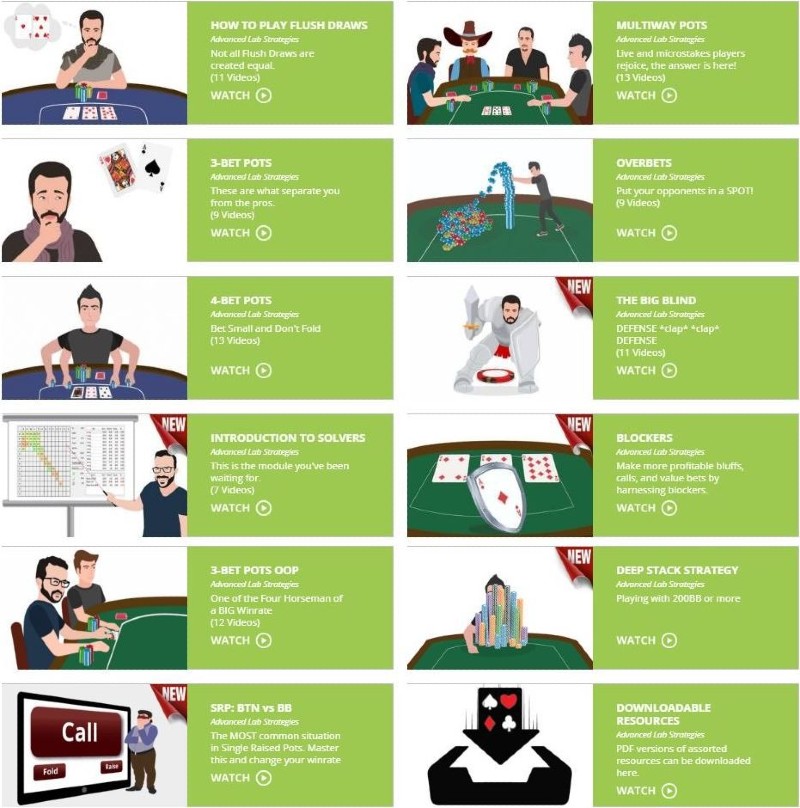 Advanced Lab Strategies dives deep into the finer details of No-Limit Hold'em. In this section, you'll learn more about multiway pots, playing as the aggressor, deep stack poker strategy and how to play flush draws. Concepts like overbets and blockers are discussed in great detail as well.
One of the featured Upswing Poker coaches in the section is Fried Meulders. Known as 'mynameiskarl' at the online felts, Meulders is a long-time winner on PokerStars $1/2 & $2.5/5 Zoom. Another coach presented here is Jason McConnon, who has produced great content on check-raising from the Big Blind in single-raised pots.
In all sections of the Advanced Lab Strategies, you'll find both hand examples and poker solver analysis of different board types. One particularly useful section for many poker players is the Deep Stack Play which is taught with 12 videos. After watching these clips, you'll no longer be lost in situations where the effective stack sizes reach +200 Big Blinds!
Multi-table tournaments (MTTs) have long been the most popular format of online poker. The idea of winning a significant amount of money with just a moderate buy-in is very attractive to both recreational players and tournament pros alike. You can fire up a few tables of poker tournaments of your preferred stakes on your desktop or laptop while relaxing on your sofa on the weekend. Having such comfort and convenience can be said from a very few activities!
The MTT section of the Upswing Lab starts with preflop ranges i.e. which starting hands to play. There are very clear explanations of how ranges work in poker tournaments and how they are different to ranges used by cash game players. Good examples of concepts covered in this section include:
Postflop play is covered by Upswing coach and tournament crusher Moritz Dietrich. You can also find over five hours of Upswing Lab Member's Tournament Reviews, which is great for discovering common leaks players have. This training material can help you in eliminating your preflop mistakes and improving your bet sizes. This video series is created by Doug Polk and Ryan Fee.
Live poker is a great way to start practicing poker while having a fun & social experience with other poker enthusiasts. While the Lab is primarily focusing on online poker strategies and adjustments, it's great to see that live poker enthusiasts have a whole section dedicated to playing at the casino!
Live poker section consists of 3 different modules containing 20 videos. Concepts covered in these video training lessons include:
Insights in this section are created by Doug Polk, Ryan Fee & Mike Finstein. By applying the poker strategy tips given in this section, you will be well on your way to start winning at the small stakes poker game played at your local casino.
As the name describes, Mini-courses are poker lessons that don't take too much time to study. Here you'll get to analyse hands and improve your red-line play with GTO expert & poker author Matthew Janda.
Examples of mini-courses covered in this section include:
You'll learn poker skills such as how to take down pots without seeing the showdown. Boosting your non-showdown winnings comes down to selective aggression. This section helps you to understand the difference between exploitative poker strategies and GTO. As you climb to higher stakes, being competent in both is extremely important to maintain your poker win-rate.
Here you jump into the minds of the best Upswing Poker coaches. You get to look over the shoulder of Ryan Fee, Doug Polk, Fried Meulders, 'Danmerrrr' and Parker Talbot while they're in action. These video lessons are priceless: You get expert insight from the coaches as they explain each action they take during a hand at the tables.
Both online cash games and tournament play are included in the contents of this section. A wide range of stakes from micro stakes to nosebleeds are played on the videos. This allows you to get right information for your preferred stakes. Similarly to other sections, new video content is added regularly in Play and Explains as well. When you hear poker players of this skill level describe their thought process out loud, there's always something you can learn from their decision-making and implement into your own game.
Upswing Poker Lab Pricing
Taking your poker game to the next level doesn't come free – it has a cost. In addition to your time and commitment to studying poker, there's a monthly membership fee for the resources & training included in this poker training course. You can purchase the Upswing Poker training course with three different payment plans:
Be the best poker player at the table
Get poker strategy that delivers world-class results. With 30-day moneyback guarantee.
Upswing Poker Lab Pros & Cons
Everything in life has its pros and cons – so does the Poker Lab. Here's our take on good and the bad:
Depending on where you are on your poker journey, the Upswing Lab can be a very valuable investment. With the 30-day money back guarantee, it's not that risky to jump on the opportunity – what you might miss out can be more costly in the long-run. If you decide to give it a go, just sign up from the link below and you're ready to start your training with a few clicks.
Upswing Poker Lab Testimonials & Player Feedback
As of 2020, there are close to 4,000 members in the private Facebook group for the Poker Lab members. We saw this group as an excellent place to gather more feedback from the Lab members to complement our Upswing Poker review. Here are a few testimonials written by the Upswing Poker Lab students on their experience with the membership training course:
'Overall, I rate it 9/10. Unlike Cardrunners and RunItOnce, there isn't a bunch of random content by random people with different strategies sprinkled in. It is a highly consistent and comprehensive poker training course – exactly what I was looking for. The best part about the site is that you get access to the Facebook group. There you get to discuss whatever you want and guys like Fee and Joey Ingram actually participate too in this poker community!'
– TheMicroDonk
I love the game of poker, but I struggled to get consistency with my results. I would class myself as an intermediate poker player. I signed up to the Lab for $97 and within 2 weeks my green line was on a consistent upward trend. For me, it was like "ahhh, click" – It gelled with me and showed me how to study the game properly. It is the foundation that I am now building on – and having some pretty decent success, especially in live cash games.
– TiltNStack
'I've been having a different experience with Upswing Poker Lab. Cancelling the service was extremely easy for me, just 2 clicks, and support was responsive. I think the strategy content is good. Also they are honest when promoting it, stating that it's aimed at newer players – IMO they are even selling themselves short in that regard! Obviously, the first month is the most valuable and the pricing reflects that.'
– 999888
Upswing Poker Lab FAQ
Which poker games does the Upswing Poker Lab cover?
The Upswing Poker Lab covers all formats of No-Limit Hold'em, including tournament play, 6-max cash, full-ring cash, Zoom and Fast Forward poker as well as live poker.
Is there a free trial available for the Upswing Poker Lab?
A free trial is not offered, but you can try the Upswing Lab risk-free as it comes with a 30-day money back guarantee. In case you're not satisfied with the content, just contact the support team of Upswing Poker to reverse your payment.
Who are the coaches in the Upswing Poker Lab?
Your coaches in the Lab are Doug Polk, Ryan Fee, Fried Meulders, Mo Dietrich, Daniel Merrilees and Jason McConnon. Each of these coaches have millions of dollars in lifetime earnings at the cash game tables and tournament poker, so you can rest assured you're in good hands!
Does the Upswing Poker Lab contain valuable poker training content for advanced poker players as well?
While the Upswing Lab is mostly targeted for low and mid stakes players, GTO strategies are covered by Matthew Janda's materials. In this sense, there's also value for someone who plays high stakes. If you're already familiar with GTO poker solvers, a better choice would be Upswing Poker's more advanced poker courses, like the Advanced Cash Game Strategy Course with Kanu7.
What is Upswing Poker all about?
Upswing Poker is one of the most popular poker training sites that bring poker courses and tactics from the world's top players to every player. Their comprehensive poker training program includes both free articles & guides like Poker Hand Rankings. In addition, Upswing Poker has created premium poker content to improve your win-rate with courses like the Upswing Poker Lab and Winning Poker Tournaments course with the high stakes crusher Nick Petrangelo.
I want to crush Pot-Limit Omaha, which poker training course should I choose from Upswing Poker?
If you don't want to spend hundreds of hours studying PLO with poker software like solvers, your best choice would be the Advanced PLO Mastery.
How often new content is released for Upswing Poker Lab members?
New content like Play & Explain videos are released every week and a new learning module or lessons are added each month. When you sign-up for the Lab, you can be sure to have the latest strategies of the game available to you!
Are there any bonuses for signing-up?
Yes, you get advanced solver ranges for cash games covering which hands you should play in all different situations. This includes hand range charts for opening, playing vs an opener in position, 3-bet and 4-bet pots plus advanced tournament ranges. You can save tens of hours of solver analysis by using these pre-calculated solutions.
Another bonus you get when joining is the Upswing Poker chart viewer app containing over 240 ready-made hand charts. You get immediate access to these bonuses when you enrol in the Upswing Lab.
Can I cancel my membership or is there a contract I need to commit to?
As a member of the Upswing Poker Lab, you can cancel anytime.
Can you break down what are all the contents I get?
The Lab consists of following content:
74 learning modules covering crucial winning poker concepts
5+ hours of new training content every month
400+ preflop charts for cash game & tournament poker players
Access to private poker group for additional poker strategy help
How do I know Doug Polk and the other coaches are right for me?
If you want to become a winning online cash game or tournament player, the Poker Lab produced by Upswing Poker coaches is a good choice for several reasons. First, they're adding new fresh content & updates every week that goes beyond core strategy. The Poker Lab is one of those poker courses that is always up to date with resources like preflop charts, tips for 3-bet pots, how to bluff and read the table dynamics, how to play different spots as the preflop raiser or caller etc.
Secondly, the poker training course is not limited to one game type. It covers tournament poker strategy like ICM analysis, 6-max and full-ring cash games, Zoom games and adjustments for live poker. Thirdly, each lesson is produced by an established poker coach with millions of hands under their belt. Improving your poker decisions & poker skills with this type of membership training course is much faster than on your own. One of the best features of the Upswing Lab is the 30-day satisfaction guarantee, which essentially removes the risk of trying it out.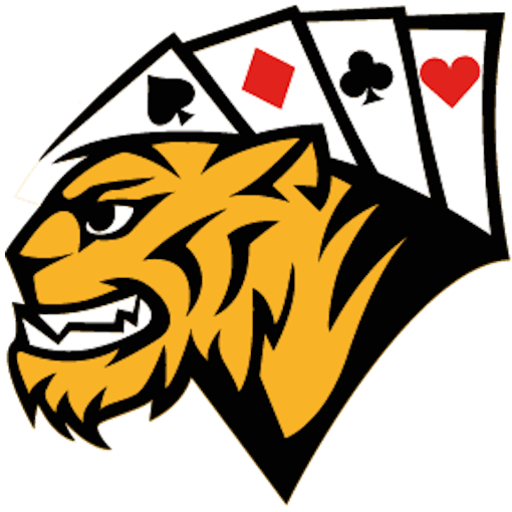 Editorial team curates and publishes in-depth reviews and ratings of online poker sites by using their extensive industry experience. Content is created by both in-house team of experts and outside authority contributors.