Poker streamers have taken Twitch by storm. Twitch started as a streaming platform for video games and has expanded quite a bit to different types of content. Many online poker brands and players are joining the show and putting up weekly or even daily streams. On top of this, Twitch is growing steadily in daily viewers on the platform.
Most players watch poker streams for entertainment. There's a valuable aspect to Twitch poker that gets overlooked by the majority of viewers though – and it's not quite what you would think!
So what's the thing that almost everyone misses about Twitch poker streams? They're simply some of the best training materials available for free. Think about it: You have some of the best poker players in the world showing and explaining their plays for hours on end. Many of them stream several times a week. There's just one conclusion you can draw from this: Twitch is a true goldmine for learning poker from the best players!
That's why we've done some research and gathered the best Twitch poker streams to follow for you. They are the ones you can learn most from – and be entertained at the same time! We also cover the steps you need to take to host your own poker stream and many other important details. Let's dive into it!
The best poker Twitch live streams
The best poker live streams have two things going for them. First, they are fun to watch for all poker enthusiasts. Second, they teach you solid strategies either for tournaments or cash games. Here are the Twitch poker player streams that fill both of these criteria:
Our very own BeastsOfPoker stream of Twitch started in May 2020 and is a relatively new one. Yes, this is totally self-promotional to mention our stream among the best. But we aren't alone with this opinion so this is justified! Here's some feedback we got our viewers recently:
'When is the next stream?! It's irresponsible to get people addicted and stop providing fixes!'
-'OS'
'Nice stream today, guys. Get home safe lol.'
'LIM1TLESS'
'There's only a handful of great poker streams in the world, and this is one of those.'
-'Sampulas'
'Simply the best poker Twitch stream in the world!'
-'nosebleed_xd'
The main heroes of the stream are KingPampo & TheJudas. This power-duo plays high-stakes tournaments & cash games on the stream. At the same time, they're ready to engage with anyone in the chat and entertain you for the whole stream. To accurately describe the stream with words alone is pretty hard a task. To find out if you like their style, just check it out by yourself!
Stats of BeastsOfPoker
Twitch Hours Watched: 411
Twitch Followers: +600
Lex is a familiar name to many poker enthusiasts who watch anything on Twitch. He is a member of Team Online on PokerStars and a high stakes regular in both online and live tournaments. No Limit Holdem tournaments are his main focus, but he throws in Omaha tourneys too from time to time. A citizen of Rotterdam, Lex is a member of Dutch Poker Hall of Fame.
If you had to describe Lex's channel in one word, it would be dedication. On most weeks he streams 5 out of 7 days, giving his best at the tables whether it's a Hot 16.5d or a 10k high-roller tournament. Even though many players know Lex from his appearances in different poker TV shows, Twitch is where his game is at nowadays. Lex was awarded the Streamer Of The Year prize at the Global Poker Awards in 2018.
Stats of Lex Veldhuis
Twitch Hours Watched: +202k
Twitch Followers: +245k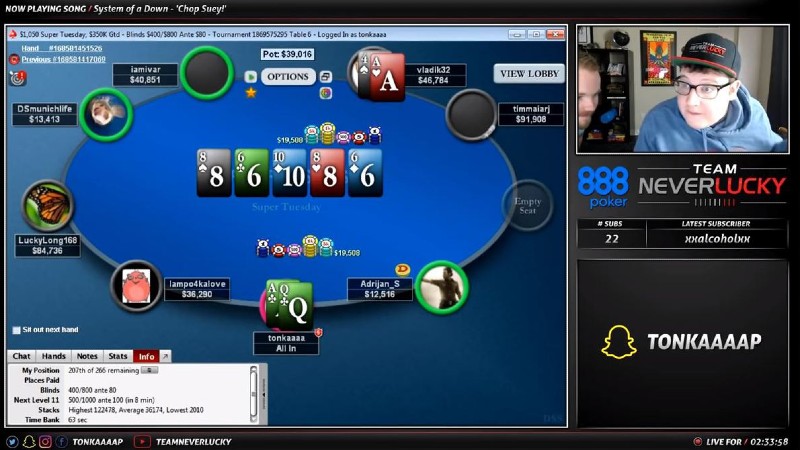 If you've checked for poker videos on Youtube, there's a big chance you've stumbled across Parker's recordings. Parker has got everything needed to run a successful poker stream. We are talking about the skills to win MTTs, the genuine enthusiasm towards poker and an entertaining persona.
Many fans on tonkaaaaP recognize his signature logo of Team NeverLucky. Yet, there's no lack of great tournament runs for Parker. He's won over $3 million in tournament cashes during his career in online poker. Although he doesn't stream as often as he used to, tonkaaaaP is certainly worth following for every poker fan. Oh, and by the way, Buehlero who is also on our list has publicly said that tonkaaaaP is his favorite Twitch streamer!
Stats of tonkaaaaP
Twitch Hours Watched: +19k
Twitch Followers: +100k
Mikhail is a member of PokerStars Team Online from Russia and one of the toughest regulars you can face at the Zoom $2.5/5 tables. Mikhail's poker story is a classic one in the sense that he started playing poker with his friends. He got his starting bankroll of $50 from a poker strategy site and never had to make a new deposit ever since.
Mikhail is a true grinder with a record of over 40k hands played in under 19 hours. He is talented in many other pursuits as well, including musical composition and photography. For native Russian speakers, Innerspy is your best choice by far to learn high-level NLHE cash game strategy on Twitch.
Stats of innerspy
Twitch Hours Watched: +53k
Twitch Followers: +65k
A fellow partypoker teammate to our Beasts Of Poker Ambassador Joni Jouhkimainen, Jeff Gross an active poker streamer from the US. He specializes in tournaments both live and online. Due to his great results of close to $5 million in total earnings, there's plenty of followers on his channel!
His streams are great to watch if you like PLO or NLHE tournaments. Jeff explains his play and strategy on the stream to great detail. Lately, he has had quite a few deep runs and final tables on the stream too. It's not unheard of for Jeff to be playing three final tables simultaneously!
Stats of JeffGrossPoker
Twitch Hours Watched: +65k
Twitch Followers: +20k
Fedor is one of the wonder kids in poker. He rose to the top of the high stakes scene in both live and online tournaments fairly quickly. In the process, he has taken down multiple 7-figure trophies.
He has stated his main motivation in poker being challenging himself to play better every day. He's also grateful for being able to travel the world to compete at the different stakes. Fedor is a big believer in mindset training. Therefore it's no surprise that he has launched an app called Primed Mind for this purpose. He also runs a poker training program called Poker Code.
Fedor sees every hand in poker as an opportunity to learn and grow. If you want to see one of the best tournament players in action, make sure to follow the CrownUpGuy channel on Twitch.
Interesting side note: Fedor likes to set a new theme for his life each year. 2018 was the year of patience, 2019 of narrowing focus and 2020 is a year of courage for him!
Stats of CrownUpGuy
Twitch Hours Watched: N/A
Twitch Followers: +12k
Raise Your Edge aka RYE is one of the most popular poker training sites in the world. We feel they have the same type of values as we do at Beasts Of Poker. For example, take a look at their channel description. It says that poker success of their audience gives them all the motivation. It fuels their ambition to produce high-quality training materials and streams. Benjamin 'bencb789' Rolle is a founder of RYE and sort of their main character. He often streams during big online tournament series like WCOOP, SCOOP and Poker Masters Online.
RYE's stream might not be the most entertaining one, but it has tremendous learning value. The way that bencb789 explains his play during gameplay is plain and easy to understand for everyone. These strategic insights alone you get from him make the stream worth watching. Our conclusion? For tournament players, following RYE on Twitch is a no-brainer!
Stats of RaiseYourEdge
Twitch Hours Watched: +105k
Twitch Followers: +33k
Henri is a long-time German streamer focusing on Holdem tournaments. He is generally an easy-going guy and always seems to have fun playing poker. As a student, Henri realized that university and following other people's advice wasn't the way he wanted to live his life. He decided to go all-in and put all his effort into pursuing a career as a poker player. This bet has definitely paid off for him!
His standard schedule includes streaming 8 hours straight 5 times a week with German accuracy. On top of this, he interacts with his fans on social media and arranges promotions with his sponsors. Here's a quote from Henri regarding his poker philosophy:
'The most important part about poker is to realize that you are just not good at the game and that there's infinite room to improve. Always keep that in mind so you don't get overconfident!'
– 'Buehlero'
Stats of Buehlero
Twitch Hours Watched: +38k
Twitch Followers: +50k
What kind of content poker streamers offer
There's something for every poker enthusiast on Twitch. Some poker streams are geared towards new players, educating them on the basics of the game. Most of these educational streams include tournament play as tourneys are very beginner-friendly. The idea of winning back a 100x or even 1000x from your investment is attractive to all players.
Some tournament streamers also show their progress if you follow them regularly. Challenges like 0 to 10k have been extremely popular among poker players. A few streamers too have taken upon some challenges like this. Watching someone play a tournament all the way to the trophy can be pretty exciting as well.
The ultimate combo occurs when two conditions are met. One, the streamer is entertaining to watch and interacts with their audience. Two, the streamer is a high-level player who provides educational value while streaming. There's nothing better than getting free strategy advice while having fun watching a stream!
"By following Twitch streams, you can get insight from top players' thinking processes. For this, you'd have to pay hundreds of dollars on poker training sites. Entirely free on Twitch – crazy but true!"
-'Arvain', Beasts of Poker -Pro
How to become a Twitch poker streamer
The journey to becoming a full-time Twitch poker streamer takes a lot of hard work and dedication. With the right steps, you'll have a much better chance of succeeding though. Here are the 4 rules you should follow if you want to become a full-time poker streamer on Twitch:
Rule 1. Be consistent with your stream schedule & quality
This rule derives from simple mathematics. The amount of impressions you give your viewers has a bigger impact on the following on your channel than the length of your streams. It's better to have three streams that are 8 hours long on a given week than doing just one that is 24 hours long.
You should apply this rule to the quality of your stream too. Everyone likes to see clear video quality each time they watch a stream. If you stream with your laptop from various spots, you run the risk of the internet connection being too slow or having some other technical issues. Having a single streaming setup gives you the best chances of streaming with consistent quality.
Rule 2. Invest in your streaming setup
Buying the proper equipment for a streaming setup can be quite expensive. Yet, if you try to stream with sub-par hardware, it's likely that some of your viewers might quit watching. There's a lot of high-quality broadcast streams out there in the poker niche. It's hard to become popular if your stream suffers from not having enough bandwidth or performance in your hardware.
The most important things are a PC that has a decent processor and RAM, a good microphone and a webcam. You can get a good webcam with around 30-40 USD as well as a decent microphone. These are not such big investments in case you have a good PC already in place.
Rule 3. Be part of the community
You should follow other streamers too and grow a good network of people who are active in the Twitch community. If you managed to build good relationships with the community, the chances of doing some cross-promotions are very high for you.
Pro Tip: Answer some of the questions from viewers on other channels. If you provide value to the community, people will notice you and eventually turn into loyal followers!
Rule 4. Just be yourself on the stream
One of the reasons that makes poker such a great game is the variety of characters we have in the poker community. People can be very extroverted or introverted. Some get emotional with bad beats and others seem to be emotionally unaffected from running bad. As long as you're being your genuine self, there's definitely an audience ready to follow your adventures. Don't play a character that isn't you!
Extra Rule: Try to run like Usain Bolt!
Let's face it: Twitch viewers love to see deep tournament runs and big final tables. Big tournament runs are probably the most exciting stuff for both your audience and you as a player! Once you get some final tables going on the stream, the viewer count should increase significantly. Meanwhile, there's nothing you can do to affect how well you run during the streams.
Our recommendation here is to stream as many days a week as you can, as that gives you the greatest chance of running good at least once per week. If you manage to make some deep runs during big tournament series like SCOOP or WCOOP, there's no shortage of fans that will follow you on future streams!
How to host a successful Twitch poker stream
If you're hosting a poker stream for the first time, the number of things you need to take into account for your stream can seem overwhelming. That's why we compiled a list of best practices that help you in providing good value for your viewers – here we go:
Tip 1. Organize your layout, HUD, tables and chat in a visually appealing way.
Tip 2. Walk your viewers through your poker thought process & provide educational content to viewers who want to learn poker
Tip 3. Be entertaining & interactive
Twitch Poker Streams FAQs
Who Are Top Poker Streamers to follow on Twitch?
According to statistics from TwitchMetrics, the most-watched poker streams are runitup247, LexVeldhuis, ALLinPav, MattStaples and PokerStars.
Why is Twitch.tv great for poker?
Twitch.tv allows poker players to educate & entertain their viewers in a way that no other platforms can. Twitch makes online poker more social and allows the fans to interact with their favorite streamers. There's also a ton of promotions available for those who want to try their hand at poker after watching a stream.
Who was the first poker Twitch streamer?
While we can't say this for sure, Jason Somerville can be called the Godfather of Twitch Poker. He was the first streamer to build a big community of followers on his channel.
Can I stream poker on Twitch?
Yes, you can! Poker is a very popular game on Twitch and many players have become internet-famous after starting as streamers. You just need to set up your streaming account and you're good to go. Streaming allows you to get into the Twitch partner program. This in turn allows you to generate some extra revenue besides playing poker.
How to live stream poker on Twitch?
Step 1: Download & install Open Broadcaster Software aka OBS.
Step 2: Create a scene
Step 3: Add your gaming source.
Step 4: Add your webcam source
Step 5: Edit your scene to our liking
Step 6: Click 'Edit Scene' to exit the editing mode
Step 7: Log in to a poker client and go live!
How much do Twitch live streamers make on average?
Expert twitch streamers can make between $3,000 to $5,000 each month plus ad revenue. This requires them to stream close to a full working week of around 40 hours. playing around 40 hours a week. Ad revenue gives them an extra of about $250 for every 100 subscribers on the channel.
How many followers do you need on Twitch to start making money?
Having 50 followers is the minimum amount you need to start making money. After your channel has 50 followers or more, you can become a Twitch affiliate or partner.
What's a good poker stream setup for Twitch?
You need at least one big monitor, OBS software, a high-quality microphone and a webcam. Set your stream delay to 2-3 minutes if you play cash games or to 3-5 minutes if you play tournaments or SNGs. To stream at 720p video at 60 frames per second, you should have at least 5 Mbps upload speed. Desktop PC is usually your best option, but streaming with a laptop is also doable with the right specs. Twitch recommends having at least an Intel Core i5-4670 processor or its AMD equivalent, 8GB or more of RAM and Windows 7 or newer.
Why do poker streamers on Twitch stream with a delay?
If there was no delay, the other players could see their hole cards in almost real-time. A delay of a few minutes ensures that other players can't see what cards the streamer is holding.
Where can I find Twitch poker schedule?
Every channel has a schedule section where you can find info on their streaming schedule. If you want to find poker streams in general that are live right now, you can do that by going to the Poker section of Twitch.
How to find Twitch Poker overlays?
There are some free Twitch Poker overlays available online, like this one from OwnTheFelt. If you want a custom Twitch Poker overlay, you need to order it from a company that creates professional Twitch Poker overlays for streamers. We at Beasts Of Poker use GamePlan and can happily recommend them!
Do poker streamers pay taxes?
Yes, income from streams counts as regular income. This means any ad revenue and donations are being taxed. There's no automatic taxing on Twitch though, and the streamers need to hold the income records and hand them over to their local tax authorities.
Do poker streamers make more from streaming or playing poker?
A top poker streamer can make thousands of dollars per month by streaming. Yet, a very few poker streamers make more money from their stream than by actually playing. There are some exceptions though, as the most popular streams can grow their revenue by acting as affiliates. Affiliates on Twitch advertise different brands by using affiliate links. When a viewer buys something using an affiliate link, the streamer gets a small commission from the purchase.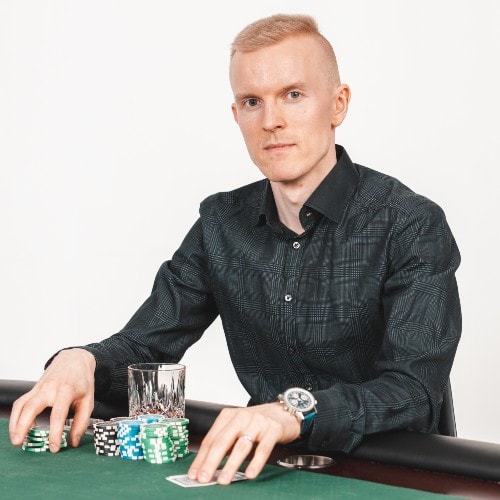 Johannes 'JTSuited' Turunen
Editor-in-chief
Johannes is the Editor in Chief at Beasts Of Poker and is an expert in both live & online poker. Johannes played online poker semi-professionally for 5 years while completing his Master's Degree in Technology. He has also worked as a trader for a private sports betting syndicate and consulted numerous affiliate companies in finding new revenue sources.
Johannes takes care of all writing and research being of utmost quality here at Beasts Of Poker. He is also closely in touch with poker operators on a weekly basis to ensure the players have the latest promotions and bonuses readily available.
As a recognized expert in the field, Johannes has published his work on numerous industry publications like PokerNews and Poker.com and was nominated in the Hacker Noon's annual awards as a candidate for Contributor of the Year in Gaming in 2020.
All feedback and ideas regarding content at Beasts Of Poker can be sent to my email.