"Sunday clears away the rust of the whole week."
After a breakfast ad a morning run I take a cold shower, pack my things and head to the Vic:
I entered the Vic feeling good about upcoming grind. I didn't know what to expect of the games at this time of the day – 2pm on a Sunday is a time when most of the people should be enjoying something else than poker. But London is a big city so Sundays might be totally different than at my home casino.
Meanwhile, CupOfTea is checking the games in Empire & Hippo. I get a seat in a 1/3 game that appears to be super soft with just one guy looking like live grinder, as he is playing a tourney on Pokerstars on his phone at the table. He limps his first button so there goes that suspicion! I text CupOfTea to join the fun at Vic as the other tables look good too. The day starts off okay: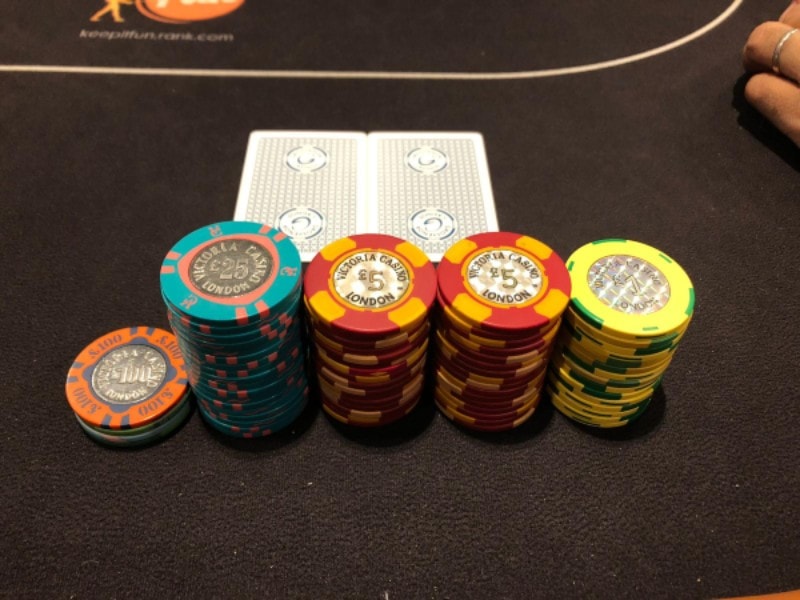 The game I find myself in plays exactly like poker was supposed to be played: Lots of jokes and laughter, people speculating on holdings of each other, showing cards and telling stories of places they've played at. Generally a very social and relaxing atmosphere. Unfortunately many live poker pro's either don't know how to or don't want to make the game a nice one with a welcoming atmosphere. It's a long-term +ev play that every pro should have in their arsenal – you don't have to overdo it, but generally being nice to recreational players is the minimum effort you should put in here.
Hand number 1: Ship the River Overbet
Starting point: I have solid image and all my squeezes and isolations have got respect from other players so far. Our villain is a middle-aged Indian guy who has played somewhat loose-passive so far – he limp-reraised pocket tens against me earlier, and very likely understands you shouldn't go too crazy with one pair type of hands after the flop (which affects the decision points of this hand, especially on the river)
Blinds 1/3, effective stacks 120BB
Hero (CO): Q♥ Q♣
MP limps, Hero raises to 14, MP calls.
Flop: Q♠ 2♣ 4♣
Hero bets 11, MP calls
Turn: 8♥
Hero bets 40, MP calls
River: J♦
Hero bets all-in 285 for 2x pot, MP reluctantly calls
MP tables QJo after hero shows the top set.
Analysis: In position you can bet just 1/3 pot on the flop as you block the strong value hands villain could have. On the turn it's time to go for a bigger bet. The river is the most interesting decision of the hand regarding betsizing: Since we block top pairs, it doesn't make sense to bet sth like 2/3 of the pot as villain is likely to fold one pair other than a Queen to my 3rd bet. The concept of targeting calling range comes into play here: With a 2x pot all-in bet we can target +2pair hands, and we only need to get a called a small percentage of time to make this bet more +EV than your standard 2/3 or 3/4 pot river bet. With the blockers to top pair, it makes sense to take this sizing with our hand. From our Indian villain's point of view, it's pretty much a cooler as the red jack on the river is the best card for him in the whole deck.
Hand number 2: The 'collect the dead money' squeeze vol 2 against CupOfTea
Starting point: Same as in the hand above, except CupOfTea has sat down on seat 1 while I'm the seat 4.
Blinds 1/3, effective stacks 110BB
Hero (BB): T♣ Q♣
MP minraises to 6, CupOfTea announces call, BTN calls, hero raises to 36, MP folds, CupOfTea calls, BTN folds
Flop: A♠ 2♠ 8♣
Hero bets 22, CupOfTea calls
Turn: 2♣
Hero bets 55, CupOfTea folds
Analysis: MP has a sizing tell preflop and our callers in position have usually a decent but not a great hands. Our plan is the same as in the previous squeeze play, as long as we get at max 1 caller. Once CupOfTea calls, we estimate his range to include playable suited connectors and gappers such as KJs & T9s and all pairs of 22-99.
The flop favours our range as we have AK & AQ in our range. The key card is 8♣ since it gives us a backdoor straight flush draw. So we go with the small bet with plan to fire a bigger bet later if we turn more equity, which we luckily manage to do. As the board is quite static, a half pot bet will do fine on the turn. We expect CupOfTea to fold most of his continuation range here including floats and pocket pairs. In case he happens to have Ax or spades, we do have some equity to save the day.
After several hours of play it is time for dinner break. A local player who seemed like a pro or at least significantly better than your average live reg, advises is to go to Italian place called Franco. Oh do we enjoy the food:
After we come back to the casino, we notice our stacks have been removed from the table as the allowed time for a dinner break was 40min instead of 1 hour, so I have to take a seat at a 1/2 table. This table was more like the one in Empire, and I turn into full-mode super LAG on steroids – meaning 45% vpip & 20% 3bet stats in a 9-handed game and an aggression factor close to 4. This table was simply way too easy – nobody would try to play back at me, but just put in tons of passive dead money in the pot that can be swept away with just pure aggression.
There is one guy though who seems to understand something about poker (unlike pretty much the rest of the table), and he seemed like he was ready to put up a fight. One could say everything was perfectly set up for this particular hand:
Hand number 3: The 'Last Man Standing'
Starting point: I've been splashing around and haven't been caught bluffing at all. I did show a 4bet bluff with 4♣ 5♣ against a small 3bet and a cold-call from the villain of the hand, to set up my image for later preflop clashes.
Blinds 1/2, effective stacks 170BB
Hero (MP): A♣ K♠
UTG opens to 10, hero raises to 36, UTG raises to 110, hero raises to 340, UTG asks the count and ponders before making the call.
Flop: J♣ 9♦ 3♦
Hero bets 14, BTN folds, BB calls quickly.
Turn: 9♠
Hero bets 37, BB calls quickly.
River: 6♥
UTG wins with 4♠ 4♣
Analysis: The preflop open from UTG is a standard one in a passive game, although you can also fold low pairs of 22-66 in a 9-handed from UTG since you rarely flop enough equity to keep pressing against anyone who has called you in position. With 20% overall 3bet so far, Hero has an easy 3b for value. The 4bet from UTG is a rather quick one with no real hesitation, and so is our all-in since we have figured out long before the hand occurred that our villain is not going to let us get away with silly stuff anymore – hence the 4bet with pocket fours. I was expecting to see a hand like 99 or TT here once he calls – villain had obviously taken the leveling war seriously with me 😉
We do not really know if villain would go for a 4bet with hands like AQ or KQ. Pair of fours is pretty much crushed by Hero's range 5bet range of +JJ +AK (with the occasional A5s thrown in for balance which is also flipping against pocket fours) and additionally it has none blockers to our value range, so I would rather pick hands like KJs or A5s to 4bet in villain's shoes. Nevertheless, I enjoyed playing at this table a lot!