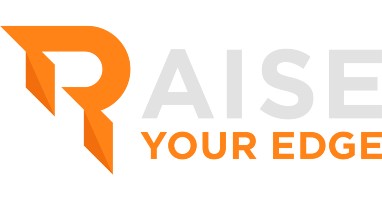 This membership training course includes:
10-day refund period, no questions asked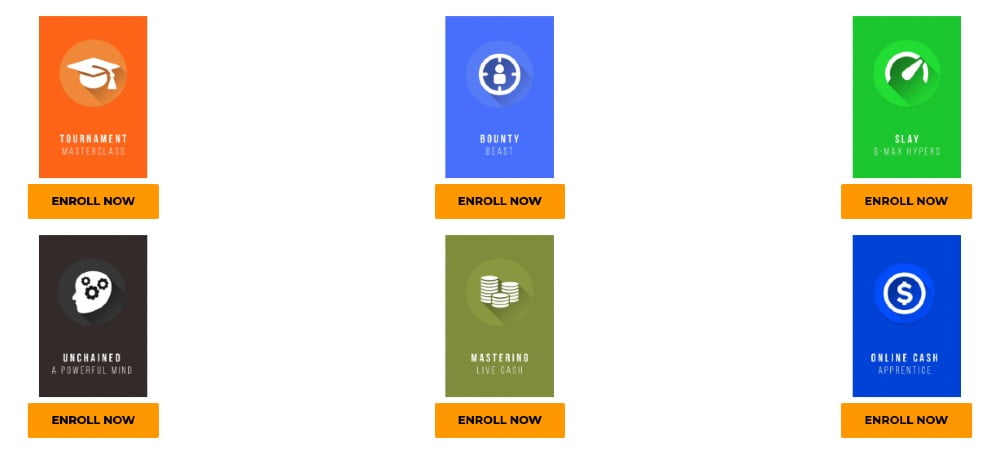 How does Raise Your Edge work
Raise Your Edge is one of the most popular poker training sites. It specializes in Texas No-Limit Hold'em tournament strategy for intermediate and advanced players. By signing-up with RYE, get instant access to their content library in your chosen game format. As an extra, you join a dedicated poker player community to discuss strategy and analyze hand histories with.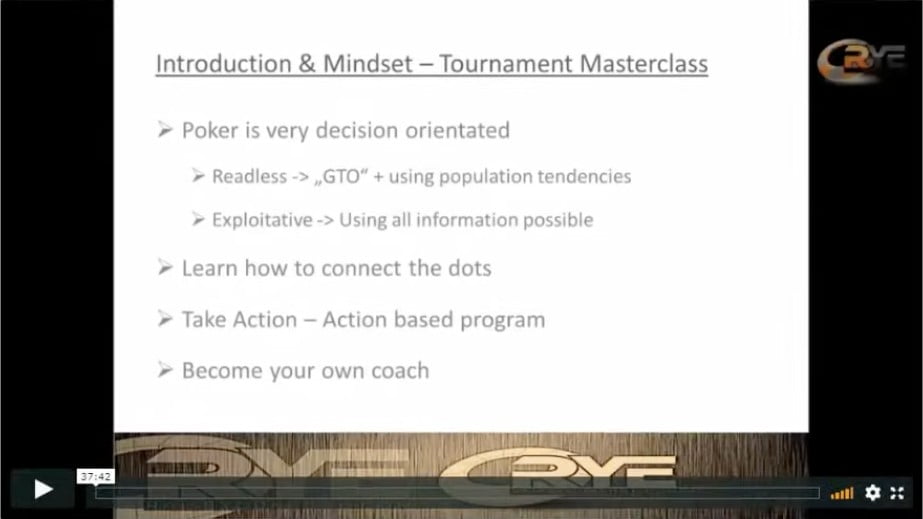 Tournament Masterclass modules
Once you sign-up for the TMC Apprentice or Expert Class, you'll get access to the training modules consisting of videos and other training materials. Here's a quick recap of the different modules:
Why Raise Your Edge seems to get you good results in tournament poker
If you compare multi-table tournaments to chess, the optimal plays are much less known to the public. Following a rigorous approach to improving your game, like the one offered by RYE, is sort of a fast-track to getting great results in poker. While there are some disappointed customers (like with any training programs), most of the feedback from players we've sourced on different poker forums indicates that RYE has worked out well for those who have purchased a membership.
Raise Your Edge student testimonials
Here are some testimonials we found by Raise Your Edge students on their experience of the training membership:
'I'm really impressed with the RYE Masterclass course. It's the best MTT training course I've studied during my poker career. I consider myself as an experienced poker tournament player, but I'm having a ton of aha moments with it.
– JohnCLC
'I have the expert masterclass and although I don't regret buying it, I should have gone for the apprentice masterclass instead. Most of the value comes from preflop ranges. If you hope this training will make you a post-flop expert, it won't happen – to improve post-flop strategy, you should get a solver or a poker coach. In case you have problems in your pre-flop game, I strongly advise you to get the RYE apprentice masterclass – it's absolutely worth it.'
– liuouhgkres
'The lesson you find on hand ranges alone is going to cover the cost of the course. I would have paid a lot more at the tables for that information – I'm certain that I couldn't have tracked how all those different hand combinations perform in various positions.'
– Spartanrebel
'I've studied poker quite a lot by watching videos from Jonathan Little, Tournament Poker Edge, DeucesCracked, Upswing Poker… but if there's one thing that's different compared to the other courses, it's that this masterclass is on another level. It cleared up so many concepts and tough spots for me, so I'm grateful to BenCB. I actually don't even play that much MTTs, but this training package still helps me crush live cash games. I'm winning $20k this month alone playing $2/5 and $5/10.'
– joomorrow
'The standard class has a load of value and if you're not ready to commit the whole 1k just yet, you can always upgrade it later at any time. Besides, I really like the RYE community with blogs & Discord chat which is one of the most active player communities. Every player seems motivated, hardworking and positive about the game!'
– Karedog
Raise Your Edge membership options and pricing
Besides the paid courses, you have the option to join as a free member at RYE. The Tournament Masterclass has two levels called the Apprentice Class and the Expert Class, priced at $697 and $1297. To make sure which option suits your skill level, we're going to break down the contents in each version in just a moment. However, in case you purchase the Apprentice Class, you can always upgrade your membership to the Expert one by paying the price difference of $600 to get the extra modules and bonus content.
Free membership to improve poker tournament strategy
The free membership includes access to the Discord community, a couple of free strategy articles on poker mindset and technical aspects of the game, and free hand range charts. You can sign up as a free member at RYE website by clicking the 'START FOR FREE' button. The free membership is our recommended choice for a beginner in poker.
For 697 dollars, you get lifetime access and updates to the following training modules:
With 1297 dollars one-time payment, you get lifetime access and updates to the following training modules:
Take your game to the next level
If you're serious about achieving your success and winning in poker, getting elite MTT training is your best bet to do that. With a 10-day refund period, no questions asked.
Raise Your Edge Pros & Cons
Here are the pros & cons based on our testing of RYE training programs:
What's inside Raise Your Edge
While RYE hosts a dozen various training programs, their flagship poker course is the Tournament Masterclass or TMC in short. TMC gives you all the necessary information and tools to start crushing MTTs in a structured way, covering pre-flop & post-flop strategies with video content and a range hand analyzer. Examples of post-flop lessons include playing as the opener and as a cold-caller in position.
Tournament Masterclass content overview
Here's what you're going to get with Raise Your Edge Tournament Masterclass Apprentice version:
Raise Your Edge Review – wrapping it up
For serious tournament players, Raise Your Edge is a worthy investment without a doubt. You get BenCB's personal ranges, over 20 hours of video content & other materials to improve your win-rate and plug your leaks. Although the price is well above the average of poker training courses available at the market, the quality of the course makes up for it – provided you put in the proper effort!
Our Rating: 8.5/10
Raise Your Edge FAQ
What is the Raise Your Edge?
Raise Your Edge is an online poker training site dedicated to tournament strategy. Their flagship course Tournament Masterclass is used by many high-stakes players.
What is the Tournament Masterclass?
The Tournament Masterclass is a premium-level MTT course taught by tournament poker coach BenCB. The training system consists of +20 hours of video lessons, a range viewer for pre-flop situations, quizzes, hand examples, and tournament reviews.
Is Raise Your Edge suitable for beginners?
Not really. You should have some experience in poker tournaments to get the full benefit from Raise Your Edge training courses. If you're just getting started with playing tourneys at online poker sites, we recommend signing up for a free membership instead of a paid course.
Who are the coaches of Raise Your Edge?
The head coach at Raise Your Edge is Bencb789, an established poker coach with a world-class work ethic. Other experts of their roster include cash game coaches faLLout86 & MAriano5 and SNG coach Tomy. German players can get legal advice from Fabian Graske, their Head of German Poker Law Section. You can follow raiseyouredge on Instagram to see some of the recent tourney scores of the RYE coaches.
Who is BenCB?
BenCB aka bencb789 is one of the most accomplished online MTT players in the world. He has countless trophies from events like SCOOP and WCOOP, including a $1.17M win from the 2016 PokerStars WCOOP $102K Super High Roller where he beat Fedor Holz in heads-up. As the head coach at Raise Your Edge, BenCB has produced many of the course materials available to his poker students on the RYE platform. According to Patrick Leonhard, BenCB is likely the best poker tournament coach in the world. To see BenCB in action at the tables, you can follow Raise Your Edge on Twitch.
How much content is there on the Tournament Masterclass?
You get 200+ Preflop Ranges and +20 hours of video content in the Tournament Masterclass Apprentice version. You get +50 hours of video content in the Expert version, three bonus modules, and one bonus course.
What poker games does the Tournament Masterclass cover?
The Tournament Masterclass covers multi-table tournaments, including pre-flop & post-flop strategies and fixing common mistakes MTT players make at the tables.
Does the Tournament Masterclass have a refund?
Yes! As a first-time customer, you have the right to cancel the Raise Your Edge contract within 10 days without giving any reason. To cancel your purchase, you can send an email to [email protected] of your decision. Please note that if you have watched over 50% of the poker course content, a refund will not be possible.
How can I contact Raise Your Edge support?
You can contact the Raise Your Edge support team by email at [email protected] or by phone at +43 660 6989149 in any billing and account issues.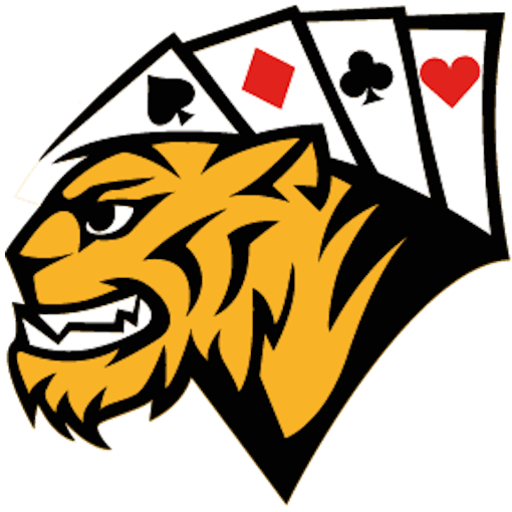 Editorial team curates and publishes in-depth reviews and ratings of online poker sites by using their extensive industry experience. Content is created by both in-house team of experts and outside authority contributors.