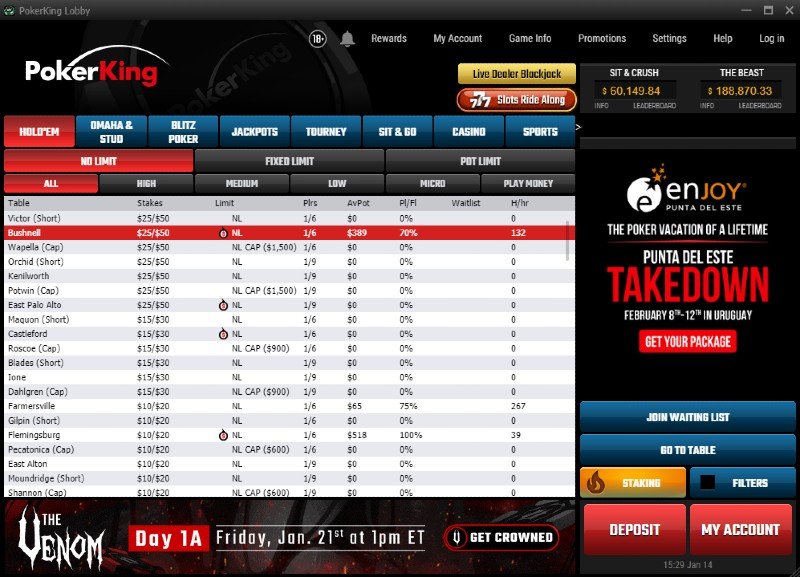 PokerKing is one of the most popular poker rooms, attracting lots of traffic from all over the world. It was established in 2011 by the Winning Poker Network (WPN), an American company.
Despite operating from the United States, the website does not accept players from America. However, it allows other US-friendly sites to get a share of its traffic as it focuses on Greece, Russia, Bulgaria, Sweden, Israel, Portugal, etc.
It has a reputation for high-value promotions, a wide selection of tournaments and cash games, and soft competition. PokerKing is a reliable poker room with some of the fastest cashouts in the industry. The site also allows the use of Bitcoin together with an array of fiat currencies.
This Pokerking review explains everything you need to know about one of the most popular poker sites in the world. Keep reading for more information about how and why you should join Pokerking.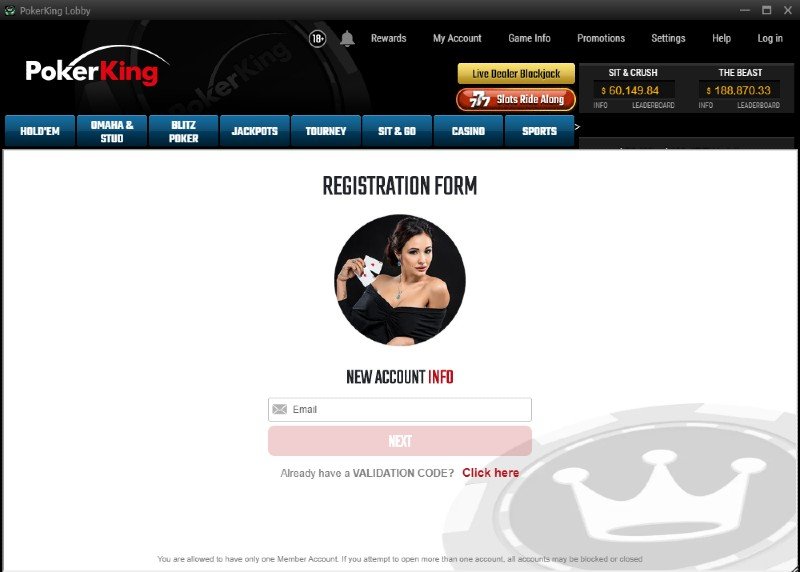 How to Open a Pokerking Account
You can become a Pokerking user by opening an account in simple and easy steps. The following is a procedure you can follow:
Step 1: Start Registration Process
On Pokerking's homepage, click Play Real Money Poker, which appears in the middle of the page. That triggers the Pokerking client download and installation through a simple-to-follow wizard.
Step 2: Entering Personal Details
After successfully installing the PokerKing client on your device, open an account. Setting up the account involves entering details like your country, physical address, and date of birth.
Step 3: Make the First Deposit and Claim Your Bonus
Once you have a fully-functional Pokerking account, deposit some money on the platform. You'll get 100% in cash prizes up to $2,000. There's no bonus code needed to enjoy these bonuses.
You can deposit money to the platform by clicking Cashier in the poker client and picking a favorite payment method. With that, you can enjoy online poker at your convenience.
Step 4: Submit Your Details
PokerKing has many exclusive promotions, which you can only enjoy after submitting your Pokerking username. Log in to your VIP Grinder account and follow the drop-down menu to Submit Usernames. Enter your username, pick the right skin, and submit.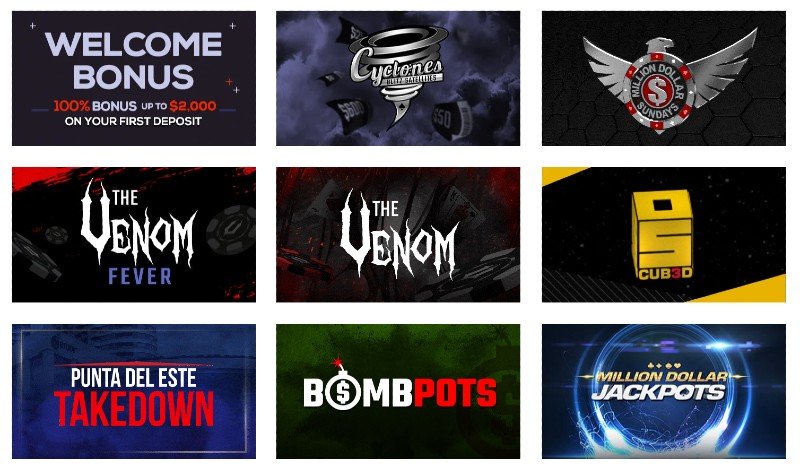 PokerKing Bonuses and Promotions
PokerKing has some of the best bonuses and promotions in the poker industry. A good example is the Pokerking first deposit bonus, which is 100% of the deposit amount up to $2,000.
The gaming site releases the first deposit bonus in $1 increments for every 27.5 award points players gain by playing at real money tables. Essentially, $1 in tournament or rake fees equals 5.5 award points.
You can take advantage of the first deposit bonus by making your first deposit and playing real money poker games at Pokerking. There's no providing a bonus code to get the bonus. After making your first deposit, Pokerking automatically credits your account with the first deposit bonus.
For players to qualify for the first deposit bonus, they're required to make a minimum deposit of $25. Once you get your first deposit bonus, you'll have 60 days within which to clear it. The company gives only one first deposit bonus per computer/player.
The platform has VIP or Royal Club, whose members enjoy great Rakeback, depending on their VIP level. Those in the first level get 12 % in the program, while those in the 6th and highest level get 65% Rakeback. While the first four levels of the Poker King VIP Program payout monthly, the last two have annual payouts.
How do Rakeback deals work? Players earn $5.5 Status Points (SP) for every $1 in rake during tournaments and cash tables. The rate at which cash players earn royalty points (RP) improves as they rise to the six levels.
Once the points have accumulated, you can exchange them for money. All you need to do is go to the client's Cashier and click on Rewards, followed by Loyalty, then Points Exchange.
The lowest level in the Royal Club is the Bronze Crown, where you earn points by playing at the tables. At the highest two levels, the Royal and King Crowns, players earn high Rakeback points of up to 40%.
Here is a comprehensive list with all you can expect from the Pokerking Royal Club:

PokerKing allows you to enjoy 70% and 75% cash bonuses in Rakeback deals. However, extra Rakeback is only possible with consistent, regular play all year round.
On the other hand, low-volume players can enjoy a cashback of between 20% and 25%. Those who wish can reach out to the manager and request exclusive promotions for boosting their Rakeback.
There are two rake races on Pokerking, namely The Beast and Sit & Crush. While The Beast rake race is for cash game players, Sit & Crush is for SnG players such as those for JackPot Spins. Both rake races have cash rewards and tournaments for their respective players.
The Beast rake race runs from Saturday morning to Friday evening weekly. Those who sit high on the leaderboard get their accounts credited every Monday by the end of the day. If you're the top-performing player in the Sit & Crush rake race, you'll win up to $3,000 from the available $40,000.
Poker King has one of the largest leaderboards in online poker, with a total of 1600 weekly prizes. The leaderboard has a completely new structure, which became operational in 2020. Previously, there were only 400 prizes, but now there are 1600. While this affects more grinders, more players can cash in.
One of the most important things to note in this Pokerking review is the Hold 'em and Omaha rake, which stands at 5%. The rake operates based on the "weight contributed," A player's rake share depends on their contribution to the pot. One only pays a commission once a poker player hits the flop.
The PokerKing rake structure has the following outline:
PokerKing's poker software operates on the SJH Studio platform, availing the client room on Mac and Windows operating systems. It is one of the best platforms in the poker industry, featuring an intuitive user interface. Professional players and newbies will likely find this platform extremely easy.
The upper part of the PokerKing homepage has a menu section under which there are several lobbies of demand tournaments and tables. You'll see several filters and cashier buttons in the lower right corner. The PokerKing client is fast and allows direct HUD output power trackers.
In 2019, the Winning Poker Network launched a crusade against bots, prohibiting layouts. The client has more than 20 themes and several customizable options for tables.
Two of the most impressive features of the poker software are the Double or Nothing lottery and Spring to Get in Slots. The Double or Nothing lottery is for high rollers who wish to double the bonus from a cash session. On the other hand, the Spring to Gen in Slot enables cash players to win buy-ins for spending less than $1.
One of the demerits of the poker room is that it tends to crash easily every month, forcing players to abandon tournaments. While that's not a critical aspect of this online poker platform, it can affect your user experience a great deal.
So far, Pokerking has no native mobile app, even though it's expected to release one any time soon. If you want to play on an iOS or Android device, you must go directly to the Pokerking website. Whether on a mobile device or a computer, the website is limited to two poker game formats – Blitz poker and JackPot spins.
PokerKing players choose among many deposit and withdrawal methods for their accounts. The following are some methods you can use to fund your Poker King account or withdraw money from the platform.
Players can only use Skrill and other available e-wallets if both email addresses match. PokerKing processes withdrawals within three business days, which can be quite long if you need the money immediately.
Poker King allows its users to make up to $2,500 cash out without a commission every month. For any subsequent, larger withdrawals using e-wallets, the poker room retains a 5% commission.
Regardless of how many times you do it, withdrawing Bitcoin is free of charge. If you decide to withdraw deposited funds rather than use them in games, you'll pay a 3% commission.
You'll need to verify your account to withdraw over $500 from the poker room. That step isn't necessary for smaller cashouts. However, there's no need for you to wait until you have a lot of money to withdraw before verifying your accounts. The best time to verify a Poker King account is soon after registration.
You'll need a copy of your passport, driving license, or ID to verify your account. Other important documents include a bank statement or utility bill. Here is a straightforward process, which you should follow during Pokerking account verification:
Step 1: Log in to the poker app.
Step 2: Click Deposit to go to the Cashier.
Step 3: Click on My Requests.
Step 4: Select Document Verification.
Step 5: Check the drop-down menu and choose the document to upload.
Step 6: Go through the steps outlined to upload the documents. When you finish, click Finish.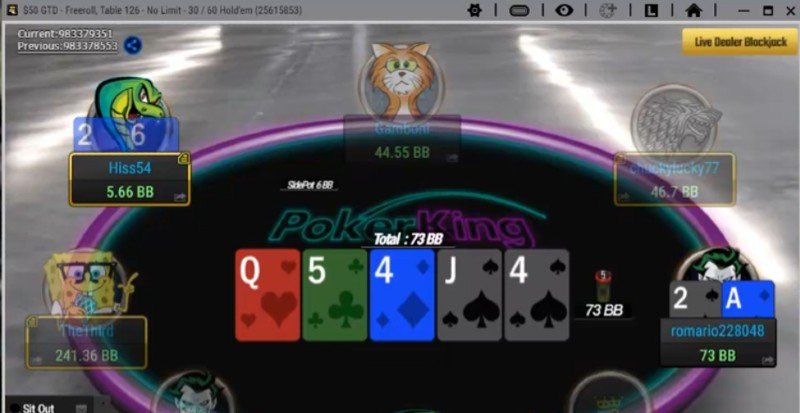 PokerKing Tournaments (MTT)
On Pokerking, games range from Hold 'em to Omaha and anything in between. The site offers deep stacks and knockouts as 6-max, 8-max, and 9-max formats.
They come with buy-ins ranging from as low as $0.10 to $1,050. Every week Poker King has a $3,800,000 guarantee. PokerKing offers tiny buy-ins starting from 27 cents, thanks to its wide player base.
For professional players, the site offers the following:
However, Pokerking targets professional players and reaches out to everyday poker fans with the Mini Online Super Series (MOSS), boasting $2,500,000 in prizes over 150 tournaments and two main events with $250,000 GTD.
If you have never actively played in poker tournaments before, you can cut your teeth through the Freeroll on Demand tournaments, which require the participation of at least 270 players to start.
An important aspect of this Pokerking review is how easily you can learn about the ranking of your opponents in multi-table tournaments.
One of the most popular PokerKing offers is the Sit & Go, a poker room with the classic 6-max and 9-max formats. Players can participate in the regular turbo and the hyper-turbo types with games ranging from $1.65 to $108. Several dozen poker rooms are open at night with the potential of growth via Sit & Crush.
There are several jackpot spins with nine different stakes. While 7 of the stakes are in Holdem manager, the remaining two are in Omaha.
Fast poker buy-ins are between $2 and $40, while tournament players can buy in with $5, $15, or $50 for an opportunity of winning $1,000,000. However, PLO has only two buy-ins for $2 and $10 without a jackpot.
In addition to its Rakeback deals, Pokerking provides access to statistics, attracting regular participants in the poker network. However, casual players still have a good opportunity to participate in tournaments. Still, they get to meet players from countries where poker is either an underground activity or is outright prohibited. The soft countries include Australia, Israel, Portugal, and Turkey.
How Poker King Treats Professional Players
One aspect that makes Poker King stand out from other poker rooms is the lack of features like mining, auto-landing scripts, preflop charts, and bumhunt. However, the site has poker trackers and multi-tabling with 24 tables.
Poker King's Rakeback system and tournament grid appeal to regular players despite lacking some popular features. Besides, there are no reported cases where Pokerking has banned players for winning, creating a competitive field across all rake grinders and stakes.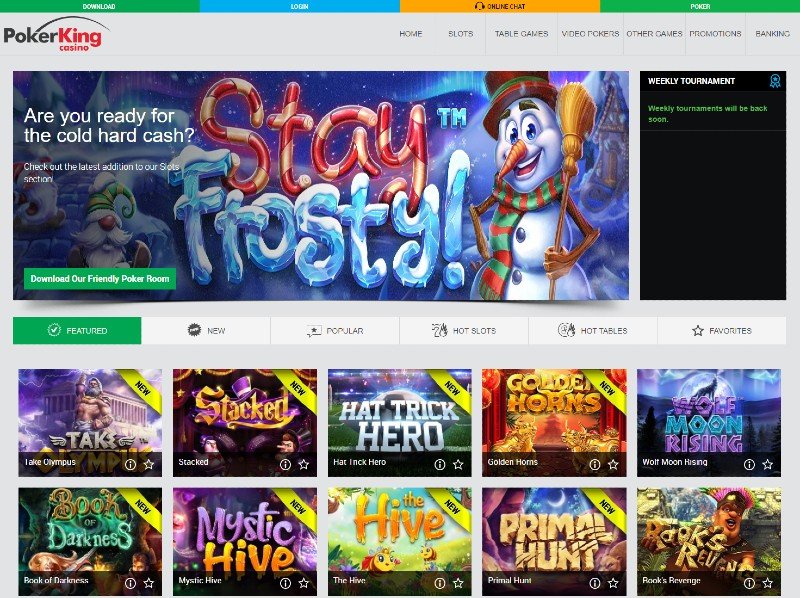 The PokerKing Casino is a section of the platform that offers much more than poker. Here, you can play blackjack, roulette, video poker, and betting. It only admits players who are older than 21 years.
Like other aspects of PokerKing, the casino is reliable, even though it isn't as competitive as some of the top online casinos in terms of variety of games offered. Players on the platform can use various payment methods including Skrill, Neteller, ecoPayz, MasterCard, Visa, and Bitcoin.
What are PokerKing Restricted Countries
Even though Pokerking operates in all regions of the world, some countries cannot participate in the poker room. The following are some of the restricted countries for Poker King prospective players:
Is Pokerking Reliable and Trustworthy
Armed with a Curacao license number 8048/JAZ, a high level of trust from its players and affiliates, and KYC identity verification, Pokerking is a legal and reliable poker site. Therefore, you can enrol and participate in the poker room without worrying about getting defrauded.
For more the last ten years since its establishment, Pokerking hasn't fallen prey to any high-profile scandal. Since 2019, the site has fought against bots, compensating players whose accounts get blocked for some reason.
The Poker King platform has a public roadmap where players can get regular updates, confirming the Winning Poker Network's openness. Additionally, Pokerking has several affiliates, which carry out the platform's promotions.
Pros and Cons of Playing at Poker King
Is Poker King Good for You?
Yes. Poker King is good for grinders, offering a high cashback program and VIP Rakeback deal. Even though Poker King doesn't directly accept players from the United States, its affiliation with the WPN makes it part of a larger shared player pool. Therefore, North American players can benefit from the platform.
It is one of the few poker sites that doesn't prohibit any poker trackers. If you enjoy large 9-max tables, the poker room is for you. that and other exclusive promotions make Poker King one of the most popular poker rooms around.
If you have any issues with your account or other aspects of Pokerking, you can contact the support team via email at [email protected]. However, that may take a while before the support team responds. For a quick response, the site also has a live chat and telephone option at +1-702-605-3890.
If you're out on a hunt for fantastic Rakeback deals and games, Pokerking is the platform for you. It's part of the Winning Poker Network, which legitimately provides poker games to players across the United States. PokerKing offers attractive cash bonuses to experienced and inexperienced players, making it easier to get started with cash games. It has a responsive 24/7 customer support team, to whom you can reach on the telephone, live chat, or email. Since it is one of the most popular poker sites, we highly recommend this platform.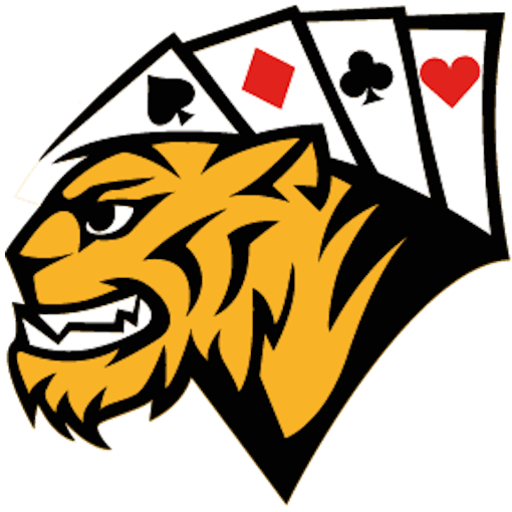 Editorial team curates and publishes in-depth reviews and ratings of online poker sites by using their extensive industry experience. Content is created by both in-house team of experts and outside authority contributors.
The United States and United States Territories, Belgium, Spain and Spanish Territories, Greece, France and French Territories, The Netherlands, Bulgaria, Dutch West Indies.