Best Online Poker Tournament Sites (2023)
The tournament scene has played a big part in the rise of online poker over the years. Online poker tournaments are an attractive form of poker due to giving every player the opportunity to win a huge sum of money for a relatively small investment. On top of this, playing poker tournaments can be quite the thrill. With the growing guaranteed prize pools, you don't have to even leave your house to win hundreds of thousands of dollars in tournaments!
When it comes to winning money playing poker tournaments, you want to pick the poker sites with the best MTT selection and schedules. You need a sufficient volume of tourneys, big prize pools, and well-structured tournaments to succeed. Our extensive list of best tournament poker sites can help you choose the right option to play poker. The online poker rooms included in our list have a wide range of MTTs and SNGs to choose from.
What is a poker tournament?
Poker tournaments are competitions that start at a predetermined time, with each player buying in for the same amount and getting the same number of chips to play with. Players are eliminated from the tournament once they run out of chips, and only a small percentage of the player pool will win a prize. A set number of finishers take home a payout, with the winner taking home the biggest payout. Typically the lowest paid finishing spot is about double the size of the buy-in for the event.
The math of poker tournaments is simple: Most players will finish below the lowest paid spot, leaving the tournament with no payout. On the other hand, the winner might go home with life-changing money. This is the beauty of poker tournaments: You risk a little to potentially win a lot of money. For this reason, when you compare cash games and tournaments, new players usually start with tournaments.
Buy-ins & prizes in tournaments
When entering a poker tournament, each player pays a fixed buy-in and is given a certain number of tournament chips at the start. A typical online poker tournament costs between $1-215 to enter and has a total prize pool of anywhere between $100-100k. A small portion of the buy-in goes for the rake taken by the poker operator. Tournament chips have no cash value. If you run out of chips, you're eliminated from the tournament. Some tournaments also offer re-buys, add-ons, or re-entries, meaning you have the option to purchase more tournament chips.
The prizes to be won are derived from the buy-ins, although there are also guaranteed tournaments where the house covers some part of the prize money. The larger the field of players, the bigger the prize pool grows. Most tournaments have a proportional prize pool, which means the payouts are determined by a percentage-based scale. The distribution of prizes depends on the number of entrants, and the number of payout positions increases if more participants enter the tournament. The scales are very top-heavy, meaning that the winner can take home tens or even hundreds of times more than the lowest paid finishing spot. For this reason, many players will take enormous risks in the tournament to amass enough chips for making the final table.
In online tournament series, additional prizes can be awarded through leaderboards. This means that the best overall performers across multiple tournaments will get extra compensation for their efforts during the series. Examples of such series would be Spring Championship of Online Poker (SCOOP) by PokerStars or MILLIONS Online by partypoker.
Multi-Table Tournaments (MTTs)
MTTs or multi-table tournaments are the standard format of tournaments in online poker. Similar to all tournaments, every player pays a buy-in fee and gets a stack of chips to play with. MTTs take place over multiple tables with a specific number of players per table, usually 9. Some tournaments have 8, 6, 4 or 2 players per table. Tourneys with only 2 players per table are called heads-up tournaments.
Once players start to bust out of the tourney, the tables are balanced so that some of the tables are broken and the players are moved randomly to other tables with empty seats. Winning MTTs is not easy, but you're usually treated with a big score if you manage to make it to the final table or even the top position.
The biggest multi-table tournaments occur during online tournament series. They offer a ton of value for skilled players since the guaranteed prize pools are huge, and many novice players will qualify to the events with the biggest prize pools through satellites. If you want to learn more about playing winning tournament poker, read more on poker tournament strategy here.
A Sit & Go tournament (SNG) is typically one or two tables and starts out right after every seat is filled. On the major poker sites and networks, you can find a variety of SNGs starting every minute or so. They are an excellent format to practice your tournament skills before you jump into multi-table tournaments. Payouts in SNGs usually go to the top 2 or 3 players.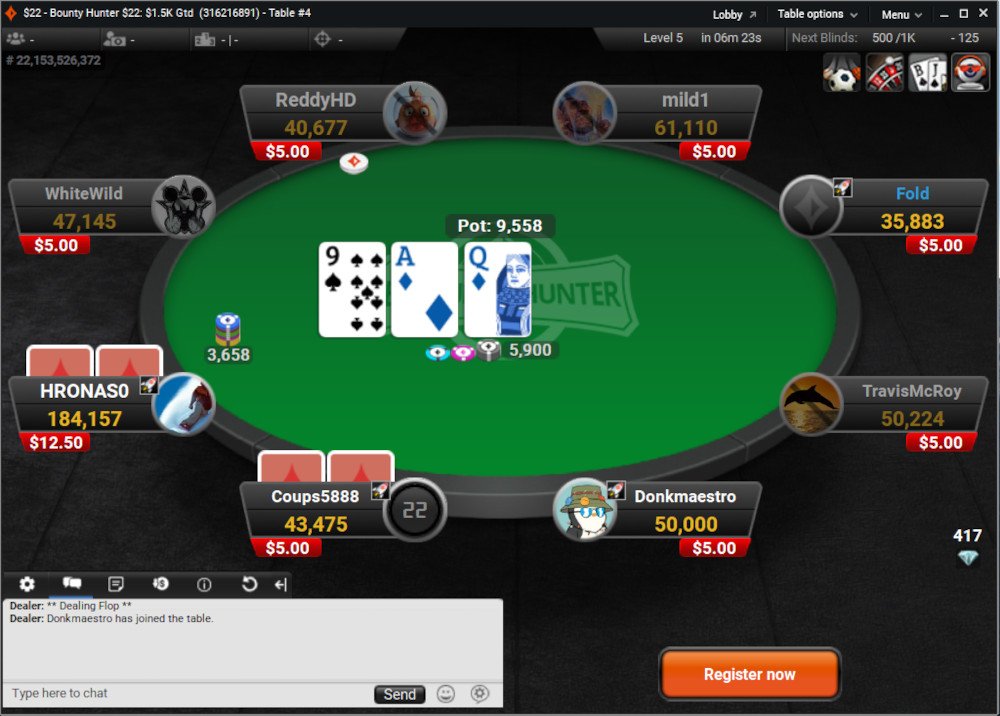 Playing formats in tournaments
When you fire up the tournament lobby at any online poker site, it can be overwhelming to see the number of tournaments and different types of tournaments that you can enter. Let's take a look at the most popular playing formats in tournaments one by one:
Freezeout format is the most common playing format for tournament poker. Players who run out of chips are eliminated from the tournament and cannot re-enter. The tournament is played all the way to the final table and until the winner is determined.
Turbo tournaments are MTTs standard tournaments where the blind levels increase quickly. This makes the gameplay fast, creating tons of action as the stacks become shorter quite quickly. Turbo tournaments are a great choice if you have limited time to play tournament poker.
Shootout tournaments are MTTs in which each table is played until just one player remains at that table. The winner of each table will then move on to the next round. This action is repeated until the final table, and the winner is determined. The bigger the field of players, the more rounds will occur in the shootout.
Bounty tournaments are MTTs that give a prize for knocking out a player on top of the traditional prize pool. This gives extra incentive to play aggressively, especially against shorter stacks than yours. Many players love to play bounty tournaments as they're quite action-packed and require a different strategy than traditional MTTs.
Rebuy tournaments allow players to purchase more tournament chips in case they run out of chips or below a certain level of chips. It's quite similar to reloading your stack in a cash game. There's a rebuy period during which the rebuys must be purchased. After the rebuy period ends, there's sometimes a possibility for an add-on for all players, which means you can buy additional chips on top of your current stack before the tournament continues.
In a re-entry tournament players are allowed to buy back in if they lose all their chips, for a specific number of blind levels (for example the first 10 levels of the tournament). The re-entry is treated as a whole new buy-in, meaning that the player will get a new seat at a new table when re-entering the tournament. Depending on the rules, re-entry events can allow buying back in once, twice, or unlimited times.
Satellites are tournaments where you're playing for an entry into a bigger tournament. It can be either a satellite where the prize includes a buy-in to a live tournament or one where the entry is to a bigger online event. The cheapest satellites online start from just a few cents, making it a very viable option for new players to take a shot at entering bigger tournaments.
Deepstack tournaments are MTTs with a relatively high starting stack compared to the blinds. For example, whereas a normal tournament might start with 10,000 chips and blinds of 50/100, in a deepstack tournament players might start with 30,000 chips at the same blinds levels, giving everyone 300 big blinds at the start. The deeper structure means there will be more postflop play and less all-in confrontations. Many skilled players favor deepstack tourneys as they can capitalize on their skills better in this format.
Heads-up tournaments are shootouts with only 2 players per table. To win the tournament, you must win several rounds of heads-up matches and beat every single opponent you face. Playing heads-up successfully requires an aggressive strategy, since you're in the blinds every hand and must fight for the majority of pots.
A guaranteed tournament means a specific prize pool is offered to the players even if the amount of buy-ins doesn't cover that prize pool. For example, a $100k guaranteed tournament means the prize pool will be at least $100k no matter how many players enter the tournament. If the buy-ins don't cover the prize pool, the tournament is said to have an overlay which means the amount left to cover by the house.
Freerolls are tournaments that are free to enter, yet they have real cash as prizes. Many successful poker professionals have started their careers by playing freerolls to win money and grow their bankroll. If you're playing tournament poker for the very first time, playing freerolls is an excellent way to get your feet wet.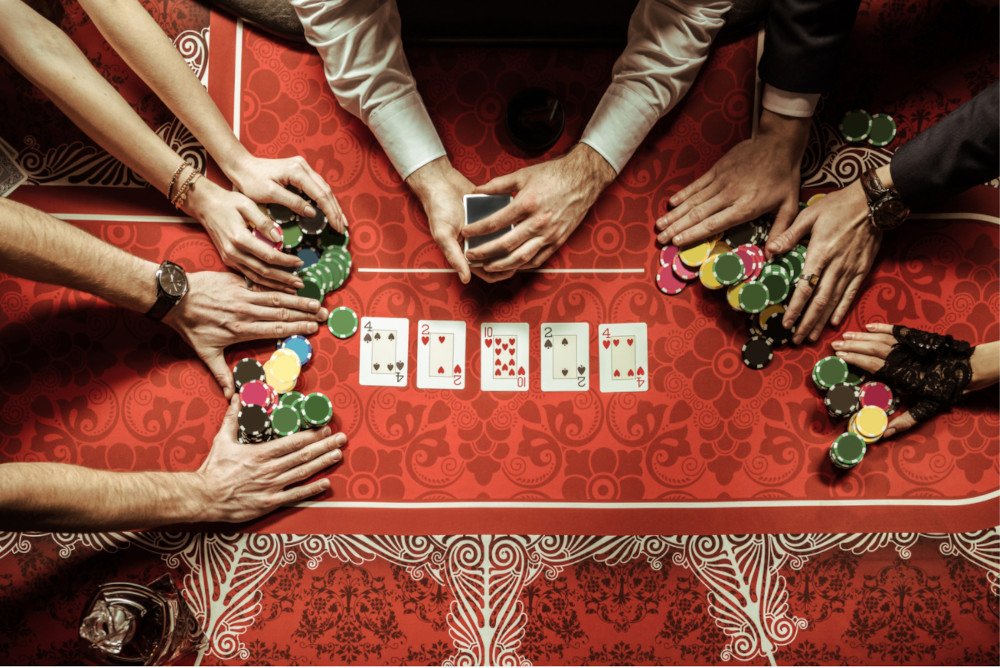 Betting formats in tournaments
There are three forms of betting structures in poker tournaments:
In Fixed Limit bets and raises are restricted to specific amounts that increase throughout the tournament. In semi-structured betting, there are certain ranges for allowed raises. A good example would be a Pot-Limit Omaha tournament, where raises cannot exceed the current size of the pot. Another example would be tournaments with Spread Limit format, where all bets must be between minimum and maximum amount. Unstructured betting format is by far the most popular betting format in tournament poker. Almost all modern poker tournaments are played with No-Limit betting structure, meaning that players may bet as much as they wish at any point of the hand. Betting all your chips is a move known as all-in.
Poker variants in tournaments
While the most popular poker variants in tournaments are No-Limit Hold'em and Pot-Limit Omaha, there are more exotic poker games offered by most of the major online poker sites. Here's a list of the most common poker variants you'll come across in tournaments:
Stages of a poker tournament
All poker tournaments can be divided into three basic tournament stages:
Early stage in a tournament plays similarly to a cash game with deep stacks. It's still better to preserve chips than take unnecessary risks to win more chips – the blinds are very small relative to the stacks, and blind stealing is not that important as there are no antes in play. You should take notes on your opponents and take advantage of the worst players who are still in the tournament, as they're looking to gamble with all sorts of hands.
The middle stage ranges from being relatively deep-stacked to being a short-stack towards the end. The antes kick in and blind stealing becomes more important, as well as re-stealing or 3-betting aggressively. You can no longer wait for only premium starting hands to fight for pots, as you will run out of chips if you do that. Players generally become more cautious and risk-averse towards the bubble, which is the part of the tournament where the next player to be eliminated is the last one to walk out without any prize money. Your goal in the middle stage is to stay alive in the tournament and make it to the money – if you manage to build a big stack for the late stage, that's even better.
Players are now in the money and the late stage involves both large stacks and very short stacks. Many players are now more willing to gamble since they're in the money, so you can expect a lot of all-ins and aggressive pre-flop play. The climax of the tournament occurs when the final table is set, as that's where you have a shot at the big prize money. Your strategy should depend a lot on the size of your stack when you're playing the late stage in a tournament.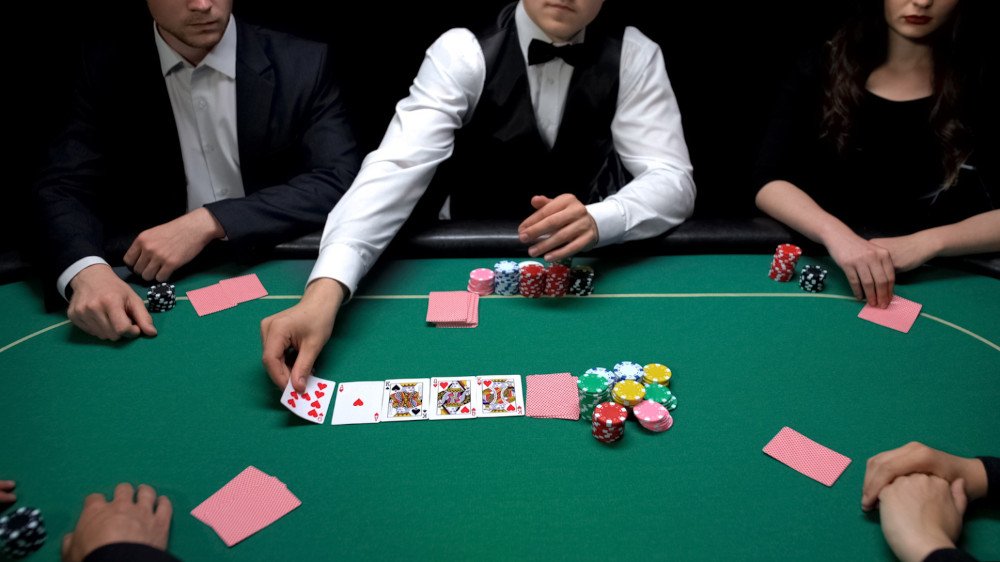 Online vs. live poker tournaments
Playing online can differ quite a bit from live events in tournaments. You should prepare your poker strategies differently when you play online compared to for example entering the World Series of Poker in Las Vegas. Let's go over the key strategic differences you need to take into account in online vs live tournament play:
Online tournaments allow you to multi-table & play a big volume of hands per hour. Getting reads is more critical live since you only play one table and need to focus on every hand you're involved in 100%.
There are no live tells online, but you can sometimes spot timing tells from your opponents.
Players have access to tracking software and poker HUDs online that are not available in live play. To maximize your edge, you should learn how to take advantage of these tools.
What about the pros of playing tournaments online? Here's a list of the most important ones:
Choosing which tournaments to play
When you log in to a poker site and find the tournament lobby, you will see a ton of tournament options to choose from. How should you decide which tournaments to play and which ones to skip? Let's go over the most important factors you should consider here:
The buy-in is the most important factor to consider, as you need to stick to good bankroll management when choosing which tourneys to play. If you play too big buy-ins compared to the size of your bankroll, you're essentially risking going broke – even if you're a winning player!
Online poker rooms run tournaments with buy-ins from anywhere between $0.5 micro stakes tournaments and $100,000 high roller events. Determine what type of buy-in level you're comfortable with, and register only tournaments within that level. It's better to start small here.
The blind structure, the payout scale and other tournaments factors affect the strategy at the tables a lot. Choose tournaments where you think you'll have an edge against the majority of the field, whether this means slow-pace freezeouts or turbo bounty tournaments.
Play tournaments that don't last longer than the time you can allocate for playing. Large field MTTs can sometimes take 10-14 hours to complete, so make sure you have a schedule that suits the tournaments you decide to play.
If you're looking to make a profit playing tournaments, you should pay extra attention to the prize pool. Guaranteed tournaments or tournaments with a large number of runners tend to have the best expectation for a skilled player. If you're just playing for fun and don't care about the prize pool, you can ignore this factor.
Getting started in tournament poker
Now that you know how poker tournaments work, it's time to get into the action. To get started, just choose one of our poker rooms listed at the top of this page, create an account, make a deposit & register your first tournaments. Remember to use a bonus code if it's mentioned on the list to get the maximum benefits when signing up. The best way to practice tournaments is to actually play – good luck at the tables!
Online Poker Tournaments FAQ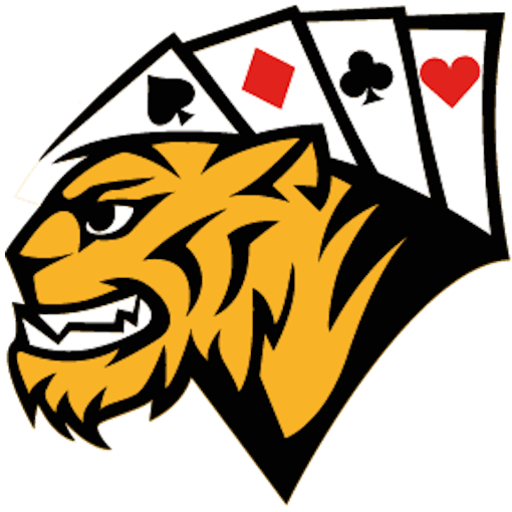 Editorial team curates and publishes in-depth reviews and ratings of online poker sites by using their extensive industry experience. Content is created by both in-house team of experts and outside authority contributors.