For poker enthusiasts and professionals alike, there are more and more sophisticated tools available online to improve their game and results. An increasingly popular learning method that many players use is studying decision trees with so-called poker solvers, like PioSOLVER, MonkerSolver and Simple Postflop. If you discuss hands with high-stakes players, they tend to bring up what kind of strategy a solver would use in a specific hand that they played and reasons why they would either deviate from that strategy or follow the suggested strategy from the solver. In this article, we're diving into the world of poker solvers and learn what they are and what they can teach us about No-Limit Holdem and GTO poker – and most importantly, how improving your game with solvers can put more money in your pocket!
What exactly are poker solvers and how do they work
Simply put, solvers are computer programs that calculate solutions to any poker situations. Some years ago it was unimaginable to be able to run such a powerful piece of software on your home computer – with the computing power of modern PCs, this is no longer the case. The solutions provided by solvers are very close to the game theory optimal (GTO) play, which means that a player using these GTO solutions can't be exploited by other players. If you haven't ever studied poker strategies with GTO solvers, some plays suggested by them might seem a bit unorthodox at first. Dont worry – once you study many spots over and over, you can start to predict how certain spots are played by the solver. You'll also get familiar with the terms used around solver applications!
Once you put in some basic variables such as preflop hand ranges and available bet sizes, solvers generate strategies for those situations that are impossible to exploit. There's ton of content available on how to run sims with solvers. Yet, there are still factors in play that solvers can't overcome, like range advantage and position – it's impossible to develop a strategy for the Cut-off position that would break-even against Button due to the positional disadvantage. The same goes for Small Blind versus UTG, since Small Blind has to put dead money in before the flop, but you can still calculate what you from the Small Blind with different hands when UTG opens to lose the minimum.
What poker solvers can teach you
You might be thinking it's great someone has developed a software that understands poker, but why should one care about solvers anyway since you're playing against humans? At a table where everyone is playing their hands close to a GTO poker strategy, only the house will win in the long-run. As a result, every player at the table will just lose their portion of the rake and the game becomes unbeatable. Nevertheless, this scenario is only theoretical – very few people play anywhere close to perfection in terms of GTO!
Understanding game theory optimal plays will enable you to fight strong regs better, but also help you in finding strategic exploits against weak players  This is due to the fact that a deeper understanding of how your opponent is deviating from GTO poker strategy allows you to come up with better exploits. This, in turn, translates into a higher win-rate. 
Starting from the fundamentals, like preflop hand ranges, is a smart thing to do. Even a small improvement in your preflop game can boost your results fast, as these spots come around often. You can fine-tune your game by creating GTO preflop charts or purchase a package containing all the preflop ranges for PLO or NLHE. If you play high stakes online  solver study is pretty much a must for you nowadays.
It's useful to keep in mind all the solver-based plays are advanced strategies you would use against a perfect opponent. It's very rare to come across such players in low or mid stakes cash games on most online poker sites. In general, during the first few orbits of play you will notice weaknesses in your opponent's typical strategies, such as playing too tight, not being aggressive enough or calling you down too much postflop. Taking advantage of these players does definitely not require hundreds of hours spent in front of computer calculating GTO plays, but a rather simple exploitative approach will do the trick. 
Nevertheless, if you want to realize your potential as a poker player, you should use every weapon in your arsenal – facing tough opponents will happen sooner or later when you climb the stakes. Besides, you don't have to go for solver-based plays unless the situation demands it – simply knowing the starting point for a balanced strategy gives you confidence and understanding in deviating from it to take maximum advantage of mistakes you're villains are making.
What are the limitations of using solvers
Solvers have many wonderful features like high volume analysis, a visual tree building interface and many customization options. Despite these solvers being able to teach us many things, there are some things humans still do better than machines… or should I call it things that computers haven't taken over in the world yet? Anyways, there are 3 important limitations:
Solvers seem to handle these very poorly, since there are multiple game theory equilibriums as John Nash would call them. When you have two players in the pot, calculating GTO frequencies is far easier. The game trees quickly become too complex to draw any reasonable conclusions from sims made in multiway pots. 
Parameters (you have to know what to put in)
GTO poker solvers seem to handle incorrect parameters quite badly. The solutions you get as outputs are only as good as your inputs. For this reason, it's a good idea to set your parameters right for a proper analysis and accuracy. Solving a spot with one betsize might give totally different results than solving a spot with 5 different bet sizes. Or, you just put in a basic range of top 20% hands and forget to remove the top ones that villain will usually 3-bet preflop. Whatever the situation is, remember to double-check your variables for input!
How to play optimally versus recreational players
Solvers are great at telling you how to play against advanced opponents with perfect strategies i.e. very skilled winning poker players who can throw GTO poker moves against you any day. But, they fall short of giving you plays that will exploit calling stations or maniacs to the maximum. Winning the maximum against different types of poker players requires more knowledge than just an analysis with GTO poker solvers. The percentage of poker players who are capable of executing near-perfect strategies at the tables is rather small. Our recommendation is to implement solver solutions against strong players in HU pots to plug your leaks, there is simply no way around it.
How to start using solvers
Starting to use solvers is pretty easy – you purchase a license, watch a quick starting guide video and you're all ready to go. If you want to learn how to use solvers faster, you can even purchase a PioSOLVER course online to get additional learning material. The most commonly used features are not that hard to grasp though! Here's a quick start guide video for PioSOLVER:
How solvers have changed the poker metagame
The metagame of any came can be defined as general strategies used by players, the adjustments players make when playing against each other and how the dynamics of these strategies & adjustments dictate overall play. The metagame has taken leaps of development first due to televised poker games with hole cards shown, then due to poker training sites and now due to GTO poker solvers. At stakes NL200 and higher on big sites like GGPoker, Americas Cardroom, or partypoker, you will come across many opponents who have 'put in their hours at the lab', meaning they've studied plenty of strategies with a poker solver.  Let's take a look at the most common metagame changes caused by solver study among poker players:
Solvers tend to prefer small bet sizes in many flop situations after raising preflop. On the other hand, many players are now betting small no matter the structure of the flop and who they're playing against. The trend of small flop c-bet sizing doesn't help you much in case you don't when it's the proper time to apply this information.
Larger preflop 3-bet sizing
3-bet sizes have gone up significantly, due to the fact that solvers mainly aim to deny the equity of the opener when going for a 3-bet. This trend can be seen especially with 3-bets made by the Small Blind and Big Blind.
Whereas we mostly use smaller betsizing on the flop, against capped ranges that check-call the flop solvers are eager to fire up to 2x pot overbets on some boards. This puts maximum pressure on our opponent's range and can force mistakes from opponents who are unfamiliar with the math of overbets and the theory behind them. It can be hard to make the right decisions against opponents who use lots of overbets postflop, especially if you don't get to see what they have in showdown.
Since poker is about realizing our own equity and denying opponents from realizing their's, aggressive style of playing is the way to go (if you want to maximize your EV at least!) Solvers frequently go for check-raises postflop when playing OOP with both value hands and hands that are not quite strong enough to check-call but still have some EV if you get called.
Open limping in tournaments
Open limping was considered as a leak for a long time, but that view has recently changed. Open limping is used especially in tournament situations where shorter stack sizes are in play.
In the mid 2010s, most people would play very tight even against late position opens from the blinds. Now advanced players have started to defend wide again at 6-max cash games and especially tournaments with antes. Defending a wide range of hands against openers without giving up too much postflop is an important skill especially for mtt players. There will be more tricky postflop decisions when you have a wide range of holdings for BB defending, but handling those gets easier as you gain experience.
Pro's Comments on poker solvers
"Solver's are an extremely useful tool when properly implemented for anyone taking poker seriously. It will take some time to get familiar with the poker software but in the end – it will all be worth it."
The journey of a poker player from micros to the top can be done with many methods: Playing and studying the game on your own, having a coach and/or mentor to guide you or becoming a subscriber for a poker training site. In all of these methods, you can utilize GTO poker solvers to learn how modern poker is played and how strong players go about constructing their ranges for specific spots. The poker world is becoming more and more competitive. Since modern poker software like solvers don't need the computational power of super computer, you can start using them with a moderate investment. 
By no means are we saying that solvers, like PioSOLVER or GTO Range Builder, are required for rising to the top of the poker pyramid – it's just best to utilize all options & tools that are currently available for becoming the best player you can be. You don't have to choose one route over another: Some of the best poker players are studying hands both from exploitative point of view and also by using a solver.
Whichever route you choose, we wish you happy moments in studying poker strategies & good luck at the tables! Become the player you were born to be, put in the effort and start dominating the games – Read more tips on how to crush poker at our Poker Articles!
Follow a Clear Path Proven By Hundreds of Winning Players
Overwhelmed by the huge amount of bad poker training videos online? Get well-selected strategy videos every month, instant feedback from personalized quizzes and join a community of highly motivated players & top-level coaches.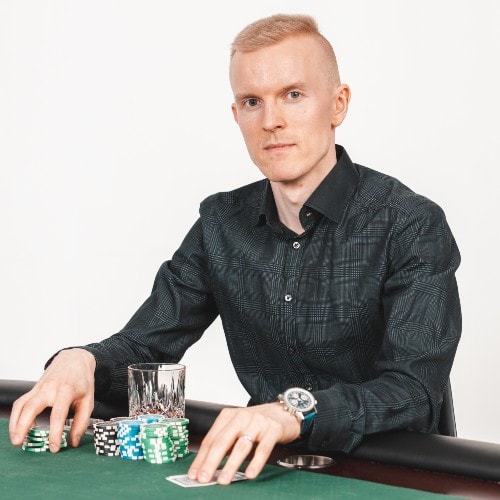 Johannes is the Editor in Chief at Beasts Of Poker and is an expert in both live & online poker. Johannes played online poker semi-professionally for 5 years while completing his Master's Degree in Technology.