Watching that scene from Rounders where Matt Damon steps into the den of high-stakes poker ran by Teddy KDB you might get a picture of all poker home games being filled with badass gangsters. Well, this is simply not the case – having played in a bunch of home games over the years, I've seen many different ways to run a home game, in good and bad. Like many others, I played my first hand of poker in a home game with friends, where none of us had any clue on stuff like strategies, bet sizings or the like!
Before jumping into a poker home game, you should find out a few things so that there are no unpleasant surprises to disturb the playing experience. In this guide, we have covered for you the essentials that one should check after getting an invitation to play live poker in a home game. Some of them are the same type of things you'd look to find out when playing in a new casino or poker room for the very first time, but some are inherent to home games only – let's get started!
Depending on your goal, the rake structure of the game might be one of the most important things to consider or not important at all. If you just want to have fun and enjoy playing, you don't have to worry about much. On the other hand, if your goal in poker is to make money, the amount of rake you pay will play a huge role in determining your winrate.
In a game that has a high rake you need to make a few adjustments, the first one being ditching some of the borderline hands preflop that you would normally play. They simply become hands that have a negative estimated value due to rake, and there's not much you can do but just play more conservatively preflop.
As a rule of thumb, you should aim to play in a home with no more than 5% rake and a rake cap of 3 or 4 big blinds. Yes, there are home games with rake as low as 2% and even no rake at all, but those games usually require every player to shuffle the deck and deal out cards when they're on the button. And some games might go as high as 10% rake, or alternatively have a decent percentage like 5% but no rake cap. It's very hard to win in those games without rakeback, but if they play absurdly loose and wild it's worth considering to take a seat.
Who are the people running the game?
The safest route is participating only in a home game where the people who run the game are actually your friends. Now while this might be optimal, it's rarely the case when you hear about a new home game – what you need to do instead, is ask around other players if they know more about the game and how well it is organized.
Trust is of utmost importance here, since you're risking your own money. Ignoring a simple due diligence about who is in charge is not recommended, as there are too many stories about games with collusion or outright cheating being discovered by the players.
Is there full transparency about house players?
Some home games will have either prop players or staked players to create action. As long as it's a transparent practice and the organizer of the game lets everyone know what's going on, there nothing wrong with this – it might actually prove to be a good thing for the game to run more often and the action being good (depending on the level of those players of course!)
How do they handle buy-ins & cashouts?
In games played with money, handling buy-ins and cashouts is one of the areas that should have absolutely no flaws. Our advice: Find it out before sitting down in any game!
Basically when you sit down in a game, you need to trust that 3 different things won't happen: Game being rigged, you being robbed or you not being paid in case you win. So, first you should find out if you need to bring cash with you or are you playing with credit. After that, find out if winnings are paid out with cash, check or wire transfer. And lastly, in case the game gets robbed, ask if you will still be paid according to your chips at that time. Although it's not such a big risk usually, it's better to be safe than sorry here!
What kind of security measures are used?
There are cases where home games have been stiffed, and you need to consider the following things here:
While not directly related to the security, are there any rules about how much notice you have to give ahead of time in case you're winning and want to quit?
A quick story about the last point: I heard about a game being played while visiting an exotic city where I didn't know too many people, and before buying into the game I asked about if there are rules of quitting a winner. The answer was I must stay for 2 more hours in case I am winning. I politely refused to play in that game, since I didn't know any of the players and was meeting the organizers of the game for the first time – it just all sounded too sketchy and I wouldn't feel comfortable playing in that kind of environment!
Who are the dealers of the game?
Unless the game is very nitty (which shouldn't be the case in a home game!), a great dealer will significantly impact the quality of the game and the general atmosphere in a home game. Get to know the dealers and you might get info from them about the best times to play, and probably about a few other crucial details about the game as well!
Is the game a serious or a splashy one?
While playing in a casino can be profitable at most tables, in a home game the rake can quickly eat into your profits. Therefore you should try to find out what kind of strategy most of the players are using. What you should be looking for here is splashy & loose preflop action – games where people are spewing their money away are the most profitable ones, as you can bet big with your value hands and give yourself a huge edge this way! To read more about poker strategy, check out our separate article Poker Strategy Explained
Poker home games are usually played for fun and give new players a taste of the game. While emphasizing the fun and communal sides of poker, a home game offers people an easily accessible way to get some poker experience on their belts. If you find a home game that fills all the criteria mentioned in our guide, you should definitely give it a go!
Poker Home Game FAQ
Is playing poker in your house legal?
Any gambling at home happens at your own risk. Around half of the states in the US have some type of exemption if gambling laws that allow home poker games, as long as the players are the only ones profiting from it. In some countries there are no written laws regarding poker home games at all, so as long as there is mutual trust between all participants of the game there should be no problem playing at home.
Why should I host a poker game instead of playing in a casino?
Home games have a lot of things going for them compared to casinos: You can get any kind of food & drinks you want, the atmosphere is usually much friendlier and sociable, any poker variations can be played and the game can be played as long as you and your guests wish.
How should I prepare for hosting a poker game at my home?
Setting up a cash game at your home is quite simple, as long as you make sure all amenities are available, there are enough dealers and a sufficient amount of players are invited. The most important items you need are a poker table & chips, a dealer button, a few decks of cards, a tin box for the cash and food & drinks.

The most important decision when preparing a home game has to do with setting the buy-in at the right level – we recommend asking any invited players beforehand what kind of stakes they would prefer. Also you should have either a dealer or someone else taking care of the buy-ins & cash-outs in a fast manner.
What makes a good poker home game?
To mention a few of the essential ingredients: A relaxed and fun atmosphere, fun characters, tons of loose action and a proper service to the players regarding what to eat & drink while playing.
How many chips should you get per person?
This obviously depends on the buy-in amount of the player, but generally you should have several chips equal to the size of the small blind & big blind and larger chips that are commonly used for preflop raises and bets on the flop & turn. For larger bets, people can use bigger chips such as 100USD chips in a 1/2USD game and announce how much they want to bet.

As a practical example, in case you host a 1/2USD Holdem game, you could give a player buying in for 200USD (100 big blinds) ten chips worth 1USD, five chips worth 2USD, 16 chips worth 5USD and one or two larger chips worth of 50USD or 100USD.
What are the different poker games & formats?
While the most popular poker format is Texas Holdem which is played almost everywhere, you can add some extra excitement to your home game by suggesting any poker formats that the players might be interested in playing. Some of the most common poker formats are:
Texas Holdem
Pot-Limit Omaha
5 Card Pot-Limit Omaha
Omaha Hi-Lo
2-7 Triple Draw
Five-Card Draw
HORSE
Razz
Seven-Card Stud
Badugi (Badeucy)
Sviten Special
Scandinavian Stud
Chinese Poker
Can you make money from playing poker and hosting a home game?
Absolutely! If you're a skilled player, you can win money in home games just by playing. By hosting a game, you can take a small rake from each pot as a price for running the game & having a dealer.
Are there any no-no's at the poker table?
Common courtesy of what to do at the table is basically just to keep a friendly game going –  if people are having a good time and enjoying themselves, the game will likely attract players to play again. Some common no-no's at the poker table are listed below:
No excessive talking on the phone for extended periods of time
No constants smoke breaks if they slow the game down
No rabbit-hunting unless it's specifically allowed & agreed among players
No being a jerk, especially to new players
No acting like a know-it-all
No advising people on how to play their hands
What to Eat & Drink in a home game?
Light snacks are usually the way to go regarding food, unless you're planning to host a marathon game overnight – in that case any type of catering would be the best option. For drinks beer is basically a must, and should be accompanied with soft drinks such as lemonade, tea and coffee. Depending how much alcohol players prefer to consume, it's also worth considering adding some spirits or cocktail drinks to the drink menu.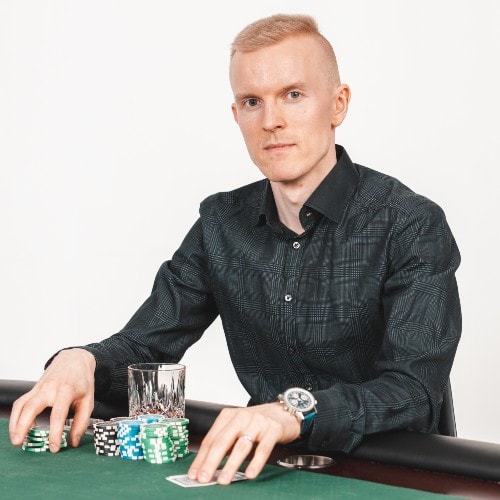 Johannes is the Editor in Chief at Beasts Of Poker and is an expert in both live & online poker. Johannes played online poker semi-professionally for 5 years while completing his Master's Degree in Technology.