Poker is a game of incomplete information. The one who makes the right decisions might not win this battle, but always wins the war. There's no such thing as perfection in poker – making the right decisions at the poker table is impossible. But, the best poker players make profitable actions most of the time and win millions as a result. How do they manage to pull it off?
Let's figure out what you need to do for the right decision at the poker table:
Correctly evaluate the relative strength of your hand.
Correctly evaluate the board.
Correctly evaluate your opponent's hand or hand range.
Using poker math to evaluate the profitability of your options.
Thus, to make the correct decisions in cash games and tournaments, you need to have all these four skills. Sounds easy, right? Well, you need to be mentally prepared for an intense learning process –  you will not be able to pump all these skills at maximum speed at once! However, if you study poker step by step, you can definitely make a profit. To become a better player and build your poker career, you need to improve each of these areas regularly.
In this article, we will talk in detail about hand reading and tells in No-Limit Hold'em. If you want to know more about the rest of the skills necessary for profitable decision-making in poker, check out our other articles:
Now, let's dive into poker hand reading: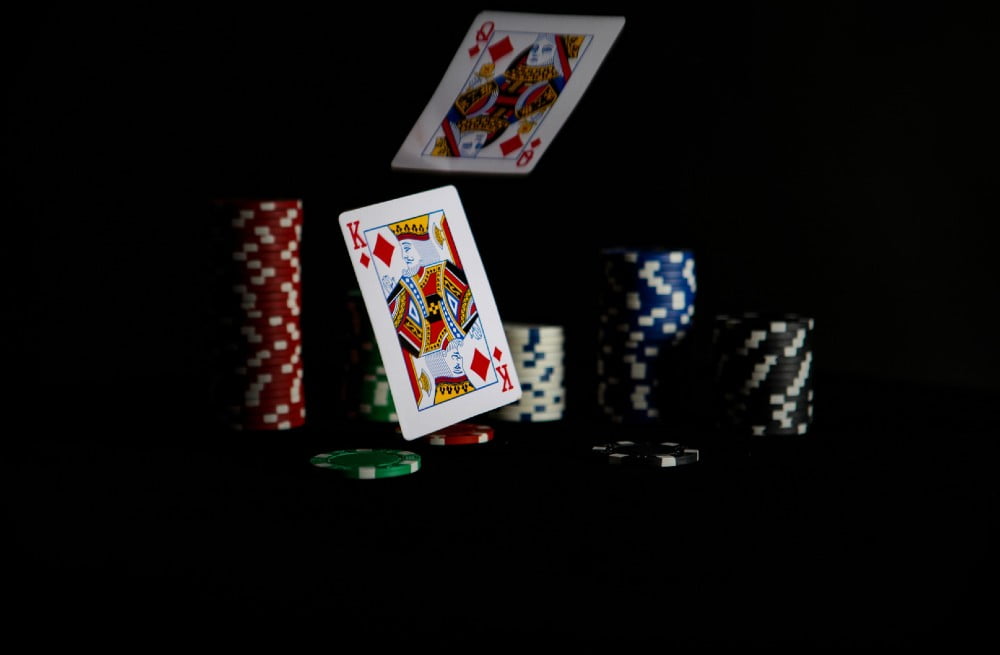 What is hand reading in poker
Hand reading is a crucial poker skill for you as a player. In every hand, we see our cards and the board, but to understand how to act correctly, we usually make assumptions about what hands the opponent may have. This process happens unconsciously for most players. It's another question how close to reality our guesses are. In any case, we can only find out the truth at showdown. Sometimes your opponent's hand will be a big surprise at a showdown, but you need to take it calmly; nobody can know 100% what the other player has in mind.
So hand reading is all about logic and estimating what kind of hand your opponent might have. Poker pros on TV shows can sometimes correctly identify the specific two hole cards of their villain, but doing this requires great experience and powerful hand reading skills. If you're not a professional player, you do not need to strive to guess a particular hand. Instead, it is vital to learn how to put your opponent on a specific hand range.
There are 1326 combinations of possible starting hands in Texas Hold'em. It is almost impossible to determine a specific combination your villain is holding. So your goal is to narrow down as much as possible the number of all combinations of your opponent to assess your hand's strength against his range of possible hands and deduce the right play to make.
Hand reading works in two ways:
You determine which hand your opponent can NOT have – and on future streets dealt, you no longer admit the idea that your opponent may have a hand you eliminated earlier.
You determine what hand your opponent can have – and later, as new streets are dealt, part of these hands disappear as the hand progresses and new information is available.
Now that the theory is clear, you might ask what is the thought process in practice? Let's figure it out:
How to read your opponent in poker
To build any reasonable assumptions about the possible opponents' hand in cash games and tournaments, you need to have information. We can't just poke our fingers into the sky and play a guessing game (or we can but that's like driving on the motorway with your eyes closed!). As the hand progresses, you will receive more and more details – it is essential to collect and correctly interpret these pieces of information. But first, we need to understand what kind of data we can use for hand reading.
There are several sources of information in online poker. We collect the basic variables from the hand because we are interested in the opponent's range of hands now, during this particular hand, to take the most profitable action on our turn. Besides the actual things occurring during a hand, there are additional sources of data in online poker. Statistics from poker software like Holdem Manager or Poker Tracker and our observations of opponents' actions in the previous hands could come quite handy!
Information during a poker hand
Additional poker data & tells for hand reading
As you can see, there are many sources of data in cash games & tournaments that can help you put your opponent on a range. It may seem like a complicated thought process to make a complete analysis instantly and arrive at the right conclusions. Yet, the right knowledge comes with time: An experienced poker player analyzes each source on a subconscious level in a matter of seconds. The main thing is to be attentive at the table and practice the process. Even if you misread your opponent's hand, it's okay: You received new info about his strategies, and you can adjust your game to win them during future hands!
Poker ranges: How to Put Your Villain on a Hand Range
As we mentioned earlier, our goal at hand reading is to determine the possible hand range for our opponent. As a rule, we assume that the opponent has multiple combinations. It can be a wide range containing 50% of all possible hands when your villain open raises the button, or it can be a very narrow hand range when you 5-bet pre-flop, up to a few specific starting hands. As you try to hand read your opponent, you receive new details and adjust your estimations of your opponent's range based on the latest events & data. After each betting round, you can narrow down the range of your villain: Which combinations of top pair, two pair, straights, flushes, and other hands they would play a certain way. Remember it doesn't work in the opposite direction – you can't exclude your opponent's certain hands from his range and then suddenly add them!
What is a poker hand range?
Starting hand ranges means collecting all possible hands a poker player might have at when they decide to play from a specific position.
There are several forms of rang annotation. Here is a list of the most common ones:
We strongly recommend you to learn to navigate every format if you're serious about poker.
The matrix format is commonly used in various poker GTO preflop charts. And the text format is convenient for working with poker programs. But the percentage method is especially important since the HUD displays just the frequency of actions in certain situations as a percentage. So, if our opponent's HUD has a PFR 21 for HJ, we know that our opponent's open-raise range from HJ is 21%, so we can quickly figure out what our opponent's range is.
What is a capped hand range
In some cases, we will determine our opponent to have a capped range – this means there is a clear limit on the upper hand strength, and we are sure that the opponent cannot have anything better than that. For example, he might lack big overpairs due to not 3-betting pre-flop. Simply put, when we put another player on a capped range, we exclude certain hands from they could have.
Uncapped hand range means the opposite: The villain can have any strength of a hand on a given board.
How to read your opponent's hand range: 6-max hand example
Let's look at a specific example from 6-max poker to clarify how the hand reading process occurs in Texas Hold'em.
NL100 6-max, 100bb effective stacks
Hero is dealt K♠K♦ on the CO.
Hero raises to 2.5bb, BU calls.
So, we got the first information preflop:
The villain is in BU – he has a positional advantage to enter a hand with a broader range of hands, especially a raise from the cutoff.
Our villain is playing in a tight-aggressive style, i.e., most likely, he would not have called a bet with outright rubbish.
The villain had three options:
Fold – we have already determined that the villain will fold all junk hands;
3-bet – villain would most likely be 3-bet with: AA, KK, QQ, AK, AQ, so we exclude them.
Call – we assume that our opponent will call with this pre-flop range: 22-JJ, ATo-AJo, A2s-AJs, K9s-KQs, KJo-KQo, Q9s-QJs, J9s-JTs, T8s-T9s, 86s-97s, 76-98s.
Flop: K♥6♦5♣ (pot 6.5BB)
Hero bets 2.2BB, BU calls.
On this flop, our villain is likely to fold 22-44, A9o-AJo, Q9s-QJs, QJo, J9s-JTs, T8s-T9s. He will also likely fold all suited aces except A6s and A5s, which hit middle and low pairs.
With pocket pairs 55-66, he would probably re-raise, but he could also slow play his set given that we are aggressive, so we will not exclude 55-66. Now we assume that he is more likely to have a straight draw or a weak king. But our opponent is also unlikely to fold his 77-JJ middle pairs to our continuation bet.
In total, we give him the following range after the flop: 55-JJ, A5s-A6s, K9s-KQs, KJo-KQo, 86s-87s, 76s.
Turn: 6♣ (pot 10.9BB)
Hero bets 5.5BB, BU raises to 16.5BB, Hero calls.
Here, the villain again had three standard options available:
Fold – our opponent will most often fold middle pairs 77-JJ and A5s to our bet, so we exclude these hands;
Call – with weak kings, straight draws, or a flush draw, he would continue by calling rather than raising – hence we also exclude 9s-KQs, KJo-KQo, 87s.
Raise – usually, a powerful combination is played this way: four of a kind, trips, or a full house. Therefore, starting with the river, we will assume that our opponent has one of these hands. And since we already have the best hand possible except 66, we calmly call, letting him either bluff on the river or continue value betting against our monster.
Roughly, the opponent's range remains 55-66, A6s, 86s, 76s.
River: 2♦ (pot 43.9BB)
Hero checks, BU bets 15 BB, Hero check-raises all-in, BU calls.
Hero shows K♠K♦ (a full house, Kings full of Sixes)
BU shows 5♦5♥ (a full house, Fives full of Sixes)
On the river, we decided to check-raise. The reasons for our decision are as follows: if we bet he will either call with 86s and 76s or re-raise with 55, 66, A6s. At the same time, if we check, he will value all these hands and most likely call the re-raise. By check-raising, we have the opportunity to win his entire stack.
This is how you usually hand read your opponent. As the hand proceeds and you receive new details, your job is to immediately analyze it and narrow the opponent's range accordingly. It may seem not very easy, but with regular practice, your hand reading process will become almost automatic.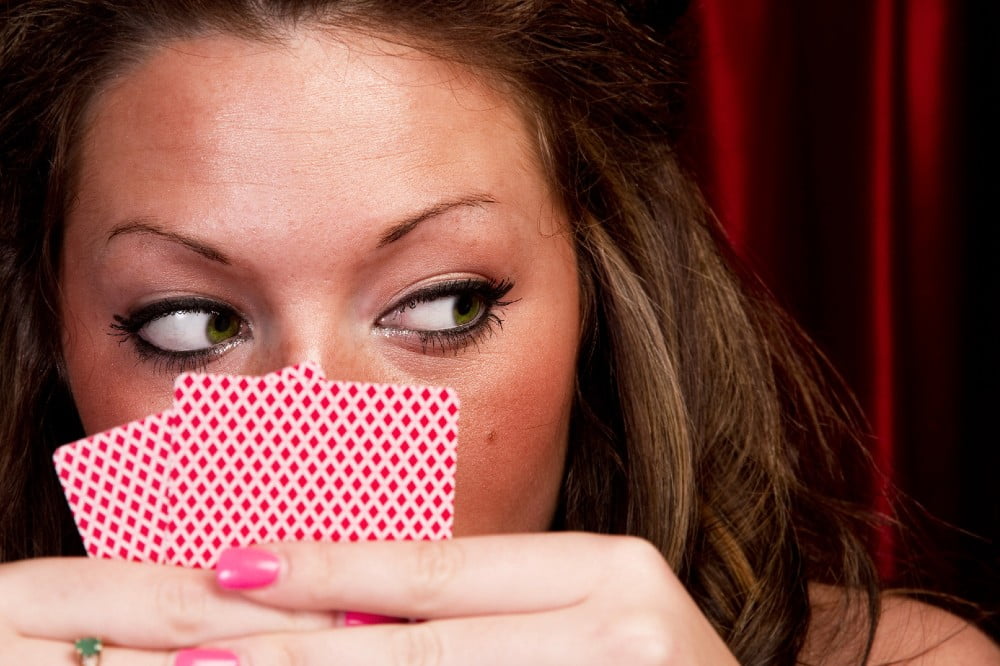 Poker hand reading vs. Poker tells
The concept of poker tells is commonly seen in live poker, where you can physically see your opponent during a hand. Usually, a tell refers to the picking up info from the body language and human behavior at the table. Experienced live players pay attention to the following aspects of opponent's behavior:
As you might guess, analyzing your opponent's behavior and physical tells is a handy skill that provides you with an additional edge and a higher win-rate. However, analyzing ranges and bets will give much more information in live poker as well. Don't rely on poker tells alone!
Suppose you are going to play live poker at your local casino. In that case, we recommend you first practice the hand reading skills, but at the same time, pay attention to the behavior of your opponents once you're involved in a hand with them. 
How to improve your skills at poker hand reading
Now that we have figured out what hand reading in poker is and how it works in practice, one question remains – how can you improve your hand reading skill in online poker? Here's 8 tips to get you started on the right track:
The most important thing is practice, practice, and more practice. Be attentive at the table, watch how others play. Try to play thoughtfully, make assumptions of possible hand ranges on every street, and play accordingly. Mistakes are inevitable, but they're an essential part of the learning process.
Start playing poker using the HUD. Install Holdem Manager or Poker Tracker and learn how to work with them.
Write down notes – not only about your opponents' unusual actions but also other data that may be useful in the future (how he plays strong hands, what kind of bet size they use for bluffing etc.).
Analyze your past hands. Make sure to do it regularly! If you play poker every day, set aside time to analyze hands after the poker session. Many novices do not want to spend time on this, but the time spent on analysis is an investment that will pay off greatly in the future. The best tools for hand analysis are trackers and solvers – you can learn more about poker solvers in our article "Poker Solvers".
Discuss hands and strategies on the poker forums. Those players who strive to be better will always get a response from fellow card players.
Watch live streams of professional players who usually comment their actions on the videos of their actions. You can do this on our Beast Twitch channel.
Read poker books for tips on reading your opponents, perfecting your strategies, and becoming a better overall player.
Get started with a coach or online poker training sites. Since reading hand ranges is a crucial skill, many training courses and videos will pay special attention to this area of the game. You can get great advice on how to hand read your opponents on the go. We have reviewed the training poker sites in our article "

5 Best Poker Training Sites

" – you will indeed find the course that is right for you.
Follow these tips, and you won't believe how quickly your play starts to improve – and your online poker income grows. Good luck at the tables!
Poker Hand Reading FAQ
What is hand reading in poker?
It is all about evaluating what kind of starting hands your opponent might have and how they play those hands post-flop. We are not trying to find only one specific hand - we are interested in a whole range of possible combinations in each particular situation. It's not enough to think whether your opponent has a "good" or "bad" hand - you need to be more specific.

As the hand progresses, your ideas about your opponent's holdings will change & you will exclude some hands from his range. This way, you start with an assumption of a certain pre-flop hand range to work with. By the river, you will have more data, and your opponent's estimated range will be much narrower.
How can you improve your hand reading skills in poker?
The best method to improve your hand reading skills is to play a lot of hands, put your opponents on range and analyze your past hands and try to learn from them. The more hands you analyze deeply, the more experience you will have and the faster you will read your opponent correctly in any situation. Also, you should read books, forums and watch poker training videos stay on top of the learning curve!
How much can you make playing poker?
Poker pros can earn thousands or tens of thousands of dollars a month. Your possible earnings from playing poker depends on how well you can play relatively to your opponents and how much you play. The more often you make profitable actions, the more often you will win, and the more your winnings will be.
What is a range in poker?
A poker hand range is a list of all possible combinations that a player may have at a particular moment in the deal. There are 1,326 unique combinations in Hold'em and 270,725 combinations in Omaha. Any range of hands contains one or more types of combinations: pairs, broadway, suited cards, connectors, or gappers.
Do people share similar poker tells?
Even though all people are different and react differently to situations that arise, most players respond in a standard way to in-game situations. The most unpredictable are recreational players, as their logic does not work the same way as regulars. Nevertheless, even casual players operate according to a certain sense, and if you know how to interpret it, you can win big money from them.
Poker straddle: yay or nay?
A straddle is a 2bb blind preflop bet and can generate a lot of action in poker. Usually, players straddle only in live poker and on a particular position - UTG. Since the player does not see his hand when he announces the straddle, usually the straddle is an action with negative expected value. Loose and aggressive players are most likely to put on straddles - professional live players rarely straddle. You can take this into account if, for the first time, you sit down with a player who puts the straddle. But, be sure to adjust your poker strategy once you gain additional clues about how this opponent plays.
How do you think in hand ranges in poker?
Thinking in ranges is a skill that can be learned by anyone. The more you play and the more you analyze hands, the faster you will start to think of your opponent's hands as ranges. Some players can even visually see the hand ranges in a 13x13 hand matrix during playing!

Many novices make a big mistake when they immediately determine one type of hand for a player based on a specific action. For example, let's say you limp from UTG - a beginner might say you definitely have a small pocket pair! What if you 3-bet pre-flop and now bet on the AKx flop - you have Ace-King! In poker, this is faulty practice: You don't have to play guessing games but turn on the logic and think about the ranges.
Can you consistently win at poker?
Yes and no - you can win on a large enough sample of hands consistently, but not every session let alone every hand. Poker is a highly volatile game. Upswings are followed by losing streaks, and you cannot change this aspect of the game no matter how hard you try. In poker, there will always be a factor of luck. But if you strive to make the best decisions, in the long run, you will be in the black.

The main thing is not to forget about bankroll management, and then no down streak can strike a critical blow. It's a game of patience, logic, and mathematical decision-making. The consistent winners have mastered all of these areas on a high level.
Do professional poker players count cards?
Poker pros do not count cards at casinos as blackjack players do. Instead, a poker pro counts pot odds, EV of different spots, and reads ranges of their opponents. So if we are talking about calculating the odds and equity, then this ability to count in poker is necessary to be a profitable player. It's different from the blackjack systems where you assign values to each card and then keep running count. Both are skills you can learn with practice.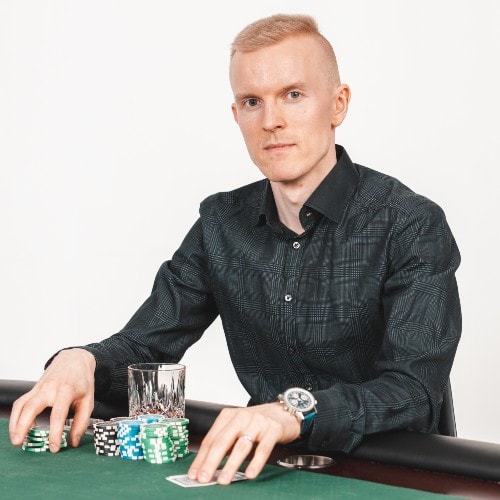 Johannes is the Editor in Chief at Beasts Of Poker and is an expert in both live & online poker. Johannes played online poker semi-professionally for 5 years while completing his Master's Degree in Technology.