In the ever-competitive world of poker, it's important as ever to constantly look to sharpen your game and give yourself the tools to become a poker crusher in 2020. There are of course many ways of doing this, including:
All of these methods have a lot of merits and especially when combined can improve your poker game considerably.
However, not everyone has a gang of poker buddies to discuss hands with. An online poker course is also a big one-off investment in most cases.  And while watching poker training videos, although helpful can perhaps only go so far into cutting the leaks and holes in your game.
So what is the answer to improving your poker game as efficiently as possible I hear you ask?
Well, it very well could be… 1-on-1 poker coaching! As an experienced poker coach for Ultimate Poker Coaching who has successfully coached dozens of students, I am in a great position to run through the various benefits of one-to-one poker coaching.
An introduction to one-to-one poker coaching
The majority of one-to-one poker coaching is done online through software programs such as Skype, TeamViewer and Discord. This allows the coach and student to speak to each other even if they are on opposite sides of the world (which is the case with many of my students!) These programs also allow screen sharing which means that both the coach and the student can share their computer screens to aid the lesson's progression.
A poker coaching session usually lasts for one hour, but can sometimes stretch to two hours. As a general rule, I feel anything more than two hours is too long.  The learning experience may start to get worse after the two-hour mark. A solid one hour of learning usually gets the job done! A typical schedule for most students is 1/1.5 hours of coaching per week.
How to prepare for a poker coaching lesson
Before the lesson, it's a good idea for the student and coach to discuss what topics they will cover over that hour. This way the student can ready their mind for the poker knowledge about to head their way! It's also really is important for a student and coach to be in regular communication to keep the learning experience fluid and fresh.
As a coach, I always make sure I prepare properly for each student's lesson with a lesson plan tailored to that student and their learning needs. Just like Benjamin Franklin said 'if you fail to prepare, prepare to fail' – that is so true for both coaches and students when it comes to poker coaching.
How one-to-one poker coaching can take your poker game to the next level
Poker training sites and poker courses, though often full of fantastic content that can certainly improve your poker game and win rate significantly, are by design aimed at the general poker pool to attract customers of different poker skill levels and budgets. And while they often divide their courses and content into the classic beginner/intermediate/expert model, the learning experience from these sites is a lot more generalized than specific one-to-one poker coaching. A good comparison would be a university student doing a standard university course vs. being personally tutored by a professor of that course.
Poker courses will run over how the game is changing and how to adjust. However they are unable to pinpoint the exact errors you're making at the table that are holding you back.
Students often come to a poker coach like myself as they have bought one of these bumper courses but were unable to get full value from it as they needed much of it explained to them. Even though the content was excellent it didn't answer the doubts they have about their game.
Key aspects of one-to-one poker coaching
Like any good plumber, a poker coach needs to find and plug leaks in their student's game. This means finding common mistakes that they make on the table or misconceptions they have about certain spots. This is an efficient system for improving the student's game usually done through the process of hand review or stat review from the player's Heads Up Display (HUD).
A coach should have the ability to find a pattern of errors within the student's game and advise them on how to quickly correct these 'leaks'. Common leaks for many of my students include:
Defending too wide from the Big Blind multiway & versus Early Position raises
Overplaying small pocket pairs preflop and getting confused postflop
Flatting raises from the Small Blind with too many hands
Not knowing what to 3bet in poker especially at the different stack sizes that come up in MTTs
 
Whatever the leak may be, it's important to spring it as soon as possible before the student continues to bleed money in these situations!
Being critical in the right way as a poker coach
When I am coaching a player, I naturally have to criticize their play to get the message across that they need to make improvements to their poker game. Otherwise those problems will continue and the player might not ever find out how to fix them. This can often be a difficult process, especially if it is one of my first sessions with a student and we don't know each other too well yet.
Finding the balance between harsh but constructive criticism can be extremely tough at times, particularly if a student has a hard time admitting their faults and instead makes excuses. I often mix in praise of other aspects of their game while laying out what they are doing wrong. Too much negativity can simply damage a student's trust in the coach, which will often completely derail the learning journey.
I try to strike the balance of necessary critique and timely praise to keep the student both realistic about what I expect from them and motivated to continue learning.
Getting the message across in poker coaching
The issue with poker for many people trying to access it for the first time is the amount of jargon involved. GTO preflop, exploitative play, cold 4-bet, balanced ranges – it's sometimes even enough to give me a headache! So as a coach, it's important to pitch my lesson at the right level for the student to not feel too overwhelmed by the complexities of the great game of poker.
I coach many types of students with different needs, mentalities and thought processes. The delivery of each lesson also has to be well-planned so that they go smoothly. This is a process that I constantly try to improve as a coach. It's super important that the correct information is given in a way the student can appreciate and understand.
Putting the pieces of the puzzle together
Students who enjoy my initial one-hour sessions will often buy five or ten lesson packages. If this is the case, it means I can treat their learning like a short university course in poker. Over the process of 5 or 10 hours I can cover several different areas. These could include for example BvB (blind versus blind) play, 3-betting at different stack sizes, flop c-bet strategy, mental game approach etc.). During this time, the student will get the proper tools to improve their game considerably in chosen areas.
More sessions also means that I can build on previous lessons and literally see real-time improvement in the student's game as they begin to grasp and use the concepts they are being given. Now this is a fantastic process for both student and coach! Poker coaching is about building the right blocks in order to give the student a solid foundation to continue their poker career independently. In five hours, I aim to give my students the push they need to pursue their poker career with a more concise focus than when they started with me.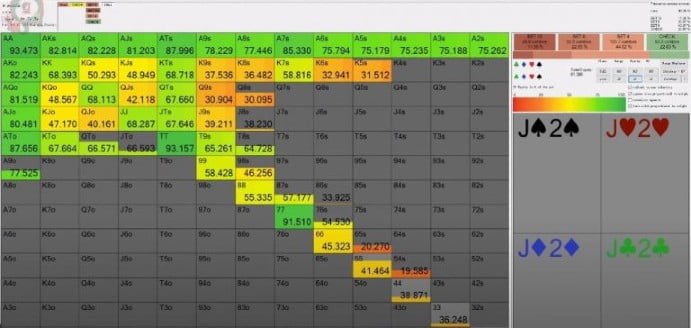 The Game of AIs and poker solvers
Teaching a game like poker is not a chalk on the blackboard type of thing in 2020. There are now multiple programs and solvers that many poker players use to improve their game. In the past few years, the release and widespread use of poker solvers like PIO and Monker have revolutionized the way the tactical elements of the game are approached.
Nowadays high stakes crushers often refer to solver approved players when discussing online poker hands. Before we were all just guessing what the correct ranges in each spot are, others guessing better than others. With poker solvers we can just study enough and the keys to the magical kingdom will appear. In other words, playing brilliant and almost perfect poker from a game theory perspective becomes possible.
Therefore many poker lessons will often revolve around the allowed software programs that make poker learning easier. Even at the most basic level, it's important to be looking at poker ranges visually and seeing how equities change between two sets of these ranges. Poker solvers are integral to coaching players, as they make the learning journey of a student so much more efficient.
You should do some studying with solvers if you aim to become a professional poker player, no matter what game format you specialize in. While you can have a great winrate in live poker without studying the game with solvers, you're giving your opponents too big an edge if you don't do that when you play on online poker sites.
In a nutshell, poker coaching is a process that has many important elements and parts to plug the leaks a poker player has. Although I might be biased to say this, poker coaching is the best way to move forward for players who are having real issues with their poker game. No other learning methods can fix those issues immediately.
Good poker coaches pass on wisdom, teach new concepts and clear previous doubts and misconceptions. If the student is willing to submit themselves to this process the sky really can be the limit!
Cheers and GL at the tables!
The author of the post is James Brady, a poker coach for Ultimate Poker Coaching. Read more about James from his poker coach profile at Ultimate Poker Coaching
Poker Coaching FAQ
How much does a poker coach cost?
While hiring a poker coach is not cheap, it is the fastest way to plug your leaks in poker and improve your winrate. Poker coaches can cost anything from $30 per hour to several hundred dollars per hour. By comparison an online poker course can cost between $50-1000 based on what level of players the course is aimed at and poker books covering modern in-depth poker strategy for a specific game format can cost about $20-80. A monthly subscription to a poker training site costs around $20-50.
What is the best poker training site?
The best poker training sites include BluffTheSpot, Upswing Poker, Raise Your Edge, Run It Once and Advanced Poker Training. You should choose the training site that best covers the game format you like to play. You can read the complete reviews of these sites from our post best poker training sites in 2020.
How to find a poker coach?
You can find poker coaches from many coaching websites simply by googling 'poker coach'. Another good place to find competent poker coaches is the paid listings on 2+2 forums. Before hiring a poker coach, you should visit a few coaching websites to compare prices and student testimonials of coaches that are experts in your preferred game formats. For example, if you play 6-max Holdem cash games, you should look for coaches that have significantly improved the game of their students in this format.
Are there free poker strategy webinars?
Yes, some poker coaches have recorded webinars from live coaching sessions that are available to watch for free. These webinars usually include a section poker theory focusing on a specific area of the game like preflop blind defending or 3-betting out-of-position, and real-life hand reviews from either cash games or poker tournaments.
What are the different poker coaching formats?
Typically poker coaches offer three types of lessons for their students: live sweat sessions, database reviews and video reviews. These poker coaching formats can also be combined for a greater learning effect. A good coach will do a database review with their students regularly between live sweat sessions or video reviews.
How do you train for poker?
While joining a poker coaching program is the most effective way to improve your poker game, you should train your game with many other options like:
Read poker strategy articles
Discuss hands on poker forums
Discuss strategy with your poker friends
Watching professional players on Twitch
Joining a poker training site
Studying different spots using a poker software like PioSOLVER
Listen to a poker podcast with a poker pro interview
Watch analysis of tournament poker on YouTube
Many tournament winners have utilized all of these methods before hitting their big score. For live poker players, getting enough hours at different casinos is essential to develop your live tell reading skills and become good at adjusting to different player pools. For example, the games in Las Vegas are going to be quite different from those played in most European casinos. The same game plan might work very well in some table conditions but do quite poorly in others. Therefore nothing can replace the experience you gain by playing with different players in live poker.
How do you get good at online poker fast?
First you should learn to rules, positions, poker hand rankings and opening hand charts. Start playing on low stakes and get some hands under your belt. Study the poker odds and use the free poker resources available on the internet. Get a trial version of Poker Tracker 4 or Holdem Manager 3 and set up a HUD to exploit the different tendencies of your opponents.

Once you can beat the micro and low stakes games, you can consider hiring a poker coach, finding a poker mentor and/or joining a poker training site. While all of these methods are effective for getting good at poker fast, there are shortcuts to becoming a great poker player – poker is a game that takes just a few minutes to learn, but a lifetime to master!
Are poker training site subscriptions worth paying for?
Yes, if you're ready to put some effort into studying the materials and implementing them in your game. Even if you can improve your winrate by 0.5bb/100, the investment you make in your poker game will quickly pay back the price of subscribing to a poker training site. As long as you play stakes where the training site subscription price makes sense we recommend joining one.
Are there any good poker training sites for live poker players?
There are a few training sites aimed specifically for live poker players, with Crushlivepoker being the most well-known option. You could also try out RYE's course called Mastering Live Cash created by RYE coaches mariano5 and fallout86. Mastering Live Cash course comes with a 60-day money back guarantee so you can essentially try it out risk-free!
What is the best mental game poker training course online?
A very good course on mental game in poker would be Elliot Roe's A-Game Poker Masterclass which is designed to rapidly level up your results and help you play your A-game every day. Elliot Roe is a mental game coach who has coached Fedoz Holz to perform his best in high stakes tournaments. If you're looking for personal coaching in the area of mental game, Tommy Angelo and Jared Tendler are coaches who have helped many high stakes players overcome the negative effects of tilting. Both of them have also written great books on the topic.
What kind of schedule should I use for studying poker?
The schedule for studying poker should depend on how far you've progressed in your poker career. If you're just starting out, you could spend even 50% of the time studying and the other half playing. Once you've established yourself in poker as a winning player, it makes sense to play a lot more, perhaps leaving 20% of your poker time for studying and 80% for actual play.

Some players prefer to play a lot when they're running good and study more when they're on a downswing. While there is no single optimal schedule that could be recommended for everyone, try to find a schedule that keeps you motivated to play and also learn more each week.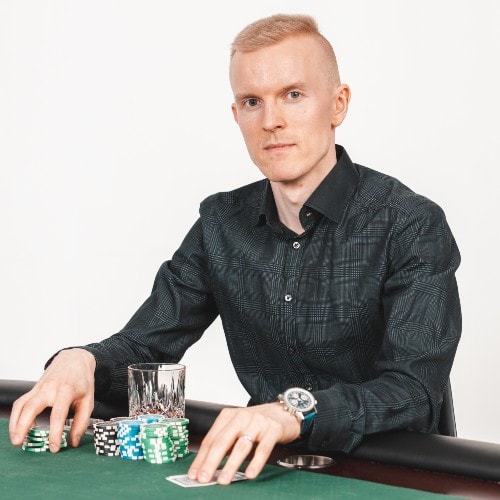 Johannes is the Editor in Chief at Beasts Of Poker and is an expert in both live & online poker. Johannes played online poker semi-professionally for 5 years while completing his Master's Degree in Technology.