Today poker is available to almost everyone. You can play at the casino, at home with friends, or online from your mobile phone or laptop. There may be nuances and house rules depending on where you play, but the basic rules are the same. It's not far fetched to say that poker is a global sport!
However, there are notable differences between various game formats. When we play at home with friends, we usually do it for fun, not trying to make a living. Another thing is live and online poker. There are a lot of opportunities here to make money. For some people, this is the same entertainment, but if you want more than just fun, it is vital to figure out which option is better to play for money: online or live poker.
This article will take a closer look and analyze all the critical differences between online poker and live poker. You will also find adjustment tips if you move from live to online or vice versa. Finally, we will tell you which option is best for beginners who are serious about building a poker career.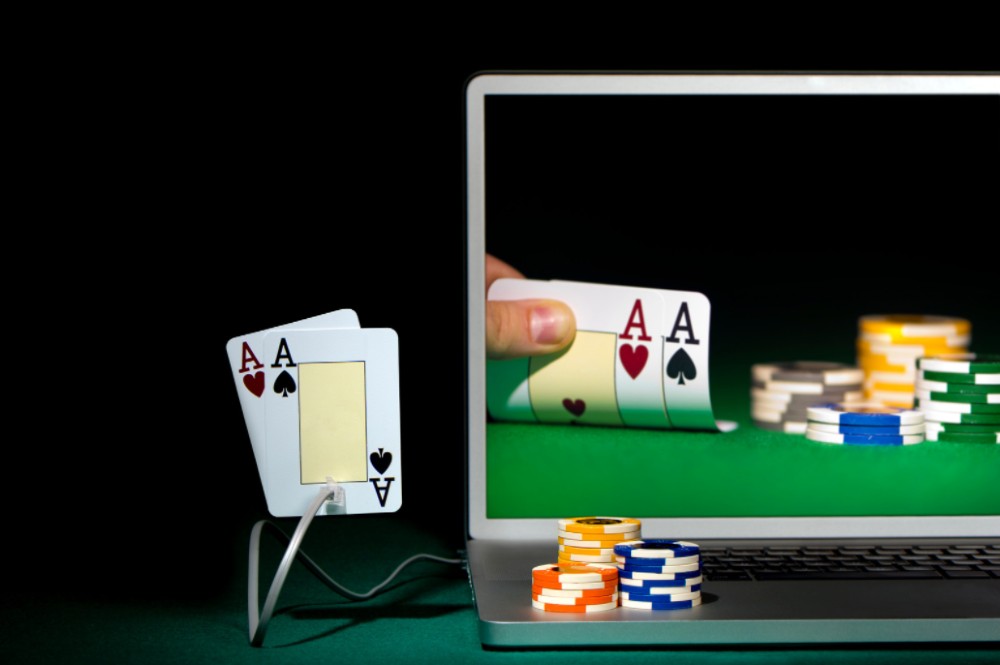 What are the differences between online poker and live poker?
On one hand, online and live games are very similar to each other. After all, the rules & betting structures are the same in both. On the other side, they are entirely different. Many poker players who previously played only online or live poker often feel anxious about their first game in a new location. To help you with the transition, we have compiled a comparison table to help you quickly see the main differences, compare each factor and get ready for a new poker experience. Below we will also go into detail about each item from this table:
| | | |
| --- | --- | --- |
| | Online poker | Live poker |
| Quick access  | yes | no |
| Game schedule | flexible | inflexible |
| Additional expenses | few | lot |
| Convenience | more | less |
| Security | better | worse |
| Atmosphere | no | yes |
| Game selection | wide | narrow |
| Competition | high | low |
| Live communication | no | yes |
| Bonuses, promotions, rakeback | yes | no |
| Rake | 5% | 10% |
| Stakes | from $0.01/$0.02 | from $1/$2 |
| Multi-tabling | yes | no |
| Statistics | yes | no |
| Hands per hour | 60 and more | 30 |
| Tables | more often short | more often full ring |
| Stack at cash tables | short | deep |
| Opening range | narrow | wide |
| Limps | rarely | often |
| On the flop | more heads-up pots | more multi pots |
| Bet sizing | standardized | random |
| Blinds protection | rare or medium frequency | often |
| Squeezing and isolating limpers | often | rarely |
| Counting pot odds | usually yes | usually no |
| Aggressiveness  | high | low |
| Poker face | not needed | important |
| Physical Tells | no | yes |
| Hand analysis | yes | no |
| Perception of variance | more often correct | more often erroneous |
Online: you can join the game any time of the day. You just need to launch a poker client or mobile app, and in a few minutes, you are already playing online poker.
Live: you need to get to the casino first. Lucky if you live near the casino. Otherwise, you will need to spend time on the road, and in some cases, it will even take a whole journey if gambling is illegal in your country.
Online: cash games and poker tournaments are available 24/7 – you will always start a cash game session at your stakes or play in a tournament with a suitable buy-in. You can choose a convenient time for the game yourself, and spend weekends, for example, with your family and friends.
Live: poker games usually take place in the evening or at night, so you will hardly be able to play in the morning and afternoon. Most live games occur on Friday nights and weekends, so you will need to tightly tie your schedule to the weekend if you play regularly.
Online: all your expenses are paying for the Internet, which you always pay in your bills anyway.
Live: you need to pay for travel, food, and sometimes accommodation. In any case, it is costly.
Online: you choose where to play and when to take breaks. If you want, you play online on the bed, on the couch, in the park, or in a cafe. You control the environment around yourself and choose the place where you feel most comfortable.
Live: your comfort level depends on the institution – chairs can be uncomfortable, people at the table can be smokers, behave noisy and provocative. But you cannot change that, and you either have to accept this factor or leave.
Online: major rooms place great emphasis on protecting customers from fraud and ensuring security. Yes, there is still the possibility of a game or bank account being hacked, but with a responsible attitude to your protection, these problems are unlikely to affect you.
Live: cheating and collusion are more common in casinos. And if you win a large amount of money, it can be pretty dangerous to transport the winnings.
Online: we can not say that the online poker world is entirely devoid of bright emotions. At the final table of a major tournament, emotions can be overflowing, and bad beats can be very sharp and difficult to endure. Nevertheless, all actions take place automatically, their minds are busy with calculations, and there is no time to enjoy the moments.
Live: the game has a lot of social interaction. You see your villains and try to outsmart them. The expression on the face of a player who folded his strong hand to your bluff is hard to overestimate. There is a unique atmosphere at the casinos; so many people love live poker so much.
Online: game formats are available for all tastes. You can play familiar No-Limit Hold'em, Pot Limit Omaha, Stud, Draw and Mix Games, and other exotic forms like Badugi. Various tournaments are available: Knockouts, Sit & Go, Spin & Go, Rebuy tournaments, satellites, deep-stacked and time-limited tournaments. You can play whatever you want at any time, and you have no restrictions (other than your bankroll).
Live: There is usually a lot less choice of games. Most often, casinos offer Texas Hold'em, sometimes Omaha. You can find other options in big tournament series, but large tournaments are periodic. So if you come to a land-based cardroom for a tournament, and there are no tournaments there today, you will not do anything about it.
Online: the level of players has grown tremendously in recent years. Online regulars use various software to improve their attainments, watch tutorial videos and read strategy articles. Many online gamblers already have tremendous experience, and it will be challenging to compete with them.
Live: most people come to the casinos to have fun. If this is a casino in a tourist area, there will often be ones at the green table who don't even know the rules. The overwhelming majority of people in casinos play poker very rarely and do not take this game seriously, so they do not learn at all and know very little about strategy. It is much easier to beat such a field.
Online: there is no need to talk about any live communication. Most poker sites indeed offer online chat support, but few people use it. And the comparison of chat and live contact will be incorrect.
Live: it is impossible to imagine live poker without talking at the table. There are, of course, silent guys who only focus on the table. But in any case, almost always, everything is thrown with each other in phrases.
Bonuses, promotions, rakeback
Online: There is fierce competition among poker rooms for new clients, so they regularly offer their customers various poker bonuses, promotions, and rakeback. You can find no deposit bonuses, first deposit bonuses, high rakebacks, free tournament tickets, and other promotions on almost any poker site.
Live: as a rule, casinos do not offer any bonuses, let alone rakeback. In some cases, visitors can count on free drinks as promotional offers, but these promotions will not help to increase their bankroll in any way.
Online: usually, the rake is about 5%, but not more than $3.
Live: a rake of 8-10% or a cap up to $15 will not be uncommon.
Online: stakes start at $0.01/$0.02. Thus, if the player has at least $2, he can already sit down at the table. Any stakes, from the lowest to the highest, are available at any time. Buy-ins in tournaments range from $1 to several thousand dollars on average.
Live: as a rule, stakes start at $1/$2, and in rare cases, you can find lower stakes. In tournaments, buy-ins usually start at $50. With the high stakes, building a bankroll that can withstand the inevitable swings won't be easy.
Online: you can launch several dozen tables at once, and then there will always be actions – just have time to press the buttons!
Live: with all the desire, you will not be able to join several tables simultaneously, so you will have to rely only on playing at one table.
Online: in many poker rooms, you can use HUD – statistics in real-time. Statistics help you make the best decisions and see the tendencies of your villains.
Live: of course, there can be no exact statistics in numbers. All you can do is observe your opponents during the game and take notes.
Online: on average, at one table, 60 hands are dealt per hour. If you open several tables at the same time, then the number of hands will increase accordingly. The high pace is because there is no dealer, and all cards are processed automatically by the computer.
Live: at best, it will be 30 hands per hour. Professional and super fast dealers can deal around 40 hands per hour, but this is the exception rather than the rule.
Online: in recent years, short or 6-handed tables have become more prevalent, and the main game in most poker rooms is 6-max. In this regard, there is more action.
Live: casinos often offer full ring tables for nine or even ten places. Therefore, in general, this format is more passive.
Online: usually, the maximum buy-in is limited to 100 BB.
Live: most often, the maximum buy-in is limited to 200 BB, and sometimes there are no such restrictions.
Opening range and limping
Online: grinders open a narrower range, usually well-balanced against the positions at the table. Limps are relatively rare and are found mainly in weak opponents.
Live: since the game runs at a slow pace, and the players are simply bored, they open wider and make preflop calls often.
On the flop: multi-way vs. heads-up pots
Online: since most of the time, players open pot with preflop raises, the cost of playing becomes too high for most players if they don't have a strong hand.
Live: when many players go into the hand, the pot gets bigger, and some people are more likely to call the big blind or the minimum bet even with a trash hand. Therefore, multi-way pots are ubiquitous.
Online: usually, regulars use standard raise sizes – 2-2.5-3 BB.
Live: the bet sizes can be completely unpredictable; someone bets 5BB, and another one – all 10BB.
Online: players are aware of the influence of position on further play and rarely defend the blinds. As a rule, if a player on BB or MB calls a bet, he will have at least one of good hands.
Live: since many players enter the hand, the blinds are much more likely to call bets and often even outright rubbish.
Squeezing and isolating limpers
Online: players are much more likely to use these techniques as they are more knowledgeable in strategy.
Live: such moves are very unusual, and if someone squeezes, others will immediately think that he has AA.
Online: regulars have learned to make post-flop decisions based on pot odds automatically.
Live: frankly, few people at the table have heard of the concept of pot odds. You will often see folds when it was easy for your opponent to call or overplay weak cards.
Online: preflop raises, reraises, 3-bets, 4-bets, push-fold in tournaments, aggression post-flop – it's hard to imagine online poker without all these moves.
Live: the game is often too passive. Preflop aggression is quite rare, and post-flop players also prefer to cold call.
Online: no one can see your reaction to the hands you get. You can dance when you get aces or smile slyly when you bluff – no one will see it.
Live: when you play offline, it is essential to control all emotions. No one movement of a muscle on your face, not a single gesture, should betray your feelings.
Online: you cannot see villains and analyze their behavior. Usually, online gamblers make decisions based on reading opponents' ranges.
Live: many pros are primarily trying to improve their reading skills of physical tells. This knowledge can help beat weak opponents who do not know how to control their emotions.
Online: you have an excellent opportunity to download hand histories and analyze your moves after the session to find patterns and leaks. With deep statistics, it is possible to explore each of your decisions and find the best pay lines.
Live: after a few hours of play, you can hardly remember even a few hands in detail. The possibilities for further analysis and improvement are severely limited unless you write down the whole hand in a notebook.
Online: regulars understand that the result of optimal decisions will be visible only over a long distance, so they are calm about situations such as losing with QQ against AK when all-in preflop. They know that QQ will have 56% equity against AK, so pushing against AK will be profitable in the long run. Thus, the online player has a healthy perception of variance.
Live: few people understand that optimal decisions will not always be profitable. And in a QQ vs. AK situation, players may incorrectly perceive their defeat and, as a result, come to the wrong conclusions, for example, never push with QQ again. Thus, the live poker player often overestimates variance.
So who is the winner of online poker vs. live poker? We think that each player will find their winner, depending on their needs. But at the same time, you don't have to choose only one format – you can successfully mix live and online poker.
How to adjust to live play?
If you have never played live poker, but you have a lot of experience in online games and want to test your strength at the green cloth, it will not be too difficult for you. Online players have a lot of experience; thanks to the high pace of the gameplay, they have played many more hands than players in live poker at the same time. But there are several tips to help you feel better on your first visit to the casino.
Check out the house rules, if any. Usually, the casino puts house rules in a prominent place, but if you can't find it yourself, ask the staff. House rules can sometimes be entirely unexpected, and it's best to prepare yourself to not get into an awkward situation.
Watch the game for a while before joining the table. See how the dealers deal cards, how other players announce actions and handle the chips. It will help you feel more comfortable at the table.
Try to control your emotions. It is possible that in the first live poker game, your hands will even shake because of your nerves, but very few people manage to sit down at a table with unfamiliar guys for the first time and be calm. But after a few hours, you will be more relaxed.
Be prepared for the much slower game than at an online table. But be patient and don't go to extremes. Don't open junk cards just because you're bored. Better to spend this time watching your opponents.
Add more loose-passive plays to your live cash game poker strategy. Passive style plays can be very unusual in forming a winning strategy, but it makes sense to adapt to limper who like to see more flops. If you are good at post-flop play, you will have a significant advantage.
How to adjust to online play?
If you have never played online before, but are a frequent visitor at the poker table in live poker, be sure to try playing poker on the Internet to at least find out what it is. Today, online cardrooms offer many different formats and regularly host major tournaments with huge guaranteed funds. But let's say right away – it won't be easy. Not every profitable live player will be able to profit from playing online poker. So if you want to make money playing online, you have to work hard.
Start at lower stakes. If you are used to playing offline with stakes of $1/$2, then in online poker, it is worth moving to lower stakes since there will be solid regulars at the NL200. But we also advise you not to play for virtual chips – playing for play money has nothing to do with playing online for real money.
Prepare to act quickly. The online game has a limited time bank for decision-making. It is better to think in advance which ranges from which positions you will be ready to enter the hand.
Limp less. If no one has limped before you, try to open-raise the pot. Online poker is more aggressive, so limpers are often isolated, and if you don't have a solid combination to continue, you will lose money.
Install poker tracking software. It is foolish not to take the advantages of online poker that are not available offline! Download and install Holdem Manager or Poker Tracker, and you will always have complete real-time statistics before your eyes!
Learn poker strategy and math. Many online regulars try to make optimal decisions based on mathematical calculations. If you don't study the strategy, you will quickly be left behind.
What's the best choice for a beginner: live poker or online poker?
Comparing online poker vs. live poker will give you an understanding of many nuances, but it will not answer the question – which choice will be better for beginners. Players who have a lot of online and live experience find that live poker is more effortless than online games because there are usually many more weak players in casinos who are willing to give up their chips with junk cards. Also, typically a good live player will have a higher win-rate than an online player.
However, we recommend that beginners try to play online first. There are several reasons for this.
Faster play. You can get much more experience in online poker than at the same time playing at the land-based cardrooms. While casinos play an average of 30 hands per hour, online poker typically plays over 60 hands per hour. But in practice, the difference will be even more significant. The more you play, the more experience you get.
You need a small bankroll to start. You can begin at micro stakes, and you will feel confident with a $100 bankroll on NL2. Such an airbag will allow you to calmly learn to play poker and to make the right decisions. While there are no such low stakes for playing offline, and a comfortable bankroll at NL200 will be $ 8,000 – $ 10,000. A palpable difference, isn't it?
Bonuses and rakeback. When registering at a new poker site, you can expect to receive a nice boost to your bankroll in the form of a first deposit bonus. Some rooms even offer free starting capital, free tournament tickets, and other promotions. It's easy to start playing online poker!
These are the main factors, but in reality, there are many more. You can start playing online within 5 minutes after reading this article. You don't need to go anywhere and somehow prepare. Some poker sites offer a quick tutorial on how to play on their site so that even a superficial knowledge of the rules will not be an obstacle to participating in the first hand. However, we advise you to learn the poker rules, combinations, and basic strategy in advance.
If you want to play poker in a real casino, then after online games, it will be much easier for you: you will have the experience, knowledge, and confidence to beat your opponents!
Online Poker vs. Live Poker FAQ
How does online poker work?
The game takes place on the Internet. All you need is Internet access via your laptop, phone, or tablet. Deals in the poker room are automatic; there are no dealers, a computer does everything, or rather RNG - a random number generator. It takes seconds to deal cards, which is why online poker has a swift pace of games.
How does live poker work?
The game takes place in land-based casinos or rooms. A specially trained person - the dealer deals the cards. The dealer shuffles the cards and deals them to each player at the table. Since the dealer deals the cards manually, this takes some time.
What is the major difference between online and live poker?
There are quite a few differences between live and online poker tables, but the main differences are:

The speed of the game (online is faster).
The level of players (weaker in live poker).
The need to control physical tells (in live games).
How many hands per hour in live poker?
On average, about 25-30 poker hands per hour.
What is the difference between the experience in live and online poker?
Online players are usually more experienced because they have played many more hands at the same time as live players. Also, online players are generally more potent, and when you are playing with good regulars, you will gain experience and valuable attainments faster (if you analyze the game, of course).
Is it possible in a casino to make the same moves as in online poker?
Yes and no. Tricks like squeezing and continuation betting usually don't work in live poker the way they do online. Therefore, it is worth adapting your game to your opponents.
What percentage of players play poker online and live?
Since its inception 20 years ago, online poker has gained immense popularity, and today there are many more online players at the same time than live poker. In 2013, a survey was conducted among US players, according to which 72% of respondents played online poker. But the number of online poker players has increased in recent years, and 2020 has been a pivotal year due to the Covid-19 pandemic, with many offline regulars moving online.
Is live poker easier than online?
Yes, live poker is more straightforward since most people come to casinos to have fun and unwind. And since the primary profit comes from bad players, many weak players allow you to make more money.
What are the pros and cons of live poker?
Pros: atmosphere and emotions, low competition, and live communication.
Cons: speed, a small selection of games, and lack of quick access to live games.
Are online poker players better than live poker players?
Usually, online players are more experienced because they have played hundreds and tens of thousands of hands. Simultaneously, to play 10 thousand hands in a casino will take about 400 hours of play.
Is poker online rigged?
No, this is just a myth spread by weak players. It is much easier to blame the tweaked RNG for your defeats than admit that you played wrong.

Auditing companies regularly audit all poker sites. Poker rooms make money on a rake, and it is not profitable for poker operators to falsify RNGs, as this could significantly damage their reputation.
Can you make a living playing online poker?
Of course, if you play well, follow bankroll management rules, and constantly develop your skills, you can play online poker and make a living doing it. But get ready to be tricky. The competition is very high, and it takes a lot of effort to be at the top of the food chain.
How to be an online poker player?
It's effortless - you need to choose an online poker site, install a poker client and make a deposit. After that, you can immediately sit down and start a cash game session or enter the tournament.
What's the best online poker site?
Each type of player will have its own best poker site. But as a rule, if you want to make money with poker, you should choose the poker site with the softest field, the best bonuses, and the highest rakeback. You can select a poker room that suits your needs in our reviews of poker sites. We have chosen the best poker site for you - read the reviews and go ahead, beat online games!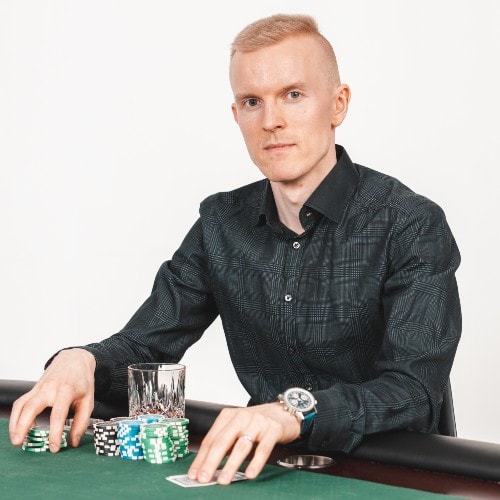 Johannes is the Editor in Chief at Beasts Of Poker and is an expert in both live & online poker. Johannes played online poker semi-professionally for 5 years while completing his Master's Degree in Technology.