With the increasing rate of poker players and sites being taken advantage of, online poker security concerns should be taken into account by every player. Taking proper precautions with computer security can help you not only feel safe but avoid the risks of getting hacked for money. We compiled an online poker security guide for you to help you get all the essential information you need to protect yourself while playing. Let's start with online poker site integrity:
The first thing to do before jumping into a real money poker game is doing some research about the poker site you're planning to play at. Read some poker reviews, search around forums and check traffic reports to confirm your poker site is indeed legitimate before making a real money deposit. In general, the integrity of the game is better on reputable poker sites that have a high amount of player traffic. Here's a list of signs you should look for when doing your research: 
Your online poker account may be compromised if the computer you're playing on gets hacked. Harmful software can be used to register your passwords and your actions at the tables. You want to avoid getting compromised at all costs, especially when you play at online poker sites for real money. Let's take a look at the most important steps to take in terms of following proper security measures in online poker:
How to stay safe while playing poker online
Have a dedicated computer for online poker
While this might not be the first thing you would think of when playing online poker, every professional poker player should have a computer just for playing. This way you can protect yourself from various phishing scams, trojans, and other nasty ways that hackers can use to get to you. A dedicated internet connection and computer that you never use for anything other than to play online poker is the way to go if you want to stay as safe as possible.
Use modern antivirus software
Paid antivirus software have the most frequent updates to protect you from the latest risks. With modern antivirus software and a firewall, intruders will have a hard time accessing your computer. Check that your antivirus suite provides you protection against Trojans, keyloggers, worms, identity theft, and spam. You should also keep your computer software up to date.
Always use strong passwords
Hackers can break easy passwords in no time. Using strong passwords is not only essential for online poker, but all your online accounts. You need to have at least 8 characters with a combination of symbols, numbers, lower case letters and uppercase letters. It goes without saying that you should have unique passwords for every account – reusing passwords is a no-no! You should also make sure to change your passwords on a regular basis. Having a separate email address just for poker accounts can be helpful as well.
In case you feel it's hard to set strong random passwords, you can install a password manager to set and store passwords for you. Examples of viable password managers would be Keepass and Roboform.
Use two-factor authentication
Two-factor authentication means having in addition to your login credentials, you will be asked for a separate code (sent to you usually via SMS) to access your account. 2FA can boost your security by setting an additional layer of protection for your poker accounts. If 2FA is available, we strongly recommend you to take advantage of it.
Don't access poker accounts on public Wi-Fi networks
Wi-Fi networks at hotels or cafes can come in handy for surfing the internet or online gaming, but they shouldn't be used for playing poker. Playing at online poker rooms, shopping, or banking are all activities you should avoid when using a public Wi-Fi. Even though Wi-Fi networks are free, hackers might have crooked networks that look legitimate at first sight and you might enter private information that gets into the wrong hands. If you don't have other options to access the internet, the least you should do is use a VPN while on the Wi-Fi network.
Using a VPN can help you keep your data secure and private. Your location and IP address are harder to discover when you play online poker through a VPN. Just make sure to check the online poker room's terms and conditions before logging in through a VPN.
Don't open suspicious emails or IMs
In case you receive any kind of communication from a site you're not familiar with, it's best not to answer. Also be on the lookout for suspicious links in emails or IMs. No company would ask you for PINs or passwords in any situation, and it's best to keep that info only to yourself.
Be careful with chat programs like Skype
The general rule is to not add anyone you don't know on Skype. As an online poker player, you should not have chat programs open simultaneously while playing either. Even the safest poker sites can't protect you from malicious software that can be used through chat programs to phish your information like an IP address or passwords. Only add immediate friends to your chat programs.
The key takeaway from this article is that you should take online security seriously. There's nothing worse than seeing your account getting hacked and your hard earned money gone just because you didn't take proper precautions. Follow the steps on keeping your poker account secure and you'll have a much safer poker experience as a result.
Online poker security FAQ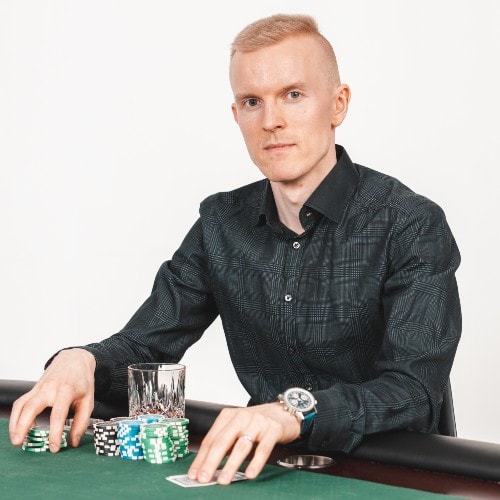 Johannes is the Editor in Chief at Beasts Of Poker and is an expert in both live & online poker. Johannes played online poker semi-professionally for 5 years while completing his Master's Degree in Technology.