Tons of messages on internet forums are claiming that online poker is rigged and nobody can win due to non-random card dealing. While many new players might feel this way, it's in the best interest of the poker sites to keep their games fair and have a random dealing sequence. Let's take a look at the most common integrity and fairness issues in online poker:
Proof against online poker being rigged
For starters, almost all online poker rooms allow you to download the hand histories as you play cash games or tournaments. From the hand history documents, you can find information like:
By importing the hand histories into a poker tracker software like Holdem Manager 3, you can analyse how many times certain hands got outdrawn. Remember that you need tens of thousands or hundreds of thousands of hands to make any statistical conclusions. If your Pocket Aces were cracked 2 or 3 times in a row, it's most likely just bad luck. And everyone will face periods of bad luck in poker, especially those who play a lot.
What about financial incentives for poker sites to rig the games? The most common arguments for this include creating more action to charge more rake, but this is simply bad logic. If poker sites rigged their games to create more rake, players would soon find out that the games aren't fair and the poker site would probably take a big hit in their player traffic as soon as the word would spread. The poker site would also risk losing their poker license and going out of business, so the risk is simply not worth the reward for them to do this.
Randomness of the shuffle & RNGs
The aim of the shuffle is to randomize the cards and make the games fair. Random number generators are software used to ensure that the shuffle is indeed random and favors no player over any other. No wonder that random number generators (RNG) are considered as one of the most important components for online poker. The software used for shuffles cannot control who wins or loses. Instead, it just deals out cards and the rest is up to the players. It's impossible for the algorithm to produce a predetermined winning hand. Online poker rooms tend to certify their RNGs via 3rd party auditing companies such as Gaming Laboratories International, which helps to show the players that games are run in a fair and honest manner.
While RNGs ensure the randomness of the shuffle, you can still run across potential dangers while playing online poker. Let's look at the most common ways of cheating and how to detect them:
Ways you can be cheated in online poker
Insider cheating with superusers
Superuser accounts are poker accounts that have access to all hole cards at the table they're playing. Such accounts would be able to know exactly when to fold, bet or raise, giving them a vastly enhanced chance of winning the hand. Normally when you play poker, you're only shown your hole cards and the other players' cards cannot be accessed. A superuser account on the other hand must have access to the gambling operator's poker server, which means they need to be an insider to do this.
One of the biggest online poker scams is the one involving Absolute Poker & Ultimate Bet in 2007, when a group of players discovered superusers that were playing like they could see the other player's cards, winning pot after pot. Investigation was conducted and it indeed turned out that these superuser accounts had access to all hole cards, allowing them to make unbelievably profitable moves at the tables.
After the Ultimate Bet scandal poker sites must have realized they could lose their business and reputation very quickly if superuser accounts were deployed, and no further cases of superusers have been discovered since. There have been cases where some players have gained a superuser-like status by installing malicious software on their opponents computer, allowing them to view their opponents hole cards while playing. For this reason, all IM programs should be kept closed when playing online poker.
Collusion can occur in any poker game with three or more players. It is a form of cheating where two or more players are acting with a secret, common strategy to gain an advantage against the rest of the players. Collusion is strictly against the rules in poker, and sometimes it can be hard to spot if players are colluding at a table.
In most collusion cases, players are sharing their hole cards and trying to push other players out of the pot or lure them in when one of the colluders has a strong hand. In poker tournaments, collusion can also mean chip dumping i.e. losing chips to a certain player on purpose.
Soft play is a form of collusion where one player fails to make a bet or raise in a situation that would normally merit it. It could also mean taking a less aggressive line against a certain player or avoiding winning money from them.
In a fair poker game, all players at the table are playing on their own. Ghosting means a player giving advice to another player while they're seated at a cash game or a tournament table. In online poker, software such as Teamviewer and Skype can be used for ghosting. The player can then talk with their ghost if they face a difficult situation before making a decision.
Ghosting is a big problem in late stages of tournaments when the prize pools are high. Ghosting is believed to be the most common way of cheating that occurs in online poker.
Multi-accounting means that a player has opened two or more real money accounts at a poker site, giving them a chance to pose as different players in a game to increase their chances of winning. Multi-accounting is a problem for both the honest players and the poker site, since the cheater can also receive multiple poker bonuses by creating several accounts. If a player gets caught for creating multiple accounts, all his accounts and balances will be frozen for breaking the TOS.
Bots are a problem in modern online poker since they have evolved in strategy and can be hard to detect. Poker bots are computer programs that play poker online, and they are strictly forbidden at every poker site. Poker bots can simulate human actions but they make very few mistakes, since they don't ever become tired or unfocused like humans might.
You can detect a poker bot if you notice a certain player playing for a very long duration without taking a single break, or if they play a high number of tables without making any mistakes at all. These two things combined makes it a high chance for a player to be a bot.
Online Poker Integrity and Fairness FAQ
Many novice players feel like they're experiencing many bad beats in a short period, for example getting a high pocket pair cracked twice in a row. The belief of online poker being rigged comes from the fact that people don't understand statistics that well, and are not prepared for the variance that comes with playing online poker. Yet, nobody has been able to prove that online poker is rigged, as that would require millions of hands to be analyzed and finding real evidence that the random number generator is not working properly – in fact, most online poker sites have 3rd party audits on their RNGs and integrity of the games.
Provided that you play on licensed & reputable poker sites, online poker is relatively safe – rigging online poker cash games or tournaments would be virtually impossible, and very risky for the poker sites. Just remember to take online poker security seriously when it comes to how you use your computer.
To protect yourself at the table, pay close attention to betting patterns of other players. If there are multiple cases where players clearly either squeeze you in or out of a pot with questionable holdings, you should leave the cash game table and write about your concerns to the poker site support. However, most of the time when you spot something one-off, it probably isn't cheating or something you can do anything about – some players just play poorly and it might look like they're colluding.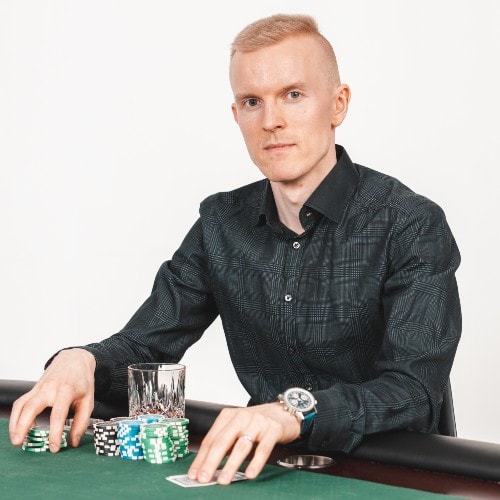 Johannes is the Editor in Chief at Beasts Of Poker and is an expert in both live & online poker. Johannes played online poker semi-professionally for 5 years while completing his Master's Degree in Technology.