Licensing is an important means of proving that your online poker business is legitimate and complies with all the laws. Online poker players have seen gaming sites come and go since the poker boom. To overcome the skepticism of customers, it's a standard procedure to purchase a poker license. Online gambling laws and licensing practices vary by country. Before playing online poker, it's best to educate yourself on how it works in different gambling markets.
What are the different gambling licensing jurisdictions
An online poker site can be licensed by one or more gambling jurisdictions. How to find out if a site has a license to offer real money poker games? When you visit any online poker site, you can spot if the site has a gambling license by looking at the bottom of the page for the logo & wording of the licensing body. The most common licensing bodies in online poker are the following:
Alderney Gambling Control Commission, AGCC
Antigua Division of Gaming
Curacao e-Gaming Licensing Authority
Gibraltar Regulatory Authority, GRA
Isle of Man Gambling Supervision Commission, IOM GSC
Kahnawake Gaming Commission, KGC
Panama Gaming Commission, La Junta de Control de Juegos

Country-level licensing bodies for online poker
The strictest licensing bodies are country-specific. Countries like France and Italy have ring-fenced player pools and others allow players around the world as well. Some of the largest entities that regulate country-level gambling licenses include:
UK Gambling Commission, UKGC
ARJEL in France
Italian AAMS
What aspects of online poker sites are regulated
Licensing bodies create regulations for online poker rooms in the following aspects:
Segregation of player funds
The time frame for processing cashouts of players who have won at the site
Advertising including poker bonuses and free play offers
Responsible gaming practices
How disputes are resolved
RNG audits
Online poker operators with gambling licenses must follow these requirements set by their regulators. This way players will know that things like rake, payouts, and the dealing sequence are conducted lawfully. Site operators must also use proper encryption methods and protect players from potential bots, collusion, and cheating. Licensing ensures that a poker site follows the set rules and standards. It also makes sure player funds are kept safe and transparency with players is maintained.
How gambling authorities differ from each other
Not all online gambling licenses are alike. While some of the regulators give a relatively big freedom to how gambling operators run their business, others are very strict in this regard. Take UKGC for example: They're run with UK government standards that are constantly reviewed. Online poker and casino operators with a UK license must have utmost transparency and they're audited consistently.
Then you have licenses like the Curacao license that are not that transparent. The standards of operators with a Curacao license are not set as high as with the most strict jurisdictions.
What are the benefits of licensing for poker operators
There are three main benefits for operators to get a license: Player trust, industry recognition & access to payment gateways. By obtaining a poker license, you show potential customers that your gambling business is legit. You also get better recognition in the media and industry publications. Lastly, payment processors like eWallets require an online gambling license to open a merchant account for them. This makes it possible to process player transactions to and from the site.

What is offshore regulation
Offshore refers to a poker site not registered by an authority in the country it operates in. Offshore sites can be regulated by licensing bodies elsewhere. Most offshore online gaming companies are not required to ring-fence their player pool. Instead, they might have a license from a specific country and offer their services in many other countries as well.
Offshore jurisdictions for US poker rooms
What are some locations for offshore online poker rooms that have customers in the United States? Good examples for these locations would be the Caribbean Islands and Central America. Popular offshore jurisdictions include:
Curacao
Antigua and Barbuda
Panama
Costa Rica
Kahnawake
State-licensed online poker in the USA
The legal status of internet poker is somewhat complicated in the US. Federal laws rely on the UIGEA and the US Department of Justice has ruled sports betting is the only form of gambling prohibited by the Federal Wire Act. Therefore, online poker is legal on a federal level. Each state can choose to regulate online poker in its licensing jurisdiction. However, many haven't committed to a public opinion on online casino games and poker yet.
Regulated & legal online poker is available in four states. Each has a different regulatory framework in place for gambling companies and online poker. Here's a list of the state authorities:
Nevada Gaming Commission
Delaware Lottery
New Jersey Division of Gaming Enforcement
Pennsylvania Gaming Control Board
As of 2021, Michigan and West Virginia have also passed the legislation for online poker. Several other states are weighing the option to legalize online poker.
Online Poker License FAQ
Why do you need a gaming license for online poker?
A gaming license for online poker sites allows you to run an honest and legal gambling business in a trustworthy manner. It helps you to build trust with players, as they want their money to be safe and the operator to guarantee payment of winnings. A gaming license shows your players that you comply with the gambling laws and regulations of your jurisdiction.
Is it illegal to run a poker game?
In most jurisdictions, it's still legal to run an unlicensed poker game if it's played in a residential building and the poker host doesn't profit from the game. In short, running a private game of poker is legal, but taking a rake from the game is explicitly illegal if the host does not have a proper gaming license and permits.
Is online poker banned in the US?
It's not illegal to play poker online in most states, but online gaming transactions are banned and banks cannot process them. The banned poker sites like Full Tilt Poker and Absolute Poker were accused of violating the UIGEA (Unlawful Internet Gambling Enforcement) by involving financial transactions with the US banks.
Should you ever play at a non-licensed online poker site?
In general, non-licensed poker sites are riskier than licensed ones. While a license is no guarantee in the event of a dispute, not having one is a potential red flag. What if you find great poker games on non-licensed mobile poker apps that you want to play? In this case, you should at least make sure not to deposit more than you can afford to lose and find a poker agent that you can trust before.
What is considered gambling?
Gambling or betting means wagering money on an event with an uncertain outcome. The goal of gambling is winning money or other material rewards. The size of the bet is referred to as the stakes.
How many types of gambling are there?
Gambling can be divided into two main types. Skill-based gambling means games where your ability or skill can influence the outcome. Typical examples would be poker, sports betting, or blackjack. Chance-based gambling refers to games with random results, such as the lottery, roulette, bingo, or slot machines.
Who regulates gambling in the US?
United States gambling law is governed by gaming regulations for three levels: Local, state, and federal entities. While real money games are legal under the United States federal law, interstate and online gambling have significant restrictions since each state is free to regulate or prohibit gambling within its jurisdiction.
How do you get a gambling license in the UK?
You must apply for a license through the UK Gambling Commission and pay a registration fee to run gambling services. You can complete the application process online. The cost of a gambling license in the UK depends on the turnover your company generates. There are an application fee and a yearly fee to keep your license.
How do you get a gambling license in Malta?
Getting a gambling license in Malta requires operators to undergo a rigorous application process with the Malta Gaming Authority. The license fee itself costs €25,000 and the application process has a separate €2,300 fee. Renewing the license costs €1,500.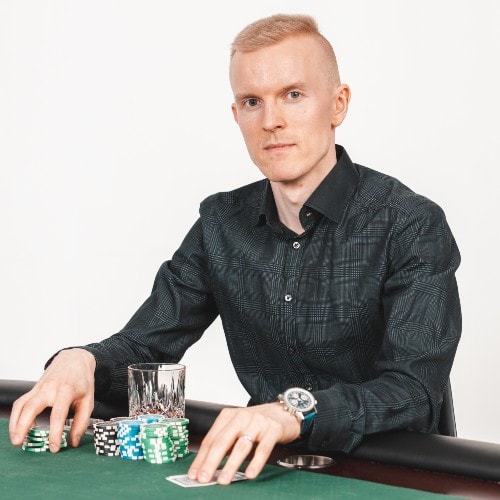 Johannes is the Editor in Chief at Beasts Of Poker and is an expert in both live & online poker. Johannes played online poker semi-professionally for 5 years while completing his Master's Degree in Technology.