The legal status of US online poker is one of the most common topics that might confuse players. The US online poker scene seems to be changing monthly after the government attorneys announced that the Wire Act cannot be used for prohibiting states from making online poker available. State-regulated online poker with real money poker games such as cash games and tournaments is legally available in just a few states. Besides, many states are considering legalizing online gambling.
As of January 2021, you can access legal online poker in Nevada, New Jersey, Pennsylvania, and Delaware. West Virginia and Michigan have passed laws that allow online gambling, including real money poker. However, state-regulated US poker sites aren't yet available in these two states.
To clarify what sites are legal and regulated in different states, let's quickly check whether online poker is legal in each state: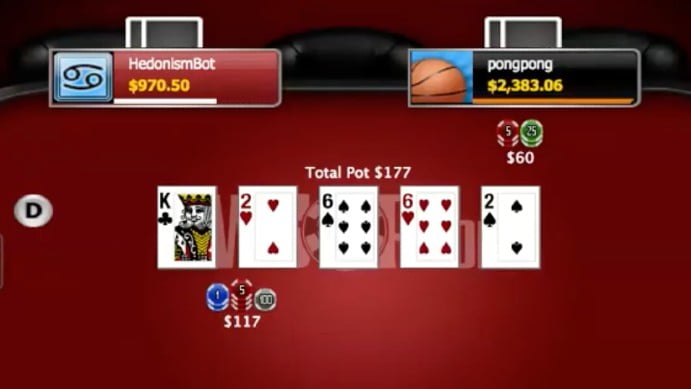 Nevada has just one legalized online poker room in place. Launched in 2013, WSOP Nevada shares liquidity with the 888 Poker network in New Jersey & 888 Delaware. You can compete in the online bracelet events for the World Series of Poker in Texas Hold'em, Pot-Limit Omaha, and other poker variants. It's not uncommon for poker enthusiasts from nearby states to drive to Nevada just to play poker online!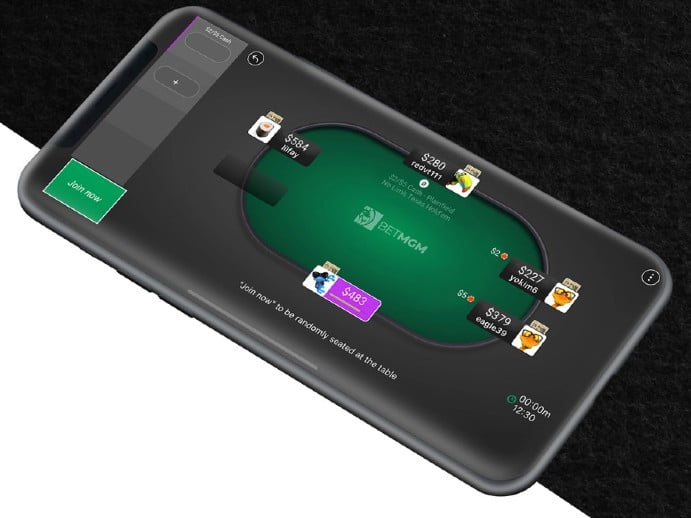 New Jersey is the largest online gambling market that's being regulated in the US. Online poker was launched in late 2013 in the Garden State. There are seven regulated poker rooms across four poker networks that can be accessed by players in NJ.
The most remarkable poker platforms include WSOP/888 Poker Network, Borgata Poker Network, and PokerStars NJ. On most of these sites, new players can receive a free poker bonus upon registering.
Pennsylvania online poker
The first online poker site in PA called PokerStars PA was launched in November 2019. It's a standalone poker platform and is not linked to any other PokerStars network or player pool. Although Gov. Tom Wolf signed a gaming package into law already in 2017, there haven't been more than one poker site to serve the state. Currently, there's no confirmed information if more operators will start running online poker in Pennsylvania anytime soon.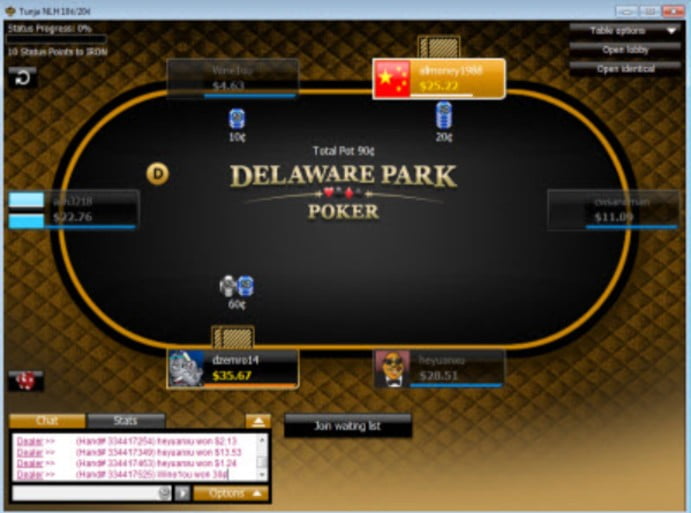 From the US states with regulated online poker, Delaware is the smallest one. They have a shared poker player pool with Nevada and all three state casinos have their real money online games on a shared 888 Poker network.
The branded skins include Delaware Park, Dover Down, and Harrington Raceway. Unfortunately, these poker platforms don't grant access to WSOP Online events for players in Delaware.
West Virginia online poker
West Virginia was the fifth state to pass the law on regulating online poker. The West Virginia Lottery Interactive Wagering Act allows casino-style online gambling as well. The law was passed in March 2019, but internet poker rooms haven't yet been launched as the regulatory framework is still being built.
Michigan had the chance to launch state-regulated online poker already in 2018. However, Rick Snyder used his veto right for the bill as one of his last acts before his term as a governor came to end. Both West Virginia and Michigan passed the gambling legislation for regulated real money internet poker in 2019. Michigan was the number six to legalize online poker.
What is the Multi-State Internet Gaming Agreement?
In March 2015, Delaware and Nevada were the first two states to agree on MSIGA. By this agreement, the player pools of 888Poker of Delaware and WSOP of Nevada were merged in a single poker network. This agreement increases the liquidity of cash game tables and tournaments with player pooling between the states.
New Jersey joined the MSIGA in late 2017 to become the third member of states with shared player liquidity. This made it possible for NJ poker players to test their poker skills in the 2018 World Series of Poker Online bracelet events.
Status of PokerStars in the US
PokerStars global player pool and platform are not available in the US. Instead, you can play on PokerStars NJ or PokerStars Pennsylvania. These state-regulated sites have separate player pools from the main player pool that can be accessed from most countries in the world but not the US. PokerStars has made an agreement with Eldorado Resorts Inc. with the intention to offer online poker in 11 other states in addition to New Jersey and Pennsylvania.
Many US players are waiting for large-scale online poker to be accessible across the states. This was possible before the so-called Black Friday of online poker that occurred on April 15, 2011. On that day, the United States Government seized the domain names of several big online poker sites. The seized sites included Full Tilt Poker, PokerStars, and Absolute Poker. Later in 2012, PokerStars purchased the assets of Full Tilt Poker and became the global market leader in online poker.
What if  you wish to play poker legally with all the rest of the world on PokerStars as a US citizen? Your only viable option is to relocate to a jurisdiction where PokerStars is legally licensed. For many US poker professionals, moving to Canada was the only viable option after the events of Black Friday. Canada's poker room selection is great since Canadian players have access to most major online poker sites.
What are the federal laws that affect online poker
As of 2021, there are no federal laws directly prohibiting or authorizing online poker. Yet, federal statutes do have the potential to prohibit some forms of online gambling in case state laws are ambiguous.
Which states have laws against online poker
Most of the US jurisdictions don't have a state law that would explicitly make it illegal to play on online poker sites. The only exception is Indiana, where online gambling is outlawed. There are some regulated sports betting sites operating in Indiana though. Outside of these legal sports books, it's not legal to play real money games online.
The Future of regulated online poker sites in the US
We will likely see a lot of changes to the current state of the regulated internet poker market in the United States. Legislation of real money online gambling is re-considered in the states of New York, California, Illinois, and Michigan. States like California and New York are very attractive markets to internet gambling operators like poker sites and sports betting companies. Multi-state networks that can help expand the player base are viable solutions for running online poker sites or casinos in several potential states.
After the US Department of Justice declared that the Wire Act is not limited to sports gambling, it looks like a shared player pool between most of the states is an option in the distant future. On the other hand, there has been positive poker news regarding licensed operators. Many operators are applying for online poker licenses in states that have passed legislation allowing online gambling. Due to this fact, rapid developments are possible in the gambling industry of the US.
Once enough states have committed themselves to public opinion on online gambling, many others are likely to follow suit. After all, the states are filling gaps in the budget & handing out licenses to online casino sites and poker rooms makes a lot of sense in this regard.
Online Poker Legal Status FAQ
In which states is online poker legal?
New Jersey, Nevada, Pennsylvania, and Delaware are currently offering legal online poker sites for money in the US. NJ, Nevada & Delaware share a common player pool with a multi-state network operated by WSOP/888 Poker.
Can you get into trouble for playing online poker in the US?
There's almost zero risks from law enforcement to individual US players who decide to play on an online poker site. Nobody has been ever arrested simply for playing online poker.
What is the Federal Wire Act?
The Federal Wire Act of 1961 is a United States federal law that prohibits the operations of certain types of betting businesses. DOJ's opinion dated November 2, 2018, declared that the Wire Act prohibitions are not uniformly limited to gambling or sporting events or contests.
What is the UIGEA?
UIGEA is United States legislation regulating online gambling. The abbreviation comes from The Unlawful Internet Gambling Enforcement Act. The aim of UIGEA is to make it a criminal offense for banks and financial firms in the US to process deposits or withdrawals to or from non-regulated online gambling sites.
What are the different regulated poker sites in the US?
Regulated poker sites include WSOP/888 US, PokerStars, partypoker, and Pala Poker.
What is sweepstakes online poker?
A sweepstakes model allows online poker with cash prizes for citizens in all of the US states. Global Poker is an example of an online poker site that has implemented this model. Instead of real money, players use a virtual currency called Sweep Coins to buy into tournaments and cash games. Later this virtual currency can be redeemed for cash prizes. By using this model on their online poker site, Global Poker is not considered real money online gambling.
Where can you play on PokerStars legally?
You can play on PokerStars legally in New Jersey and Pennsylvania.
Where can you play on partypoker legally?
You can play on partypoker legally in New Jersey only.
Where can you play on Pala Poker legally?
Pala Poker is legally available to online poker players in New Jersey only.
Where can you play on WSOP.com legally?
WSOP.com is legally available to US players in New Jersey, Nevada, and Delaware.
Where can I play live poker in the US?
While having access to a regulated online poker site is currently possible only in four states, live poker is accessible in almost all US states. It's easier to list the states without card rooms or casinos. These states include Utah, Texas, Hawaii, Tennessee, Alaska, New Hampshire, and Georgia. Texas is experimenting with live poker at private social clubs instead of casinos. The most famous card rooms for live poker are in Las Vegas.
What state gambles the most?
Nevada has the most casinos and gambling machines per capita. Being the home to Las Vegas and Reno, Nevada is the top state for gambling. It does $5,218 commercial casino revenue per capita, which is over five times more than the second-ranked state Mississippi does, $920.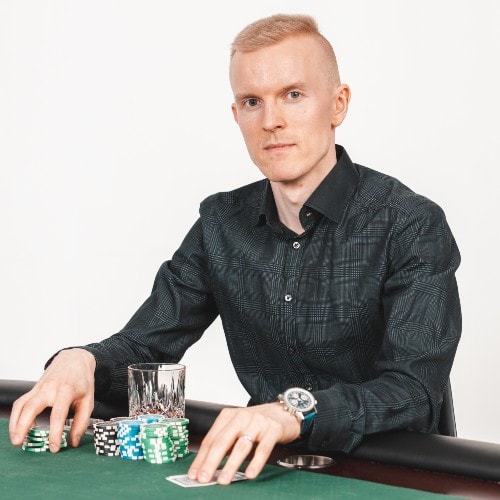 Johannes is the Editor in Chief at Beasts Of Poker and is an expert in both live & online poker. Johannes played online poker semi-professionally for 5 years while completing his Master's Degree in Technology.