Hooray, online poker is available in Pennsylvania again! Within hours of the online poker launch on 4th of November 2019, many players were already battling on both cash games and tournaments on the virtual felt against each other. If you want to play the best possible poker games available in Pennsylvania, you've come to the right place. To come up with instructions on how you can join the action, we have compiled for you comprehensive guide on where to play online poker in US & PA, pointing out the major poker operators and their software partners – not to forget the best bonuses offered to new players in 2020. 
Let's dive right into it!
Playing online poker is not strictly against any of the current US laws, and there are numerous operators with both licenses in US and elsewhere offering games to US players. There are 4 states that are currently offering legal online poker in the US to their adult citizens. New Jersey, Nevada and Delaware were joined by Pennsylvania as PokerStars went live in PA in the beginning of November 2019. WSOP, also known as 888 US, is the number one poker site in the US based on player traffic, as players from Delaware, Nevada & NJ are allowed to play there.
For some professional players, especially tournaments specialists, moving to Canada was the only option several years ago if they wanted to pursue online poker as their career. An extra bonus for moving to Canada is that as a foreigner you don't have to pay taxes on poker winnings once you have applied for a non-residency status. Also opening a bank account in Canada isn't too hard for non-Canadians, and you can do that before actually moving to live there. Coming from the US a passport is pretty much all you need to pass the border.
Since poker is generally an integral part of culture in the US, most states have either commercial or tribal casinos where you can play some live poker. There are some states though where you can legally play even live poker, including Utah, Hawaii, Tennessee, Alaska, New Hampshire and Georgia. Texas is an exception since they are experimenting with poker in private social clubs, and it's left to be seen whether live poker will be fully legalized there at some point.
Thanks to cryptocurrencies such as Bitcoin, the private apps have gained a decent share of the online poker market in the US. There are many clubs on X-Poker with most of their customer base being Americans. You can read more about private poker apps in our dedicated review section Poker Sites.
Online Poker sites in Pennsylvania
Online poker is offered in Pennsylvania through partnerships between land-based casinos and international poker brands. These high-profile partnerships include Mount Airy Casino and PokerStars, Valley Forge Casino & partypoker and Harrah's Casino & 888/WSOP.com. From these partnerships the first one to go live with their product is PokerStars, which is also the biggest online poker room worldwide and known for tournaments with big guaranteed prize pools.
partypoker and 888 are expected to start operation in the near future, which is great for poker enthusiasts living in PA as a broader offering will help you in finding a suitable game for your taste. Below you can find the complete list of Pennsylvania land-based casinos who have obtained a license that allows them to open an online poker room for internet players:
On top of the licensed sites, players can find great games on poker apps such as PPPoker, Upoker and Poker Bros. Our poker app reviews from these online card rooms include rakeback, player traffic, games offered and descriptions of first-hand experience from our team that has tested those sites.
Pennsylvania Online Poker History
While the modern purpose of gambling legislation in PA helps creating boost the economy and create jobs through the revenues from the industry, the state lottery has been established already in 1971 as a government run entity. In the 1980s bad examples of corruption in Nevada didn't help Pennsylvania to grant licenses to casinos, and it wasn't until 2004 when PA legislators passed Act 71 which would later lead to gambling being legalized. Act 71 became known as Pennsylvania Racehorse Development and Gaming Act controlling the terms & conditions for opening both casinos and racetracks within the state. The Pennsylvania Gaming Control Board authorized four categories of casino license: Horse race track casinos, stand-alone casinos, resort casinos and satellite casinos.
Slowly gambling was being better accepted publicly and since casinos were owned by publicly traded corporations, the link between gambling and crime was no longer there. Revenues of casinos grew fast and over 18 000 jobs were created in the process, resulting in 1.4 billion dollars in tax revenue in 2016.
Guide to PA Online Poker Deposit & Withdrawal Options
Regulation means that depositing and withdrawing funds is far less risky than pre-Black Friday and includes many of the common payment methods people use to purchase goods online.
With regulation in place deposits and withdrawals are scrutinized more thoroughly, which also gives the player a peace of mind since there are far less risks than during the times before Black Friday happened and player funds were seized by authorities. The most popular deposit and withdrawal methods are basically the same methods that consumers use for purchasing different products online – most likely you possess at least one of these:
Casino Cashier Cage:With partnerships in place, you can just drive to the casino and request a deposit with cash through them. We recommend this method for live poker players who want to test out the new online games offered in PA.
eCheck: A safe and traditional way to move funds between your bank account and an online poker site. Basically a direct transfer between your bank and the site, eCheck is also quite popular among poker players in PA.
Credit Card, Visa & Mastercard: Usually available just as a deposit method, and for withdrawals you need to request either a check or a bank transfer. Credit and debit cards are basically the most convenient way of depositing money to poker sites besides eWallet, which also offer you the withdrawal option.
Skrill: Skrill is one of the major eWallets that is intended for usage with online gaming operators such as online casinos, poker sites and forex sites. Skrill gives you a very fast way to move funds between sites with both deposit & withdrawals options, plus you can use funds on your Skrill account through the Skrill debit card that can be attached to your account. Pretty much a must-have for players who travel a lot! Skrill also offers you cashback from deposits in case you open the account through Beasts Of Poker or attach your old account under us – get the cashback deal from our Skrill review.
PayPal: A very popular method for transferring money online, PayPal has been working with poker sites since 2013 and has stayed a worthy deposit option for players ever since.
Pennsylvania Online Poker Bonuses, Rakeback & Promo Codes
Most poker sites offer great sign-up bonuses and rakeback to new players joining, and poker sites in PA make no exception to this rule. You can get great rakeback deals to private poker apps and a sign-up bonus on PokerStars. There are four typical bonus types that you might encounter:
First deposit bonus: A matched bonus on your first deposit to the poker site. Typically this bonus is a 100% match bonus, meaning that for a 200USD deposit you will get an additional 200USD to play with. Most first deposit bonuses require a rollover before the bonus amount can be withdrawn.
Reload bonus: A reload bonus works basically the same way as a first deposit bonus, except it is not available to all players. You can get one only if the poker site you play at decides you're a loyal customer worth giving a reward to – this means that the more you play, the more likely you're to get a reload bonus at some point.
Rakeback: A rakeback deal is basically a form of cashback, where you get rewarded a certain piece of the rake you generate. For example, a 30% rakeback deal means you will get 30 USD back from every 100 USD rake generated. In the long-run, it's very important to find the best possible rakeback deal for the sites you play on – you can read more about this from our article Significance of Rakeback.
No deposit bonus: A bonus that is essentially free requiring no deposit at all. Through a no deposit bonus you can test out the software & games without depositing, but in case you win there are usually high turnover requirements in place before a withdrawal can be made. Anything from cash bonuses to SNG & tournament tickets are available depending on the site.
When it comes to casino bonuses in Pennsylvania, the BonusFinder guys know the best.
Playing Live Poker in Pennsylvania
Live poker options are plenty when it comes to playing in PA: There are a great selection of both cash games and tournaments offered at several casinos, some of which have as much as 30 tables running at peak times. To jump into the live poker action in PA, consider trying out these casinos:
Sources used in this article:
Websites of PA casinos
https://www.bonusfinder.com/online-casinos/by-state/pennsylvania
Online Poker in Pennsylvania FAQ
Is online poker legal in Pennsylvania?
Yes it is! Back in 2017, Pennsylvania passed the bill clearing way for regulated online poker to be allowed inside the state. Quickly after the bill passed, online poker sites such as PokerStars started applying for state licenses and several have been already granted. Actually legal online poker in Pennsylvania made a whopping $2.5 million in 1st full month games being offered, so the start for online poker in PA has been quite fast!
Where can I play online poker in Pennsylvania?
There are a total of 12 casinos in the state of Pennsylvania, and seven of those will offer online poker. PokerStars (Mount Airy) has launched already and the games are running on their site – it should not take too long before 888poker/WSOP (Harrah's) will be live.
Which sites are going to be running in PA?
There are currently a total of seven casinos approved to provide online poker, and the first one to start operating is PokerStars. We are expecting partypoker and WSOP.com to become available for players soon. In the near future we should see poker offered online also from operators such as Parx Casino and Hollywood Casino, but they are yet to announce offering online poker in PA.

The most important decision when preparing a home game has to do with setting the buy-in at the right level – we recommend asking any invited players beforehand what kind of stakes they would prefer. Also you should have either a dealer or someone else taking care of the buy-ins & cash-outs in a fast manner.
How will the poker sites know I'm in Pennsylvania?
Similar to other states where online poker is legalized, Pennsylvania law requires that all poker sites use geolocation software to make sure players are logging into the site and participating in the game from instate.
Can I play on Pennsylvania sites even if I don't live there?
Yes you can! However, there is one rule you must obey to play on PA sites which is you must be physically inside the state when you login and start playing. Establishing residence is not necessary, as your location will be identified through different geolocation tools that poker sites are using. This way they can make sure all people who login to their site are actually playing from Pennsylvania.
What payment methods will be available to players?
All poker sites are very aware that converting visitors into paying customers is harder if they don't have a full range of payment methods available. The most common deposit & withdrawal methods available to players are credit cards, eWallets and wire transfers through US banks.
Which poker games are offered online?
Pretty much all types of poker formats are offered online, and any operators that run their games in PA can choose to offer games like No-Limit Holdem, Pot-Limit Omaha, Mixed Games and other forms of poker that their customers generally are interested in playing.
Will Pennsylvania also allow online casino games?
The current regulation does cover all online games, so in addition to poker there can be online casinos with traditional games such as slots, blackjack, roulette, sports betting and also new popular forms of gaming such as daily fantasy sports.
Can I play poker with players from all over the globe?
Due to current legislation, US players are currently not allowed to play with players from other countries on the licensed poker sites. In case Pennsylvania decides to join a coalition of states who share their player pool with each other, then you get to play with players from all states where poker is legalized.
Do I have to download anything to start playing poker online?
Some poker sites allow you to play directly in a browser like Chrome or IE, but for best functionality and user experience the majority of poker sites require you to download & install a poker client. By updating your poker client you also get new features on a frequent basis.
What are loyalty programs of poker sites?
Pretty much all sites offer their players some type of a loyalty program which provides rewards for playing on their site. Once participating in a loyalty program, the player will earn points in the cash game & tournament that is raked. The points that the player accumulates in a loyalty program can then be redeemed for items or cash, with typical examples being tournament tickets, electronics and different types of gadgets.
What is a deposit bonus?
When you sign-up to a poker site, you simply get a bonus for making a deposit. Deposit bonuses are used for attracting new players. Usually the bonus is released in increments once you start playing on their site and generating rake. For example, a deposit bonus could be 200USD 100% bonus meaning you would get 200USD on top of your 200USD deposit.
What is a reload bonus?
A bonus offered to existing players on a poker site who have already used their first deposit bonus. Poker sites usually utilize reload bonuses to engage their players more and keep playing with them. Similarly to first deposit bonuses, reload bonuses are also matched according to your deposit amount and require a certain rollover before the bonus amount can be withdrawn.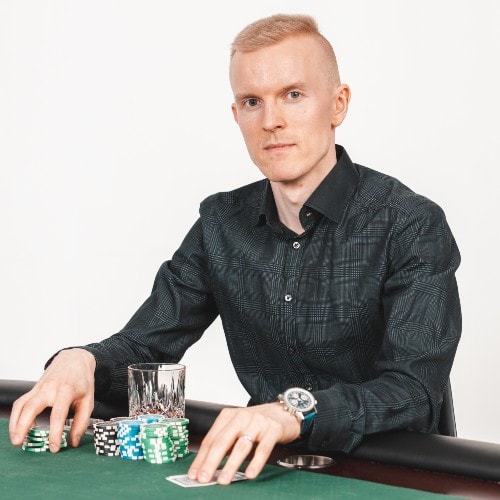 Johannes is the Editor in Chief at Beasts Of Poker and is an expert in both live & online poker. Johannes played online poker semi-professionally for 5 years while completing his Master's Degree in Technology.