Different formats of live poker have existed for around two centuries. With that in mind, internet poker has been around for a relatively short time. With the first two decades, there have been plenty of ups and downs in the poker industry, both in popularity as well as scandals. Important milestones in online poker history include:
1994 The first poker game between humans is is played with text-based IRC-Poker
1998 Planet Poker offers first internet poker for real money
1991-2001 Launches of the early online poker sites Paradise Poker, UltimateBet, PartyPoker & PokerStars
2002-2006 Party Poker dominates the market, amount of new online poker rooms explodes
2006 UIGEA is put in place in the United States, US-facing operations closed down by Party Poker, PacificPoker & Bwin
2009 The largest cash game pot in online poker history so far is played on Full Tilt Poker by Viktor Blom and Patrik Antonius
2011 Black Friday events occur with domains of Absolute Poker, Full Tilt Poker, and PokerStars seized by the FBI
2012 First state-regulated online poker games offered in Nevada & Delaware
2014 PokerStars becomes the largest publicly traded company in the online poker industry with a takeover bid of $4.9 billion
2017-2021 Mobile poker apps become popular and online games start to move into smaller private poker clubs
Let's jump back into 1998 to see how it all started:
The early years of online poker
The first time for humans to play poker against each other online was in 1994 on Internet Relay Chat. This can be interpreted as the beginning of online poker history. The IRC-poker games included over 20 variants, with exotic game formats like Omaha High Double Flop and Holdem Hi/Lo. IRC-poker was around for several years before the first real money online card room got launched. Randy Blumer was the mastermind behind Planet Poker, the operator that dealt the first online poker hand on January 1, 1998. The game in question was Texas Hold'em with blinds of $3/$6.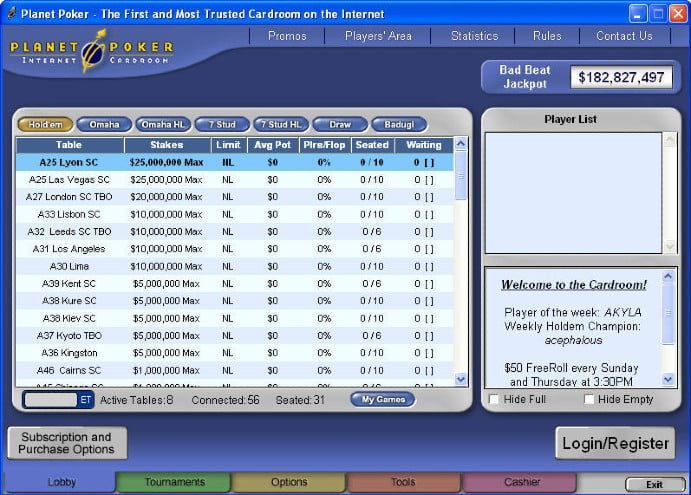 Planet poker sets the way
Planet Poker set the industry norm in rake for cash games. At 5% and a max $3 rake cap, it's still being used today by many internet poker sites. The Internet Gambling Prohibition Act introduced by Senator Jon Kyl failed to pass later in 1998 and Planet Poker keeps growing. According to research by Frost & Sullivan, online gambling generated over $800 million in revenue that year. If you ask us, this number is pretty impressive taking into account it was 1998. Back then, if you played any games online like Starcraft or other multiplayer games, you probably experienced  a lot of connectivity issues and server lag daily!
New game formats from Paradise Poker
The next operator to start offering real money poker online was Paradise Poker. They set up operations out of Costa Rica in 1999 and offered Seven Card Stud and Omaha besides Hold'em. Improvements in poker software and customer service made them a market leader at that time. Paradise poker was later sold to a sports betting company called SportingBet Plc.
Ultimate Bet followed suit of the two online gaming companies in 2000. A poker pro named Dutch Boyd started his own site called Poker Spot. Poker Spot was the first of the online poker rooms to offer tournaments and gained a lot of popularity that year. Yet, the following year they were forced out of business due to stopping to pay players.
The rise of Party Poker & Multi-table tournaments
The next year, 2001, saw two famous online poker brands launch real money games: Party Poker & PokerStars. PartyPoker took the throne as the largest online poker room in 2002. Party Poker's popularity was partly based on multi-table poker tournaments and advertising on televised World Poker Tour. The first poker tournament with a million-dollar guarantee was played in 2002. Party Poker held its leading position in the poker market until 2006.
2003: The moneymaker effect & poker boom
Imagine a scenario where anybody could take on the top poker professionals by qualifying through a satellite tournament to the World Series of Poker Main Event and taking it down, just after televised poker with visible hole cards became a thing. This is exactly what happened when an accountant from Tennessee won a satellite to qualify for the WSOP $10k ME in 2003. Chris Moneymaker was the first WSOP champion to win a bracelet after qualifying online.
All the Main Event action was aired on ESPN and millions of viewers saw Chris fight his way to the win against several professional poker players. The result of the World Series of Poker title won by Moneymaker? He walked home with $2.5 million in prize money and internet poker boomed in a big way. Player traffic at online poker rooms saw a big spike and player pools were filled with people who wanted to follow in Moneymaker's footsteps. The dream of making a name for oneself by playing poker tournaments was born. There was no intervention from the US government for easy deposits and withdrawals at USA friendly poker sites at this time. Celebrities saw the opportunity to become ambassadors of online poker sites and the perfect storm was ready.
The history of online poker would probably be much different if Chris Moneymaker didn't win the ME in 2003. Besides the massive flood of new players in 2003-2006, the first poker networks like Ongame, Microgaming Poker Network aka Prima & Cryptologic were founded. You could call the 2003-2006 period the golden age of online poker. Pro poker players gained a rock star status and it seemed like the party will never end! Yet, big blows to the online poker world were waiting just around the corner…
Online gambling had been a type of a wild west market until 2006. A sudden turn in online poker history was to follow. President George W. Bush signed the Unlawful Internet Gambling Enforcement Act in October 2016. By putting UIGEA in place, the United States made it illegal for domestic banks and financial institutions to process any transactions for illegal internet gambling. The Department of Justice interpreted this law so that online poker was included as well.
Since UIGEA took place, most publicly traded corporations offering online poker were quick to exclude US poker players from their online poker rooms. Major online poker sites to abandon the ship included Party Poker, Pacific Poker, Paradise Poker & Cryptologic. Some private companies like PokerStars, Full Tilt & Merge Network decide to stay though. Neteller stopped serving their US customers and millions of dollars in player funds were seized by DOJ.
2007-2008: Big scandals of the online poker history
The term superuser was born in 2007 as players found out that 'POTRIPPER' was able to see cards of other players on Absolute Poker. He went on to win a tournament by making perfect plays one after another, drawing suspicions of fellow players. After facing a lot of public pressure, Absolute Poker admits that one of their consultants was behind the cheating.
In January 2008, screen names with unnaturally high win-rates were detected by players on Ultimate Poker. It's estimated that players lost tens of millions of dollars due to cheating on Ultimate Bet. The story of Ultimate Bet scandal is explained in a comprehensive video documentary on this video:
2011: The year of Black Friday
Friday seemed like just an ordinary day before the weekend on April 15, 2011. It turned out to be perhaps the most devastating day for online poker. On Black Friday, PokerStars, FT, and Absolute Poker saw their domains being seized by DOJ. Players couldn't log in anymore and news quickly spread on the indictment. All three poker sites were facing civil charges as well, driving them out of the US market. The only poker site that managed to survive in the United States was Bodog (rebranded as Bovada).
If you played poker during 2011, you've probably seen this screenshot from the aforementioned poker sites. It still haunts some players who got their account balances frozen:
Bitcoin was invented in 2008 by an alias Satoshi Nakamoto. After Black Friday, it wasn't long until the first online poker site to operate in Bitcoin would launch. Seals With Clubs opened their Bitcoin poker site in August 2011 with none of the traditional payment processors for deposits & withdrawals. Instead, all the games and transactions on their poker site occur in Bitcoin, allowing increased anonymity for their players.
After Black Friday, PokerStars was the only one of the three indicted poker sites to reach an agreement with the DOJ. They did so by purchasing Full Tilt Poker and paying the US government close to $1 billion in fines. This turned out to be a great move by PokerStars, as their non-US business saw a long period of growth in the years to come.
Contenders to fill the hole created by exits of FT, UB & PokerStars from the US included Merge Network, Bodog & Cake Poker Network.  Due to lower brand awareness, the total number of US online poker players was much lower. Casual players who were looking to have fun playing started disappearing from  the US online poker scene.
Online poker on terms of recreational players
Thanks to the development of mobile poker apps, the new club-based poker model gained traction among players in 2017. Recreational players started to move from casinos and poker rooms to private home games both live and online. These two factors result in plenty of players joining different clubs on poker apps like Poker Bros. New interactive elements like throwing items became popular on both mobile and desktop online poker software.
Home games and private poker clubs can be good for casual players to avoid being fleeced by professionals. In the last few years, big poker operators have started to offer the option to run a home game with your friends. On mobile poker apps, things like minimum VPIP tables and password-protected private tables have become quite common.
Online poker history timeline
Here are the major events of internet poker history on a timeline from 1998 to 2020:
Launch of the first online poker sites Planet Poker
Launches Paradise Poker, UltimateBet, PartyPoker & PokerStars
Chris Moneymaker takes down the WSOP Main Event
UIGEA is put in place in the U
The largest cash game pot in online poker history played on Full Tilt: $1.3M
Black Friday: Absolute Poker, Full Tilt Poker and PokerStars seized by the FBI
First state-regulated online poker sites in Nevada & Delaware
New Jersey legislation for online poker licensing
Pennsylvania passes legislation for online poker licensing
West Virginia passes legislation for online poker licensing
The making of the modern poker player
The making of a modern poker player is quite different compared to the live poker only -era. Long gone are the days of Cowboys playing some cards while smoking cigars and drinking whiskey. Putting poker on the internet was like firing up the music in a near-empty disco. Suddenly, everyone wanted to join the fun!
With the development of online poker, the ways to improve your game have changed as well. Players are using dedicated software like solvers and trackers to maximize their edge. Want to take a look at how some of the best online poker players approach the game? Just pick any of the Twitch poker streamers and dive into their thought process!
History of regulated online poker in the US
The debut of state-regulated internet poker took place in Nevada on April 30, 2013. Ultimate Poker started running Texas Hold'em games for real money at that time. WSOP.com was the second site to launch in Nevada, hosting many other poker variants as well. As the stronger brand, WSOP reached an almost monopoly-like position. This resulted in Ultimate Poker leaving Nevada in late 2014.
Delaware was the second state to launch online poker with 888 Poker, followed by New Jersey and Pennsylvania. The first interstate online player pool was created by Nevada and Delaware in April 2015. This shared player pool was later joined by New Jersey in 2017.
With the current legal status of online poker in the United States, four states have regulated real money online poker in place. Legislation for online poker has been passed in Michigan and West Virginia as well. None poker networks have been launched yet in those states.
Online Poker History FAQ
How long is the history of online poker?
Online poker has been around since 1998, with over two decades of action. Text-based IRC-poker was played already in 1994, a few years before the first real money poker rooms appeared online.
What was the first online poker room to offer real money games?
Planet Poker was the first poker room to offer online poker in 1998. They started building a customer base in late 1997 by placing ads on Card Player magazine. The first hand dealt on Planet Poker was in a $3–$6 game of NLHE.
What was Black Friday in poker?
Black Friday refers to the events of April 15, 2011, as DOJ issued an indictment against the three largest real money poker sites. PokerStars and Full Tilt stopped in the US immediately after Black Friday, and Ultimate Bet's poker site followed a bit later.
When did Full Tilt Poker close?
The domain of Full Tilt Poker was seized by the Department of Justice in 2011. By June 2011, their operations were shut down completely. PokerStars purchased their assets in 2012 with the condition to pay back all players to whom FT had any outstanding debt left. Their brand was finally merged into the PokerStars client in May 2016.
Who owned Full Tilt Poker?
The main founders of Full Tilt Poker include Raymond Bitar, Howard Lederer, and Chris Ferguson.
Did Full Tilt players get their money back?
Yes, most players received their account balances between 2013-2016. The final wave of refunds worth $2.7 million was handled by Garden City Group in October 2016. According to an announcement on the GCG website, 97% of petitions were paid and 3% were denied. Any unpaid money was to be split between DOJ and GCG once the remission process ended.
When was the partypoker IPO?
partypoker was listed on the London Stock Exchange in 2005. It was one of the first internet gambling sites to take their stock public. Their initial public offering price was 116p which resulted in a valuation of £4.64 billion which is approx $8.46 billion. The majority of their profits came from operating their online poker room.
What is a superuser in online poker?
Superuser is an online poker account capable of seeing hole cards of opponents in real time. One of the worst ways for someone to lose their money in poker is playing against a cheater who has a superuser account. The most famous superuser frauds occurred on Absolute Poker by 'POTRIPPER' and Ultimate Poker by 'NioNio' and 'Auditmonster2'.
Is there evidence of rigged games in poker?
Even though there are numerous cases of cheating with poker bots, collusion,ja and superusers, there's no real evidence of rigged poker. In rigged games, the RNG would be tweaked for more action with setups and coolers. Sharp poker players would catch up with rigged games in no time. It's not in the interest of online card rooms to target specific outcomes in their dealing sequence. Most poker sites have a 3rd party certification to prove that their RNG is properly tested and certified.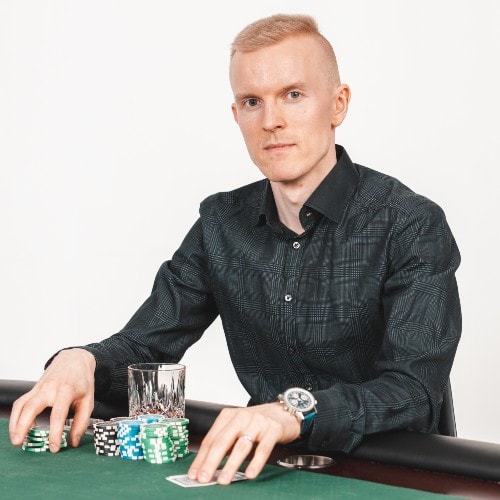 Johannes is the Editor in Chief at Beasts Of Poker and is an expert in both live & online poker. Johannes played online poker semi-professionally for 5 years while completing his Master's Degree in Technology.