If there's one good thing about Canada's long, cold winters, it's that it makes the perfect environment for online poker. And with laws of Canada being extremely lenient on online gambling, residents of Canada get to enjoy access to almost all major international sites to play poker online. Several of the biggest Canadian poker players include Daniel Negreanu, Mike Watson, Kristen Bicknell, Gavin Smith, Mike McDonald, and Jonathan Duhamel, who went home in 2010 with $8.9 million prize in the WSOP Main Event.
As a result, we've come to see prominent U.S. players migrating into the country just to further their careers (more so after the events of Black Friday back in 2011). Perhaps the only form of gambling forbidden by Canadian law is single-game wagering, and the government is considering lifting even that.
However, with gates open to all sorts of gambling like online casinos and real money poker sites, it can be pretty daunting to choose one that is reliable and suits your needs. Luckily, there is a formula to this. To help separate the wheat from the chaff, we assessed the poker market offering, considered the options, and compiled the best poker sites in Canada with gambling licenses for you. All the sites presented in this review have welcome bonuses to give you a head start in growing your bankroll. We've also highlighted several major factors you should consider when making your choice. Let's dive right into it:
Best Canadian Poker Sites for Online Players
GGPoker is not a Canadian poker site as well but is Asia's largest poker network that can be accessed on the western side of the world. Started in 2014, the site quickly gained popularity because of its wide array of promotions and features that keep players constantly entertained. This includes various analysis tools, tournament staking, plus you can even link it to your social media and share your hands. Despite only being recently developed, GGPoker software is also currently one of the best for both desktop computers and mobile devices, matching up and even beating most veterans in the trade. GGPoker is fully licensed and regulated by the Malta Gaming Authority. You can find a suitable game to your bankroll easily as there are tables from micros stakes to high stakes around the clock.
Other features Canadian poker players enjoy with GGPoker include:
Launched as far back as the early 2000s, 888poker has established its roots in the world of online poker and has grown over the years to be one of the best ranked online gambling and poker sites. This online poker room prides itself in its newly upgraded poker software, which integrates 3D table graphics, multi-tabling abilities, an integrated casino lay, and an ever-present cashier. They even have a mobile app that is compatible with both Android and iOS.
Other features Canadian poker players enjoy with 888Poker include:
PokerStars may very well be one of the largest poker sites in the world at the moment. It is not explicitly a Great White North poker site as its headquarters is found in the Isle of Man, U.K – they do have a ton Canadian customers though. With it, you get a massive pool of tournaments and cash games to choose from. Naturally, the real money poker site also gets a relatively high stream of players, more so for Sunday events. Therefore, there are no limits to the number of fish out there for you to play against. The company also boasts of a solid reputation, and a Malta Gaming Authority gambling license backs its brand. Another advantage is that all the players' deposits and winnings are segregated to protect the players.
Other Features Canadian poker players enjoy with PokerStars include:
Launched in 2001, partypoker is yet another bigwig in the online poker room realm. At the moment, it has one of the most downloaded software out there, compatible with both mobile and desktop apps. Other than that, the site is fully safe and secure and has major systems set to protect player interests. It is regulated and licensed by the U.K. gambling commission and performs random checks to identify any potential cheaters using prohibited software and bots. Additionally, this online poker site offers a wide variety of games, from tournament plays, to big-time cash games and sit-and-gos.
Other features Canadian poker players enjoy with partypoker include:
How to Pick The Best Online Poker Sites in Canada
There are certain criteria you can use to ensure you get the best online poker sites in Canada and get a remarkable experience. Before you start playing poker for real money, let's go over some of the major ones below:
Security of the poker sites – You'll agree that the main reason why you play poker online is to win money, right? Therefore, your primary concern as a player should be whether the money you deposit or win will be safe on the site. Luckily, most online poker sites for Canadian players are regulated enough in this day and age that they are safe and secure.
However, for extra precaution, you want to stay away from sites that are exposed to U.S. clients. This is because due to U.S. restrictions, there might be difficulties in processing payments for U.S. players, which may, in turn, affect the functionality of the whole site in General. The safest online poker sites in Canada are those that are publicly traded. This way, you get to see their books and know what you are getting into beforehand.
Quality of the poker software – while you are advised to only follow the fish, you can't completely disregard the site's aesthetics or user interface. The quality of the site can go a long way in improving your poker  experience. In this case, you want to go for sites with superior software, which is easy, fun to use, and is compatible with many different devices.
The competition – Competition in online poker mainly refers to the presence of players who are better skilled than you in the poker room. Yes, you might desire to play against the greats for the mere prestige of it all, but if making money is your end goal, you stand better chances if you play against beginners and weaker players. This holds true for both cash games and tournaments. Therefore, check for the site with the most traffic and poker action. This way, you can get a variety of games that you are good at and even more fish to take advantage of.
Rakeback and promotions – You should pick sites that offer some type of rewards for your play. In the long run, rakeback and bonuses have a large impact on your possible winnings from poker.
Withdrawal and deposit options – withdrawals and deposits are a fundamental part of the game. You see, in order to buy-in to a game, you'll have to make a cash deposit, and after winning, your money should be able to find its way back into your pockets. Other than the security aspect of it all, you want a site that makes these two processes as quick and easy as possible.
Be keen to check on the limits as well. Some sites put restrictions on making high amounts of withdrawals at a time. Others accommodate for such cashouts in special circumstances, but you'll likely need to contact customer support and make a request. You can find info on payout speed of all operators from poker forums.
Variety of games – Other than the popular Texas Hold em, there are a couple of real money poker games you'll find on online poker sites in Canada. They include Omaha, H.O.R.S.E, Stud, and Razz. The more gaming options, the more likely you are at finding your niche and making wins. Some sites offer more comprehensive internet gambling options like other online casino games, blackjack, and sports betting. The fact that you can do all these in one place is definitely a plus!
Online poker tournaments and satellites – Satellite tournaments are good opportunities to gain tickets to enter the bigger games like W.S.O.P., where you can get even larger prize pools. For this reason, you want to lean on sites with a broader selection of multi-table tournaments. The higher the prize pools, the better the opportunity to participate in real-world tournaments with huge guaranteed prize pools. We can't emphasize enough on going for weaker competition. You have higher chances of making money if you avoid the sharks.
Online Poker Canada: What the law has to say about poker and taxes
The good thing about Canadian law is that poker winnings by casual players are 100% tax-free. This is mainly due to the fact the government runs most of the gambling done in the country. Now, some online poker sites in Canada are privately owned, but many of the country's casual players still enjoy the tax-free benefits.
However, it is important to note that the situation is different for the professional Canadian poker players. The Canadian Revenue Agency assumes poker winnings as taxable for as long as they qualify as income from a business.' The interpretation itself is a bit ambiguous but generally means that if you fully source your income from playing poker online, then you are liable to taxes. Luckily, most players do not fall in this category.
What Poker Bonuses Are Available to Players from Canada
Most online poker sites in Canada and the rest of the world there will often entice you with sign-up deposit bonuses in a bid to recruit new customers. The sign-up bonuses usually take the form of what they call a deposit match, where the site matches a percentage of the figure you deposit initially. For instance, if you deposit $100 on a site with a 100% match bonus, then you get an additional $100. On other sites, you get some amount of money like $5 after making your first deposit. At the very least, a new player will get a free ticket to small tournaments.
As you may expect, players from Canada are no exception to these bonuses. In some cases, you'll even get special promos, specifically offered to Canadians. Therefore, before anything, check around a few sites for the one with the best sign-up bonus. Like PokerListings, some sites go as far as cutting exclusive deals with the poker operators, so you get extra perks with the sign-up bonus.
Withdrawals and Online Poker in Canada
Yet another thing that Canadian card players get to enjoy is the ease of withdrawals. While you might have to deal with bank rejects on transfers in the US-based poker realm, you don't have to worry about that in Canada. In fact, you can do it directly through wire transfer in almost any bank. Most sites accept VISA and MasterCard, among other payment processors like Paypal, Neteller, Skrill, and eCheck.
Can poker sites advertise in Canada?
Yes, poker sites are free to advertise everywhere in Canada except Ontario, where advertisement of online gambling has been banned since 2006. The biggest Canadian poker industry regulator is Kahnawake Gambling Commission.
Are Canadian Online Poker Sites Safe?
Unlike how things were back in the early 2000s when the notion of gambling online was relatively new, our recommended online poker sites are now nearly 100% safe. However, it is still worth doing your research before committing to any poker sites available to Canadian players because of the country's limited regulations on offshore and private online card rooms. Check reviews made online concerning the security and trust levels as well as other users' experience.
One sure bet when it comes to security is government-operated sites like Quebec and B.C. If you are more into offshore poker, reputable sites like 888poker, PokerStars, and partypoker are trustworthy.
Which sites allow Canadian poker players?
Thanks to the loose gambling laws in Canada, almost all online poker sites accept Canadian online poker players. Some operators like Titan Poker might veer away from the Canadian online poker market, but only because of some gambling law's slight misinterpretations. But the good thing is that there are a ton of other options that Canadian players get to pick from.
Is Betting On Real Money Legal In Canada?
Yes, real money online poker is absolutely legal in Canada. In fact, Canada may very well be the best place you can possibly bet on real money online poker in the world. On top of that, you get to choose from a handful of sites, both government and private. The relaxation of the Canada online poker laws also allows for stronger, more reliable poker sites.
To sum it all up, there are basically no limits to where you can play online poker in the country. Because there are almost no laws restricting it, you can access almost all online poker rooms that operate on a global scale. However, the key is to choose your site wisely. We've compiled some of the best sites out there and some factors you can consider when making your selection. This way, you are guaranteed to have a gambling experience. The rest is really up to your skill and luck!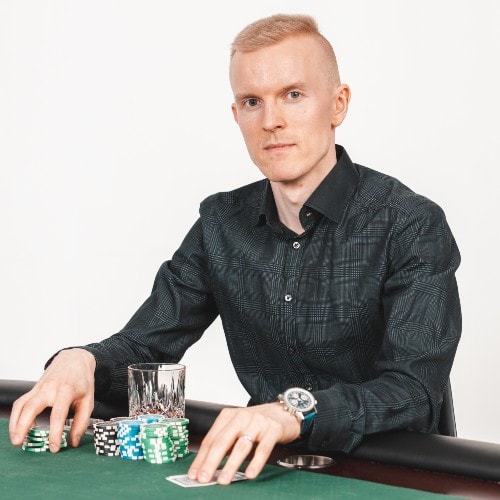 Johannes is the Editor in Chief at Beasts Of Poker and is an expert in both live & online poker. Johannes played online poker semi-professionally for 5 years while completing his Master's Degree in Technology.
Are Canadian Online Poker Sites Safe?