If you ask us, there's one simple strategy that can bring you more success in Pot-Limit Omaha than any other trick or tactic. That strategy is the careful selecting of your starting hands. Unlike Texas Hold'em, starting hands in Omaha rarely have big equity differences. Yet, if you play bad hands as a small underdog, the mistakes you'll end up making post-flop will cost you a ton more than in Hold'em. The importance of understanding what makes a favorable Omaha hand cannot be understated!
To walk away with money in PLO, our recommendation is to play a TAG style which means Tight Aggressive. This is the poker strategy used by most of our Pro Team players of Beasts Of Poker, helping them to make millions from Omaha cash games and tournaments at various online poker sites. If you want to win in this game like the Beasts, you need to be able to tell a good hand from a bad one in PLO. That's where our guide to Pot-Limit Omaha hands comes in. Let's dive right into it:
What are the 30 best starting hands for PLO
Here's a table of the top 30 starting hands you can get dealt in Omaha:
Top 10
1. A A K K ds
2. A A J T ds
3. A A Q Q ds
4. A A J J ds
5. A A T T ds
6. A A 9 9 ds
7. A A x x ds
8. J T 9 8 ds
9. K K Q Q ds
10. K K J J ds
Top 11 to 20
11. K Q J T ds
12. K K T T ds
13. K K A Q ds
14. K K A J ds
15. K K A T ds
16. K K Q J ds
17. K K Q T ds
18. K K J T ds
19. Q Q J J ds
20. Q Q T T ds
Top 21 to 30
21. Q Q A K ds
22. Q Q A J ds
23. Q Q A T ds
24. Q Q K J ds
25. Q Q K T ds
26. Q Q J T ds
27. Q Q J 9 ds
28. Q Q 9 9 ds
29. J J T T ds
30. J J T 9 ds
World-class Omaha poker players can play with a wide range of hands profitably in position. Don't be fooled by this though, as these players have many years of experience in the game with exceptional post-flop skills. If you're new to PLO, you should only stick to stronger cards like the ones presented in our hand chart of 30 best Omaha starting hands. This allows you to have a much easier time playing by avoiding tricky post-flop spots.
What makes a great hand in Pot-Limit Omaha then? In an ideal situation, your hands will be double-suited. These hands can form two different flushes. Double-suited AAKK is the absolute best starting hand. AAJT is right behind it and has a higher straight potential than AAQQ, the third highest-rated starting hand.
The majority of the 30 highest-ranked PLO hands feature at least a single strong pair. They include either AA, KK, QQ, or JJ. In contrast, there are only two hand combinations with no pair – JT98 and KQJT. These are what we call premium rundowns in Omaha. Premium rundowns have a great post-flop playability, especially when they're double-suited.
12 of the leading top 30 Pot-Limit Omaha starting hand combinations are big double pairs. They can form high flushes and high sets with good full-house potential on later streets. You should note that you can only use two of the four hole cards available to you, meaning hands with a double pair can form just one pair in the showdown unimproved.
As we've already mentioned, any PLO starting hand should be double-suited to be among the biggest equity favorites. Getting three hole cards in the same suit can seem like a huge advantage for players who are not familiar with Pot-Limit Omaha. In reality, three of the same suit is really terrible for your hand. This is because you're only allowed to use two of the four hole cards available in PLO. The remaining third card is just one stumbling block to your potential flush.
What are danglers in Omaha starting hands
There are various non-favorable cards you can get preflop in Pot-Limit Omaha. One of them is a dangler – a term used by players to describe a low-card that doesn't add any value to the four-card hand. Let's assume you're dealt A♠K♠J♦6♣. Beginners may not notice the dangler easily.
Does this hand still have some potential? Absolutely yes: the A♠K♠J♦ can work well together. The initial spades may help you get a flush – any A, K, and J can also be useful for a strong two pair or flopping a broadway wrap on QTx. The 6♣ isn't very helpful as it doesn't benefit you in any possible way (unless you hit trip sixes which is a very rare occurrence).
What should you do with these types of PLO hands, the ones without all four hole cards coordinating? The safest option is to muck them before the flop if the action gets heated. You might also use them to your advantage if you feel that you can steal the blinds. Make sure to do this only when you're in a late position in an unopened pot.
Although the unwanted 6♣ turns your potentially strong hand into a weak one, you could be in an even worse situation. As we've mentioned earlier, if you get dealt three of the same suit, this holding becomes even weaker and should be folded in most cases. Modifying it to A♠K♠J♦6♠ would ruin your chances and playability.
It's more or less the same hand, but you've now reduced your chances of hitting a flush in the post-flop betting rounds, turning it into a weaker preflop holding. Suitedness plays a big role in PLO, as we want to hit strong flush draws to go with our made hand or to dominate weaker flush draws.
We can categorize the newly introduced 6♠ as a blocker, as it blocks your flush-draw outs.
What are blockers in Omaha starting hands
Most of the time, blockers in Omaha are discussed only when analysing post-flop situations. That's because you can block a potential straight, full house or a nut flush with the ace. Blockers have a big effect on your starting hand selection as well. Let's use another example to help you understand how blockers can completely wipe out the strength of your preflop holding. In this example, we will be analyzing another premium starting hand in PLO, namely Q♠Q♣K♠K♣.
This preflop holding looks quite favorable as there are no blockers present. You have a big double-suited double pair. You can make a flush, a straight, or a top set without much fuss. What happens if we change one card, turning the original into Q♠Q♣Q♥K♣?
Novice players are often excited after getting such a combination. After all, trip queens are favorable right? Sadly, these hole cards has barely any value in Pot-Limit Omaha. Having QQxx benefits you, as you 
have a pair of Queens left in your deck that you can hit. With the trip queens in your starting hand, there's only one queen left in the deck that improves you to set. Additionally, you no longer have the double-suitedness the original cards provided.
In the same vein, we can go even further and get what is your worst starting hand in PLO: the 2♠2♥2♣2♦.
Contrary to what many players might think, the above Omaha hand isn't actually Quads. In reality, it's two pairs of twos, with all your outs blocked, meaning you can't make Trips. Generally, you'll find yourself having this pair of twos when you're at showdown. Even if you manage to get a full-house, you're at a disadvantage at the showdown against all other pairs and chances of you winning are very slim.
You should fold all starting hand combinations with trips or quads, except if you have trip aces with a single suit. Even with this poker hand, you need to proceed cautiously.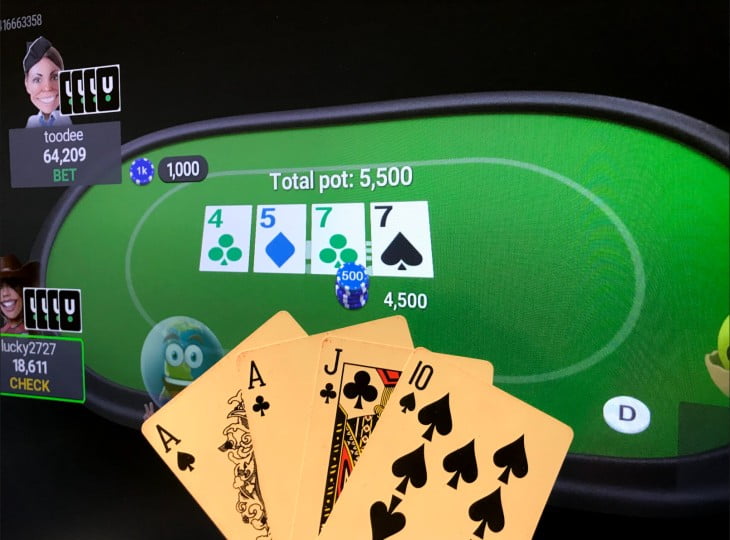 What factors contribute to a good hand
1. The nuttiness of the hand
Flopping something strong is not that hard when you have four cards to start with. That's why playing hands that make the nuts easily is crucial in PLO. Playing draws to the second or third nuts is a losing strategy in Pot-Limit Omaha.
Try to play hands consisting of high cards that can make the nut flush or straight. High cards can greatly benefit you when it comes to showdown. Hands such as suited Kx combos and low rundown hands often make the second nuts. They might force you into problematic situations which is why you should approach them with caution.
At first, hands like 3♠4♦5♠6♦ might seem appealing as they have two suits and are well-connected. Yet, they often make weak flushes and low-end straights. They don't have great potential to form a winning two pair either. Remember, you're looking for advantages when playing poker – non-nutted hands offer very few if any!
Choosing the nutty hands can also get you an added advantage. It allows your bluffing to be more effective on later streets. Holding nut blockers opens perhaps the most successful bluffing opportunity in Omaha Poker.
Let's assume you're holding A♥T♠J♠9♦. The board runs out 7♥T♥5♦6♣2♥. The chances of your opponents having a strong hand are low. Can you see why? You're holding the nut flush blocker with the naked ace and a nut straight blocker with 9♦. Additionally, you block big two pair combos with your T♠ (although the other two blockers are more powerful). This situation is ideal for you to bring out your bluffing game, firing up a big bet on the river.
2. The suitedness of the hand
Suitedness is of utmost importance in Omaha poker. Rainbow hands are very rarely huge equity favorites over anything. Double-suited hands have a lot more equity than hands with 4 different suits.
Let's say you get dealt a premium pocket pair like AAKT for a pair of aces and your opponent holds 8765 for a small rundown. If both hands are unsuited, your AAKT is a 57% favorite to win. Now, what happens if your opponent holds one suit? Your edge drops to under 54%. If their hand is double-suited instead, it's a 50-50 coinflip.
How about if you reverse the suits? Your edge with a single-suited AAKT against the rainbow rundown increases close to 60%. Make it double-suited and now you're over 63% favorite.
With a simple Omaha hand matchup like this, we can see suitedness has a big effect on the preflop equities and relative hand strength. Post-flop playability of a suited hand is superior to rainbow hands. There's no question whether suitedness should dictate many of your pre-flop decisions in PLO.

There's another benefit to suitedness that is a bit hard to pick up at first. When your hand is suited, hitting a made hand on the flop with a redraw to a flush becomes possible. A rainbow hand has a harder time to hit a good redraw and improve in strength. If another player has the same made hand and you end up all-in against them, having a redraw makes it possible for you to win the whole pot. This PLO concept is called freerolling. 
3. The connectedness of the hand
Connectedness refers to how capable your hole cards are in making a straight or flopping a straight draw. Experienced Pot-Limit Omaha players always try to play hands with all four cards having some kind of connection.
For instance, all the cards of 7♥8♥8♣T♣ can form connections (T7s having the largest gap). This holding is much better than a seemingly similar hand like 9♣8♣5♦Q♦, which has the 5 and Q totally unconnected and less potential for straights.
As you can guess, the equities offered by both hands are much closer pre-flop. Still, realizing your equity if you have a hand that's not as connected might be more difficult. Thus, the first hand is playable while the second hand is garbage. Mid-to-high rundowns have great drawing capabilities. What about their playability after the flop? It's much better compared to unconnected hands with similar amounts of raw equity.
How equity affects your strategy in Omaha
The spread-out distribution of PLO hands doesn't allow big preflop edges. When facing one player heads-up, you'll mostly find yourself with equity of less than 60%. Your equity also drops massively with more players seeing the flop.
Does this mean Omaha is all about luck? Absolutely not! Gaining an edge in PLO is a very real proposition. By being smart about selecting your PLO starting hands and playing them aggressively, you can beat the game. Just take a look at the huge profits of Beasts Of Poker Pro Team! A word of warning though: Even as a winning poker player, you might suffer the extreme swings that come with the great game of Pot-Limit Omaha.
Omaha is a game of huge swings
To understand the variance involved in Pot-Limit Omaha, let's use the example of a Texas Hold'em poker game. Assume you move all-in every hand in the pre-flop round, holding a hand of AK each time. Your opponent, conversely, calls every hand, all while holding QT.
Although you can boast of having a stronger hand, QT has a 34% possibility of winning. That means your rival wins the pot slightly over a third of the time. But, aren't you guaranteed of making more cash on the long haul? The answer is of course. Still, you will inevitably go through huge variance with both losing and winning streaks. If your poker bankroll can't take this heat, PLO is not the game for you!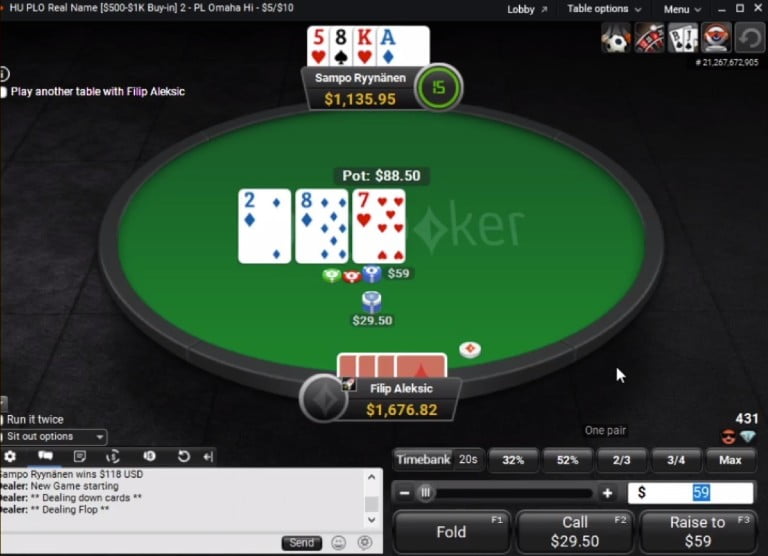 Omaha post-flop strategy tips
Now that we know that preflop equities run close, what about post-flop situations? Hitting a flop in Omaha that offers you equity higher than 60% is difficult. Chances for draws are too many, meaning you'll rarely find yourself in such beneficial situations. Once in a blue moon, you might flop the top set vs middle set with none redraw possibilities or a wrap with a flush draw against a smaller straight & flush draw.
Most of the time, you'll have a slight edge at best in this game. That's why you'll need to follow these three strategies to be successful in Pot-Limit Omaha:
Tip 1. Be picky when choosing starting hands to play
Avoid playing hands that put you at a disadvantage right from the start. Don't make selecting unfavorable starting hands a regular habit. Keeping your ground post-flop will be much easier this way.
Tip 2. Be straightforward by value betting a lot
Getting a strong edge over the field is rare in Pot-Limit Omaha. In the rare case that you do, you should try to extract maximum value. What happens if you're missing opportunities to extract value too often? Your downswings will be much bigger in terms of lost buy-ins, which in turn can make your play deteriorate. Most players you'll face at online poker sites make a lot of calling mistakes in PLO. The best way to capitalize on this is value betting against these opponents relentlessly!
Tip 3. Try to minimize your losses
A good strategy in Pot-Limit Omaha aims to lose the least amount possible when behind & win as much as possible when you have the edge. This is the case with most gambling games. You can't escape variance in Omaha, so there's no need to fight it. Instead, you can make it work in your favor. Keep playing a solid game with good pre-flop hand selection even when you're on a downswing. Likewise, don't start playing loose just because you've caught an upswing. Just make the correct plays to turn a long-term profit.
Knowing the best starting hands in Pot-Limit Omaha can give you the upper hand (pun intended!) over other players. Double-suited hands are better than hands with a single suit, as they make the flush more often. The best hand combinations consist of high cards with high suits, with premium pairs like AAJT often flopping dominating draws and big made hands as well.
With the tips we've mentioned above, you'll be able to approach the Omaha tables with a better mindset and be confident you can walk away with some profit. By knowing the most favorable hands to play, you're already one step closer to winning your next game of poker. Good luck at the tables!
Stop grinding, start crushing?
No more mediocre results at the PLO tables. With 30-day money-back guarantee.
Pot-Limit Omaha Starting Hands FAQ
What is the best hand in Pot-Limit Omaha?
The best possible starting hand in Omaha is AAKK double-suited . Other extremely strong starting hands in Omaha include AAJT ds, AAQQ ds and AAJJ ds. As you can see, the best Omaha hands are double-suited with big cards and pairs.
How many starting hands does Omaha have?
Omaha has a total of 16,432 starting hand combinations compared to 169 in No-Limit Hold'em. If we count the suits too, the amount of PLO starting hands jumps to a whopping 270,725 possible hand combinations.
How do I know if my Omaha starting hand is a good one?
You can recognize a good starting hand in Omaha by looking at how big the cards are, do they connect well, and is the hand suited or double-suited. An example of a good starting hand would be KQJT double-suited, whereas a hand like KT85 rainbow would be a bad starting hand.
What are the differences between Hold'em and Omaha starting hands?
First of all, equity differences between different Pot-Limit Omaha starting hands are smaller than in Texas Hold'em. If you're a Hold'em player and used to pocket aces being superior to other hands, Omaha might seem the same way at first. After all, the best PLO starting hands are AAKK ds and AAJT ds. These two hands are only 71% favorites over a random four-card hand, whereas in Hold'em you would be an 82% favorite over any two.
The second big difference is that the suitedness of starting hands plays a bigger role in PLO than in No-Limit Hold'em. KKxx and QQxx are not that strong hands preflop in PLO unless they're double-suited. In fact, these hands would be awful in case they don't have any suits. The situation is completely different in Hold'em, where KK and QQ are considered premium starting hands.
Can you use all 4 cards in Pot-Limit Omaha?
No, a player needs to use exactly two cards from their hand. You don't make a straight with a single card from your hand. Also, you can't play the board as you could in No-Limit Hold'em.
What are the bad Pot-Limit Omaha starting hands to avoid?
Bad starting hands to avoid in Pot-Limit Omaha include any hand with a dangler. This means there's an odd one card in your hand that doesn't work well with the other three hole cards. The same goes for starting hands that include three of the same suit, trips, or quads. You need to use exactly two cards from your hand to form the best 5-card poker hand with the board, so having trips or quads is a hopeless hand to start with.
What is the worst starting hand in Omaha poker?
The absolute worst PLO starting hand is 2222. Holding a low four-of-a-kind is really bad since it's a rainbow hand and you'll use only two cards from your hand. Additionally, you block any outs to improve into a stronger poker hand.
Is Omaha harder than Hold'em?
While Texas Hold'em is an easier game to grasp, full-ring Omaha poker can be quite easy to play once you learn the basics. In Hold'em, your hand reading abilities will play a big role. As the nuts win so many pots in Omaha, figuring out where you're at in a hand is quite simple compared to Hold'em. Still, at most online poker rooms the average level of play in Pot-Limit Omaha is much easier than in Texas Hold'em of the same stakes.
What are the best Omaha Hi-Lo starting hands?
The best starting hands in Omaha Hi-Lo are double-suited Aces with low side cards, such as AA23 ds and AA24ds. Double-suited AK32 or A432 are strong hands as well. You should generally aim to play hands containing A2xx and high suits in Omaha Hi-Lo.
How do you become a good Omaha player?
The top 5 Pot-Limit Omaha strategy tips we would give for a new PLO player are:
Choose your starting hands carefully and aim to play in position.
Table select carefully and only play in games where you have an edge.
Don't overplay unsuited aces or other good-looking unsuited hands.
Bet and raise aggressively when you have a big draw to the nuts.
Always draw to the nuts when the pot is multi-way.
Henri is a Pot-Limit Omaha specialist and an expert in all aspects of poker tracking software. Henri has played poker professionally since 2009 and regularly plays the highest cash games available online. He is a two-time title winner in World Championships of Online Poker.