Personal Rakeback
100% Deposit Guarantee

Tailored Rakeback
100% Deposit Guarantee

Tailored Rakeback
100% Deposit Guarantee

Tailored Rakeback
100% Deposit Guarantee
Tailored Rakeback
100% Deposit Guarantee
Monthly Promotions
30% Rakeback
Grind on mobile poker apps
For poker players, having the freedom to play whenever they want & from anywhere they want is quite important. Heck, as a poker player you might book a trip to play a tournament at the Bahamas with just a moment's notice, and if you do, you will spend a ton of time traveling! Therefore many players prefer to play some poker on their mobile phones by installing a real money poker app. In this busy world of ours it has become more important than ever to have the option to play poker on your mobile phone or tablet, whether you're using an Android device or an iPhone/iPad. For this reason, many of the modern online poker sites have developed an real money poker app to be used on a smartphone or tablet. You will actually see a lot of players at live tournament circuits like WSOP and EPT playing either cash games or tourneys on their mobile device while participating in a live tournament!
When you play mobile poker, you want the poker experience to be as smooth as possible – logging in, finding a suitable game, taking a seat at the table and starting to play. There is absolutely no room for any extra hazzle – players want to have comfortable UI's and smooth game flow with no exceptions. For real money mobile poker apps, this means there are a handful of superior options available to you, and a lot of mediocre ones.
How to choose the best mobile poker apps?
Choosing the best real money poker app can require quite a lot of research, and we have done exactly that to make your choice easier. Our team at Beasts Of Poker has tested & reviewed the top options for playing poker online through an app for you according to variety of criteria including:
Whether you're actually traveling to the Bahamas, just commuting or perhaps waiting for someone, this article will explain everything you need to know to start playing on the best mobile poker apps in no time. Let's jump right into it!
What can I expect from mobile poker?
When you join a poker site and install their mobile poker app, you can expect at least the following things:
Find our top recommendations for mobile poker sites listed below:
PPPoker is one of the current market leaders in mobile poker apps. It's accessible to all players, and the games are played using conditional playmoney that can be converted into real money. This allows all Asian players to access real money games on PPPoker. Their network is independent and depending on the club you're playing at, there can be hundreds of tables running during peak times. Accounts on PPPoker are created through an agent, and Beasts of Poker as a company gives you the extra benefit of full guarantee on your deposited funds, on top of weekly rakeback of course. To start playing on PPPoker, read the instructions from our complete PPPoker review.
Same as in PPPoker, Upoker operates through conditional playmoney called Upoker Chips, that have a real money value depending on the rules of the club you are playing at. They offer a great home game type of experience once you download their mobile app and sign-up to a club. These clubs can only be accessed through agents, and Beast of Poker as a company will give you a full guarantee of deposited funds as an extra perk on top of rakeback when you sign-up through us.
On Upoker you can play in 4 different clubs simultaneously if you're looking for an action packed poker experience. To start playing mobile poker on Upoker, read the instructions from our complete Upoker review.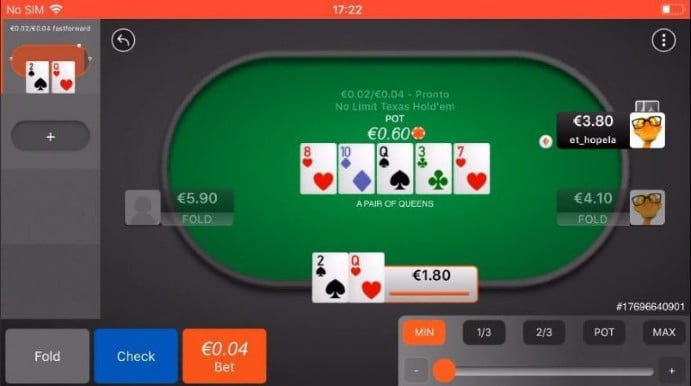 Besides launching a lot of juicy player promotions lately, partypoker has a world-class Poker app with many user-friendly features like fast-fold, hand notifications and multitable view. On top of those features, their app includes touchscreen controls with a bet-slider, and you can find your favourite game format easily from their menu. Running a few poker tables at the same time is not an issue with this app!
partypoker Poker app is naturally available for any type of smartphone, whether you have an iPhone, Android phone, Blackberry or a Windows phone. We tested the app with an iPhone 8 with the latest update of iOS on it, and everything ran very smoothly. If you want to become a true poker beast like our own Beasts of Poker Pro Player Joni Jouhkimainen, also a partypoker Team Pro, your choice should be partypoker!
PokerStars is one of the largest operators in the market and home to the famous tournament series called WCOOP, World Championships of Online Poker. Through their mobile app you can play the same range of poker variants as you can on a desktop computer, including cash games, tournaments and SNGs. During testing we tried out the multitabling feature using the PokerStars EU app on both Android devices and an iPad tablet with the latest version of iOS, which worked really well even when playing on two Zoom tables with fast action! 
If you would like to get even more functionality out of the app, PokerStars has one of the best apps for Android in terms of functions. You can pick your favourite from many table designs, replay hands, use their quick seating option and chat with your fellow players at the tables. For tournament players who play long sessions, the Android app might come in very handy, since you can easily switch between the PC client and mobile app in case you need to get some snacks or go to the bathroom while being deep in a tourney – you don't want to miss any hands in that spot for sure! 
You can also request deposits and withdrawals with the app, or make a few sports bet or try out the casino games if you like that sort of gambling. Also, choosing your preferred game format takes just a second as navigating their lobby is fast & easy: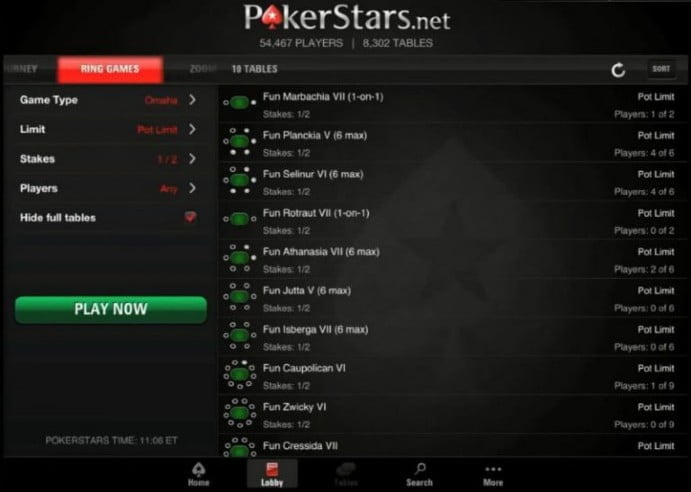 Their mobile app is generally a high-quality one as you would expect from a behemoth like they are, and you can signup and start playing on the PokerStars.in mobile app.
8 Reasons to play on mobile poker apps
Micro to high stakes action around the clock
The poker deals with PPPoker, Poker Bros, X-Poker, Pokerrrr 2, and Upoker cover unions and clubs from all time zones with a wide selection of games, and you will not be out of action whether you play small or high stakes games. Our club selection covers 20+ clubs with several hundred active tables for Texas Holdem, Pot-Limit Omaha and 5 & 6 Card PLO. Like to play in the early hours of the morning? No problem, jump into the action on a club where other players have just got home from work!
Rakeback up to 40% depending on the club
Whether you play poker for fun or for profit, we want to ensure you get properly rewarded for the hours you put into playing. The more you grind, the more rakeback you will get – on some clubs you rakeback can reach as high as 40%!
Helpful support team to get started easily
If you have played live poker or only on traditional online poker sites before, our support team can guide you through the steps to get started with real money poker apps. These steps include downloading the app, registering & choosing a username and a password, applying to clubs and loading chips. If you have any questions regarding a specific poker app, we have a comprehensive FAQ section of each of the poker site review.
Access to high stakes games offered in very few places
Soft line-ups from Brazil, Australia and many other countries are not accessible through traditional licensed poker sites, and getting access to those is possible only through the right clubs. These games can get as big as $15/30 and active tables being open up to $10/20 on a daily basis. For PLO players, it's pretty much like going back 10 years in time when you jump into the action!
Constantly updated lists for new clubs & apps to use
While the private poker clubs have great action going on different poker apps, we want to constantly monitor the scene for new attractive clubs as they reach a critical player pool for games to run regularly. A great example of the newer mobile poker apps would be ClubGG Poker while there are older ones like Pokerrrr 2 available to players as well. Having met & discussed with both the owners and developers of poker apps like Upoker and Poker Bros, we are quite convinced that they are really focused on the playing experience and making their app the best one on the market. With all the clubs combined from poker apps, we can offer 20+ active clubs for our players to choose from.
Deposit guarantee & registered company handling all payment methods
As a company we guarantee the deposits of our players in poker apps in case something goes wrong. Now if your other option is to play under an agent who doesn't offer you a guarantee on your deposit, we simply wouldn't recommend doing that in the unlikely case that someone runs with your money. Better be safe than sorry here!
Quick chip transfers & table openings
If your preferred stakes don't have any tables open when you're starting your session, just send a message to us and our team will request new tables for you! Same thing goes for chip transfers, as we can top up your balance quickly in case you happen to run out of chips – nobody wants to quit a good game due to being temporarily out of chips, so we've always told our players they can message us for top-ups on IM.
Possibility to earn from referred players
Not only do our players benefit from the access to soft games, but if you join as a player to one of the poker apps, we will pay you a referral commission from the rake generated by any of your friends who join through your recommendation. With players who have a wide network of fellow poker lovers, this can bring you a nice passive income – just send the player who would like to play on a real money poker app to us, and we set up an account and clubs for him, after which you can enjoy the commission!
You haven't witnessed true poker madness until your badminton opponent informs you that the next match has to wait because he has some $50/100 PLO action on his phone… So yeah, we use them and would highly courage for you to start using them as well. To get some further inspiration on becoming a high-stakes crusher, read our in-depth article of the best poker players!
Become the player you were born to be and start dominating the games – Continue reading more tips & articles in Poker Articles!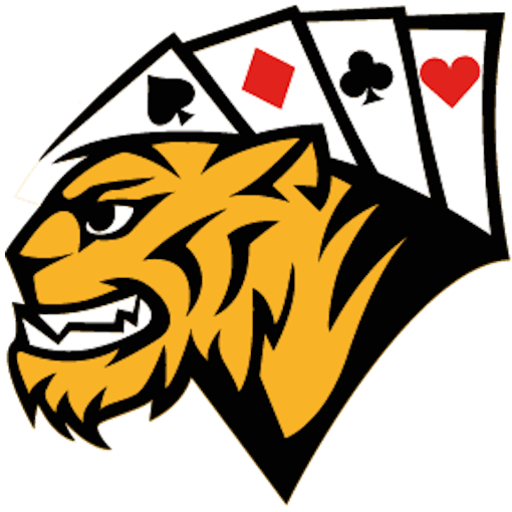 Editorial team curates and publishes in-depth reviews and ratings of online poker sites by using their extensive industry experience. Content is created by both in-house team of experts and outside authority contributors.