Two Alternative Ways of Building Your Poker Bankroll
One of the first challenges you will have when learning to play poker online is growing your bankroll. The usual way is to spend a lot of hours grinding micro and small stakes before moving up in limits. But the rake is going to kill most of your profits. So in this article we will show you 2 alternative ways of boosting your poker bankroll. 1) Matched Betting and 2) Value Betting. Both are mathematically proven ways of finding +EV bets and profiting from sports betting with bookmakers. So as a bonus, you get to beat the house at their own game and win some of that rake back.
How does Matched Betting work?
Ever wondered how you can turn bonuses and incentives offered by bookmakers, into a profit? Matched betting is the answer.
It might sound too good to be true – to explain it you need to first understand the essence of matched betting. It is a strategy where you will act as both the bettor and the bookmaker, in other words, you can't lose because you will even bet against yourself. This is a process that requires two different platforms, one where you bet for a team to win, and another where you will bet for that same team to not win (draw or lose). The two different bets you will use for this approach, are called a back – and lay bet.
Back bet. This is the most normal type of betting, and like the name suggests, you back for a specific outcome to come true. E.g. for Chelsea to win over Arsenal. This is done with bookmakers such as Unibet, Bet365 etc.
Lay bet. In this type of bet you will act as the bookmaker and bet against a certain outcome, e.g. that Chelsea doesn't win over Arsenal (either a draw or an Arsenal win). This is done through betting exchanges like Betfair, or a bet broker such as Sportmarket.
To illustrate, let's say you put €100 on Chelsea to win as your back bet, and the odds is 2.0. If they do win, you will get €200 (€100 of those are your own money), and if Chelsea lose or draw you simply lose those €100. On the same game, you take a €100 lay bet for Chelsea not to win, with the same odds of 2.0. As with every other bookmaker, if Chelsea doesn't win, you'll have to pay the bettor €200 (€100 are the bettor's own money), but if Chelsea win, you get those €100 from the bettor. So, as you can see, if you do matched betting correctly, it is risk-free. Okay, so you can't lose money, but how will you earn money following this strategy?
Let's say you open an account with a bookmaker that has a sign up offer of €100. But you need to bet €500 to be able to cash out the money.  Let's stick to the same example as above, you place a €100 back bet for Chelsea to win, and at the same time you take a €100 lay bet on Chelsea not to win. You repeat this 5 more times on other matches until the bonus conditions, or so-called wagering requirements, are fulfilled. Then you can cash out the €100.
If you need more help regarding the matched betting, or just want a step by step guide to get you started, visit the Oddshero betting software or watch Matched Betting step by step:
You could also find a list of the best sign up bonuses by joining Oddshero's Facebook group. Nevertheless, you can safely say that matched betting done correctly, might be the easiest risk-free money you've ever made. Depending on your location you should be able to cash out anywhere from €500-€3000 from matched betting. That would give your poker bankroll a pretty good boost. With Matched Betting I've been able to make €40/hour, so the ROI/time is pretty good too. Not to mention that this is essentially variance free money, which is hard to come by in the poker world. The downside of Matched Betting is that you will eventually run out of bonus offers. That's where the next strategy comes into the picture: Value Betting.
How does Value Betting work?
Value betting simply explained, is to bet on a given outcome where the odds should have been lower than what the bookmaker offers. A + EV bet. But how does value like that occur?
A good example of explaining value betting is a coin toss. There is a 50/50 chance for either of the two outcomes. This is the equivalent of  2.00 – 2.00 in decimal odds. But let us say the odds are 2.10 for tails, and 1.90 for heads. In this scenario you would obviously bet on tails, because it has a positive expected value. (2.10 / 2.00) – 1  = 0.05 * 100 = 5%. So you have a +EV bet of 5% or a 5% edge. Let us say for every toss, we bet €100 on tails. This means that for every time it ends up with heads, you will lose €100, but for every time it ends up with tails you will earn €110. So, in theory you would earn €10 for every second bet, and from this we can calculate the expected value of your bet to be €5.
From here it is basically all math, you could go on a bad streak and lose 10 tosses in a row, leading to a €1000 minus streak, or of course the opposite could happen. From playing at online poker rooms you should already be familiar with the concepts of short vs long term. And how important it is to build up a large sample size of hands played for the variance to even out. If you toss the coin it, let us say, 10 000 times, then you will be pretty close to having a 50/50 split between heads and tails. Meaning that if you have a +EV of €5 for every single coin toss, and toss it 10 000 times, you will have an EV of €50 000.
Okay, but you are probably thinking that sport and coin tossing isn't the same. Well the funny thing is that the same principle applies to sport! Let us say the championship is on the line and it's the final game of the season, it's Barcelona vs Real Madrid. The odds are 1.80 on any of the sides to win because the bookmakers always take a margin to guarantee a profit. But right before the game is about to start, two of Real Madrid's best players must sit out due to injury, the odds on a Barcelona victory would fall drastically, to let us say something like 1.30. This is good news for a value bettor, because there are so many bookmakers that are late to update their odds, meaning you would be able to play on a Barcelona victory at 1.80 in odds, while the odds in reality is 1.30! Now imagine getting 100-500 of these bets every single week. Trademate Sports is a software that automates the job of finding value bets for you. So all you need to worry about is getting the bets. You can also read more about how value betting works on their blog, in particular we recommend checking out the Ultimate Guide To Trademate Sports. Their founder Jonas Gjelstad is also one of Norway's best poker players, who realized that he could make more money from betting than what he did from poker.
Combining Poker, Matched Betting and Value Betting
To get good at poker you need to play a lot of hands. There is no other way around it. And as we already mentioned, a struggle that a lot of new poker players have is building up their bankroll to play at higher stakes. Matched Betting and Value Betting are 2 great ways to help you do that. What's also good about them is that you can easily fit them into your poker schedule. Few Poker Tournaments running between 11.00 – 16.00 (CET) on a Saturday? Place bets. Just finished a round of sit and go's? Place a couple of bets. Need a break from the monotony of playing poker? Place a couple of bets. The +EV from the bets will add up over time. In practice it is best to start with matched betting, because the bookies are essentially handing out €100 bonuses, which is free +EV and should be a no-brainer to do. Placing matched bets and clearing a bonus goes by quite fast, and you don't actually need to meet the turnover requirements either. The only thing you need to do is to lose money at the side where you have the bonus and win money at the side where there are no restrictions. So it is possible to cash out €100 in one single bet if you are willing to place larger bets. Then it's up to you whether you want to do it before you start grinding the lower stakes or whether you want to do it in parallel. Value bets are even faster to place, so they are perfectly complementary to playing online poker.
As a poker player you should always look for +EV situations. Regardless of whether it's at the poker table, supermarket or when value betting. Good luck with growing your bankroll!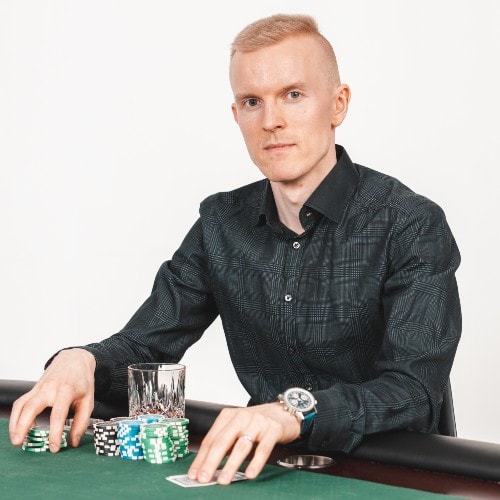 Johannes is the Editor in Chief at Beasts Of Poker and is an expert in both live & online poker. Johannes played online poker semi-professionally for 5 years while completing his Master's Degree in Technology.