Perhaps the most common question people ask poker players is can you make money playing poker online or at the casino. If you remember your first time sitting down at the poker table, there's a chance of recalling that feeling of being very excited by the possibilities the game offers. You can play some cards, outwit your opponents while doing it and win some money as a result of playing well.
Perhaps you played in a home game after watching some WPT broadcasts where hole cards were shown for the first time or tried out some poker freerolls on the internet. Some players stumbled into poker via other games like chess, Magic The Gathering or eSports  Many old school players tried their hand at poker after betting on different gambling games at the casino and were hooked from the very first hand.
In short, you can definitely make money playing poker online, but you need to have several disciplines and strategies in place before you book a win regularly. The specific strategies you need to use include game selection and playing against less-skilled players, choosing your starting hands carefully and playing fundamentally sound poker. In addition to these technical skills, you also need to have a strong mental game in poker. This means things like tilt control and learning to recognize when you're no longer playing well. This way the luck factor will still affect your results in the short term but your skills will start to pay off in the long run.
The possibility of making a profit at poker is a big source of motivation for most players. Other major sources of motivation to play are the intellectual challenge, the competitive nature of the game and the social aspect of playing. If you win at first when trying out real money poker, you'll probably try to win some more. You might even start to think could poker become a form of income for you!
How King Pampo started making regular profits playing poker
I started with online poker by watching broadcasts from the World Poker Tour and bought a poker book before playing low stakes SNGs. After a year or two, I also started playing 5 Card Draw and NLHE, but it wasn't until I found Heads-Up Pot-Limit Omaha that I started to make enough money at the tables to call myself a poker pro. I played high-stakes HU PLO for many years, and after I bought a house with the poker winnings I felt really relieved: I had achieved something with poker! My poker story continued as I kept putting in a lot of hours, as HU PLO was a format where I did really well at. Finding a game format that you really like and where you are at your best is essential!
You can't bust all the time to make money in online poker. I would say making regular profits in poker is all about how suitable you are as a person to meet the demands of this game. You must have passion for poker, and you need to enjoy playing even when the luck is not on your side. I've never had too much a problem with tilting, as I like the competition and winning is not so much of an obsession to me. Being focused and in a good shape mentally is super important and the easiest method to achieve that is through physical well-being i.e. eating clean, exercising and having a regular sleep routine. You must have a good enough win-rate though to beat the variance – the smaller your win-rate is, the larger your bankroll needs to be to handle the swings.
-King Pampo, Beasts Of Poker Ambassador, high stakes PLO player & Sunday Million winner
Every professional poker player has put countless hours into studying strategies that can be used to beat the game. Initial run good might give you the wrong picture of qualities needed to succeed in poker. If you don't learn proper poker strategy and study the game, the success you had when first trying out poker is unlikely to last for a long time. A poker player who gets dealt more than their fair share of good cards in the beginning is likely to think they're a natural talent in the game. It's almost impossible for a new poker player to recognize how big a role luck has in their short term results. The amount of money you win in a single year can vary a lot. 
In this post, we're going to cover the necessary steps you need to take to earn money playing poker both online and at the casino. As a cherry on top, we're also going to analyze the factors that affect your long term results in poker. Let's start with how to make money playing poker online: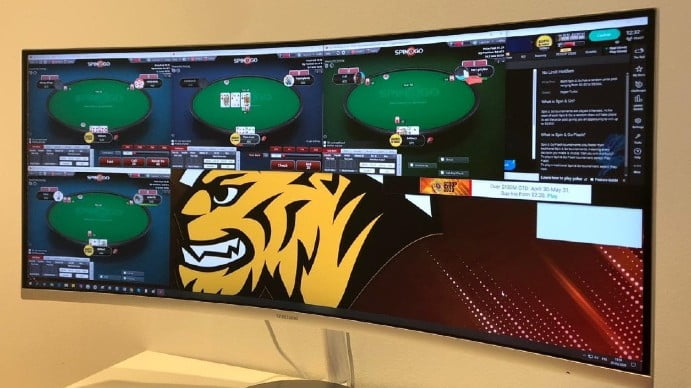 How to win money playing poker online
Playing real money online poker is quite convenient: You can access all the different game formats and play in a cash game or a poker tournament against players from all over the world from the comfort of your home. You also decide on your own schedule when to play and which online poker room you choose to play at.
To make money playing online poker, you need to do the following steps:
Step 1: Choose an online poker site and make a deposit
Step 2: Increase your balance by playing in good cash games or poker tournaments
Step 3: Study the game to improve your win-rate and hourly rate.
Step 4: Repeat steps 2 and 3 before withdrawing a part of your winnings
After you've made a withdrawal, you can continue to play and study the game. Playing in good games only will be of essence to win online. You should be looking to play against players on which you can put a tag of a recreational player. You can identify these players from the following behavior at the tables:
Limping most of their hands preflop
Showing down many trash hands at showdown, such as T5o or J4o
Minbetting or min 3-betting regularly
Not folding their draws to big bets at all
Using an excessive amount of emoji's, rabbit hunting or cursing their luck in the chat
Finding players who do these things will keep your win-rate high. It's estimated that over 90% of the money won by winning players comes from recreational players! To increase your poker winnings even further, make sure to take advantage of online poker bonuses as they're are essentially free money given to players by online poker sites.

Want to play where the action is?
Don't swim with the sharks & professionals. Jump on GGPoker filled with fun players and we'll get you a sign-up bonus up to $600 – sweetened with an extra $30k exclusive rake race.
Most Beasts of Poker Pro Team members have made their fortunes online multi-tabling mid and high stakes cash games and tournaments  You can gain a ton of experience in a much shorter time than you would by playing live poker  where you only get about 25-35 hands per hour. At the virtual felts, you can play several hundred hands per hour, and finding a suitable game is much easier.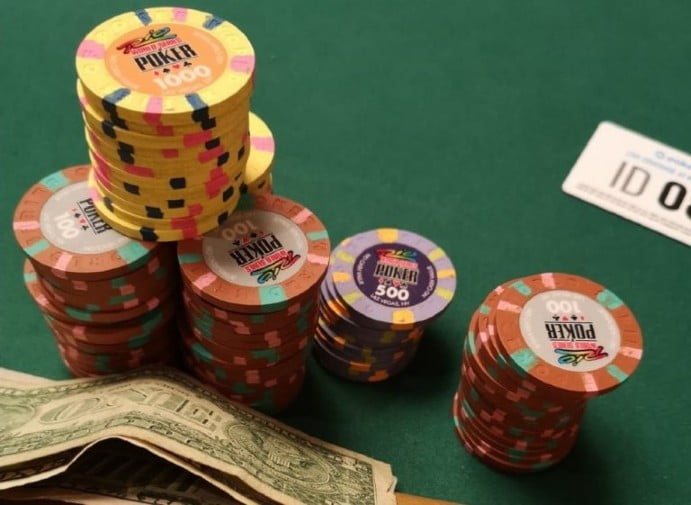 How to win money playing live poker at the casino
Casino poker or live poker has the same rules as online poker, but the game is quite different when played live. If you don't live next to a casino, you will have to either drive or travel by other means physically to play. Due to gambling restrictions, some countries don't even have casinos at all. You can only play one table at the time in a card room, and you will see all the reactions of your opponents during the hands. Live tells can be used to gain an advantage, and the game often plays deep stacked.
The same way you play online, your goal is to choose a good game and increase your balance by playing and improving your win-rate by studying the game. The only difference is you will be getting all the chips cashed out at the end of your session at the casino. Some players choose to keep their live poker bankroll as casino chips, but it doesn't work that well if you play at multiple card rooms.
Choosing the right poker games
There are countless game formats played at both casinos and in online poker. Choosing the right games to play can make the difference between being a losing player and being a consistent winner. Many people have started from freerolls or tournaments on legal online poker sites, but the most consistent winners usually prefer cash games both online and live.
Cash games have a few advantages when it comes to making money playing poker:
You're free to start and quit the session whenever you please
You can always find a game to play as opposed to scheduled tournaments
There's less variance in cash game than in tournaments
In the early days of online poker, Full-Ring No-Limit Holdem was the game format to play. In modern poker these games pretty much only exist in live poker, so 6-max poker is the way to go. If you're just starting out with poker, you can play at micro stakes online such as NL5 or NL10. Playing these levels you can gain experience without risking a lot of money.
In live poker, your options are more limited. NL200 is usually the smallest game you can find at any casino, although some casinos do have NL100 also in their repertoire.  If you buying with the full 100bb stack, your first sessions can quickly get quite costly compared to starting out online. On the other hand, the pace of play is much slower in live poker with full ring tables which is a good thing when you're just starting out. You'll be able to follow the action much more closely and get a good grasp on how the betting rounds work on each street. For a tournament player, the tournament buy-ins of live events start from around $20 and go up to tens of thousands at prestigious high roller events.
Importance of game selection in poker
Game selection is a critical yet underrated poker skill. You should not put effort only into improving your technical skills and win-rate, but also into choosing the game with the highest expectation. You have to do this within the means of your poker bankroll of course. Choosing a game where you have an advantage over other players allows your skills to realize profits.
While we can't overemphasize the importance of game selection enough, many players don't take advantage of all available options when looking for good games. Make sure you take the following steps in your game selection process:
Step 1. Check out both online poker sites and live casinos available in your country
Step 2. Find information about the rake with each option and compare where the rake eats least of your winnings
Step 3. Scan different games regularly and mark any particularly juicy games that you can beat with a good win-rate
Step 4. Keep track of your playing sessions at both online poker sites and local casinos to see where the best games are (use a reasonable sample like 500 hours of play or 50k hands)
Step 5. Spend more time playing in games found in steps 1-4 where you tend to win the most
As time goes by, you will probably learn to recognize a good game fast and even get to know the players that you want to play against. This leads us to our next topic:
Finding less-skilled opponents to play against
While no one wants to be called a bad player  even the second-best poker player in the world will be worse compared to his opponent in case he decides to play the best player in the world. Similarly, you might have great skills but if you constantly play against even better players, making money in poker will be an uphill battle that you cannot win. Sitting down at a random poker table without scanning it first for the level of play is basically a big leak in your game that will decrease your potential winnings.
How to make sure you maximize your edge at the tables then? The solution is to always play with players who are less-skilled and experienced. Poker is a game played between people, and you're not competing against the house as in other gambling games like sports betting or blackjack. This is also the reason why poker can be so profitable over a long period of time.
You should start with micro or low stakes online or at the smallest poker table you can find at your local casino. Why do we recommend this? There's a simple reason for it: To be able to play with players who are making large mistakes on every street! If you choose to play online you can use a Heads-Up Display (HUD) to recognize loose players. Players with over 35% VPIP (voluntarily put money in pot) are almost always bad in a ring game, as they can't help but play too many hands. Most of the time they're passive too.
Once you get some experience using a HUD in online poker, we recommend trying out and utilizing other types of poker software at the tables too. There are several different poker software that can help you in finding good games, using hotkeys when multi-tabling and analyzing your play after the session. Read more about one of the best tracking and analyzing software from our Holdem Manager 3 review. In live poker it might be impossible to keep track of what percentage of hands everyone plays, so you can simplify the process of recognizing recreational players by looking for the following behaviors:
Limping in an unopened pot preflop
Routinely calling raises preflop instead of 3-betting
Calling multiple streets with medium or bottom pairs postflop
Showing garbage hands at showdown such us 92s, Q4o or J5o
Posting a Blind Out Of Position
Buying in for less than 100bb
While none of these moves alone can assure someone is a recreational poker player, doing multiple things on this list is pretty much a no-brainer indication that someone is not that good at poker. When you spot a player like this, try to make sure you get a seat on their left at the table. This way you can act last after them every hand, allowing you to make better decisions against them and capitalize on their mistakes in more situations.
Choosing your starting hands
'Learn the rules like a pro, so you can break them like an artist.' –Pablo Picasso
If you watch chess grandmasters play, they're extremely fast to make their moves early in the game and get those moves right. That's the equivalent of preflop in poker where the best poker players automatically know which hands to open and 3-bet from any given position. Knowing the starting hands charts by heart comes handy when playing poker, and they're available on many poker training sites.
Why do you see players like Tom Dwan and Phil Ivey play hands outside the starting hands charts then? Due to their vast experience of poker, they know when to break those rules to win even more post-flop. For most players, these trashy starting hands won't show a profit. Our advice is not to play bad hands in a 6-max or full ring poker – you can certainly become a winning poker player by sticking to a solid pre-flop game.
To learn the right starting hands easily, we recommend checking the starting hands guide from our 6-max poker strategy guide. Players who choose which hands to raise according to these starting hands charts are described as tight-aggressive or TAG. A TAG is quite selective in which hands they play, but once they enter the pot they come in with a raise or a 3-bet instead of limping or cold-calling. Most winning poker players have TAG style at the tables, and we recommend using this approach for everyone.
Playing fundamentally sound poker
When you're playing poker, by definition you win money by making better decisions than your opponents. Mistakes are inevitable for any poker player no matter how good they are. Great players just make a lot fewer mistakes than their less-skilled villains. Mistakes are what basically keep the games going, as nobody would win in the long run if everybody played poker without mistakes.
Winning players have an edge at the table due to making fewer mistakes than break-even or losing players. That edge is there regardless of cards they're being dealt, what situations occur at the table or what are the different stack sizes of players at the table. Most of the time you don't win by making a brilliant play – you win by playing fundamentally sound poker and capitalizing on the poor decisions of your opponents. To get your fundamentals right in poker, you must understand game theory and apply it at the tables!
Follow a Clear Path Proven By Hundreds of Winning Players
Overwhelmed by the huge amount of bad poker training videos online? Get well-selected strategy videos every month, instant feedback from personalized quizzes and join a community of highly motivated players & top-level coaches.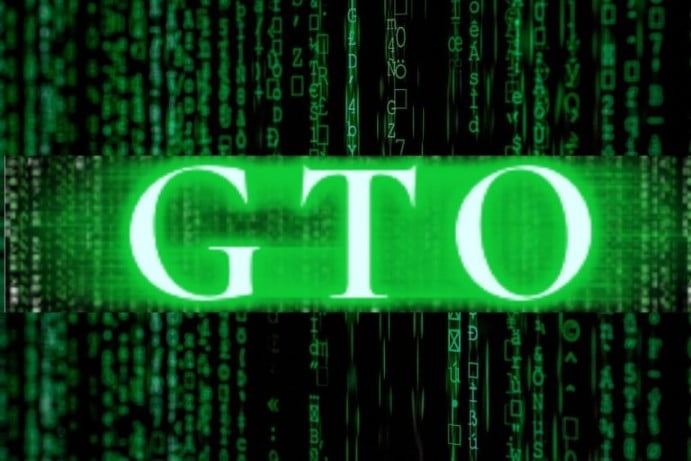 Poker game theory in practice
Game theory in poker can be defined as the theoretical knowledge of how poker works and how one can profit by playing. The very starting point is of course the rules of the particular game format you're playing. On top of that, you add the underlying probabilities and odds in poker. In every poker game, you're striving to have optimal betting frequencies taking into account the tendencies of your opponents.
David Sklansky wrote it in a thorough way in his book The Theory of Poker: 'It's the aim of maximizing wins, and minimizing losses. 'To do this, you need to have a reasonably balanced poker strategy as your baseline. By balanced we mean a strategy that is hard to exploit – one that makes money in the long run against players who play an unbalanced strategy. In the short term it's possible to get coolered or out-drawn, but the plays you make will be profitable on average.
With poker solvers, you can estimate quite good approximations of a balanced strategy, but perfect game theory optimal strategy hasn't yet been calculated for multiplayer poker games and formats. Yet, it's very profitable to learn how a balanced poker strategy looks like in different spots, as based on this you will be able to craft better adjustments to capitalize on the specific mistakes your opponents make. On the other hand, other players will have a hard time playing against you, as you will be the one that adjusts first. Once they catch on what you're doing, you will notice this and change your game plan accordingly.
There's no need to disguise your holdings against players who can't read your hand or don't care about anything other than their own hand (or even don't know the rules of poker properly). Majority of the time you need to disguise your hand though, as most poker players will notice any glaring patterns that you have. For example, if you always raise bigger with just AA, KK and QQ and raise small with all other holdings preflop, any decent opponent will not give you action when you have premium pocket pairs.
How do we play in a way that is not so predictable? You want to give your other players hard time to put you on a hand. This way you're not easy to beat, and it's likely your opponents will make big mistakes against you at some point. Here are three easy techniques you can apply to achieve this:
Raise the same amount with all your hands preflop from a particular position. If you're raising around 40% of your starting hands on the button to 2.5BB, the blinds can't know if you're holding AA, T9s, 33 or something else. They can just see that you're folding a little over half the time, and raising with the same sizing with the hands that you play. If they think you're raising with mediocre hands and decide to fight back, they will eventually pay you off when you happen to hold a premium hand. Likewise, if they think you're raising with good hands only, you will steal their blinds many times before they start to fight back.
Bet both your strong hands and draws the same way postflop. When you don't change your betting patterns based on the strength of your holdings, it's virtually impossible for your opponents to put you on a hand postflop. You will be harder to read and win more often as a result!
Don't give away information for free. Even if you're casually revealing some hands at the table, some of your opponents might use this information against you in the future. The best players in the world never reveal their cards unless they're at showdown and are forced to flip their cards up. By never showing your cards voluntarily you keep your villains guessing whether you're bluffing or value-betting them.
Adjusting to your opponents
Understanding and playing a balanced poker strategy will keep your win-rate high, but knowing how to make correct adjustments according to how your opponents are playing will put even more money in your pocket. Successfully adjusting your strategy requires two components: Recognizing the tendencies of other players and taking advantage of those tendencies by playing the correct counter-strategy. Again, you can use 3 different techniques to achieve this:
Study your opponents closely at the table. This is the starting point for any adjustments in poker. Look at their moves and see if you can spot what kind of patterns they have. Focus on catching any information about their play that might help your decision-making in future hands.
Make a mental note of the hands they have at the showdown. Showdowns reveal the whole story of a particular hand that was played. Often they reveal also the thought processes of the players involved. Sometimes by seeing just a single showdown you can understand how the players involved approach the game preflop and postflop.
Categorize your villains based on their aggressiveness. Often your adjustments at the table will be quite simple, as they're based on the aggression level of your opponents. Facing a raise from a passive opponent on the turn or river holding an overpair? You have an easy fold. Get raised by a maniac on the flop? Start checking back more hands against them, as they will give you plenty of action when you flop something strong.
While you won't be suddenly gaining a crystal clear vision of the exact holdings of your opponents, utilizing these techniques will help you in making good estimations of your opponents' holdings more often than not. Better estimations allow you to make better decisions, eventually leading to more winnings.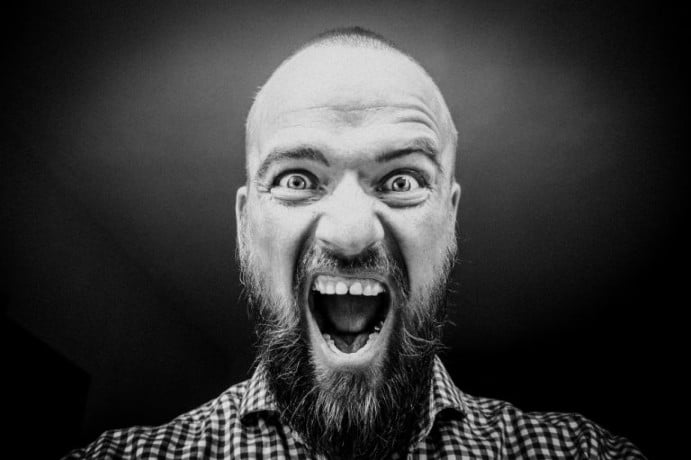 Tilt control and mental game in poker
'If there weren't luck involved, I would win every time.' -Phil Hellmuth
On any given day, the worst player at the table might win heaps and the best player can get buried. Such is the nature of poker, whether you like it or not. Learning to make peace with variance isn't easy, but it's one of the most efficient ways to ensure your success in poker. No matter if you're playing low stakes or high stakes games, your patience will be tested many times in poker. The question is whether you'll prepare yourself to face that challenge or not.
Your first aim in tilt control should be to recognize when you're no longer playing your A-game. Once you can recognize not playing your best poker game, you have two options: Either quit the session or try to control your emotions. Deep breathing, injecting logic or reading a strategic reminder are useful tactics if you decide to keep playing.
Bad beats and long-shot draws will occur at the tables again and again, and there's not much you can do about it. It is due to bad play you see many times over that poker is so profitable. If bad play was never rewarded, people would stop playing bad or they would move to other games than poker. When you take a bad beat, you need to remind yourself you're in it for the long term. By continuing to play a solid game no matter what obstacles you face, the underlying math of the game will make sure you'll end up making money in the long run.
Like with any aspect of poker, tilt control requires a lot of practice before you can execute it flawlessly. You can even think of tilt as an additional opponent to beat while playing – it's the temptation to deviate from the optimal play in any deviation. Learning to say no to that requires great discipline that all the best poker players have mastered. The good news is there's nothing stopping you from doing the same. Keep your cool and grind it out, as your luck will turn sooner or later!
Many factors affect your overall results and how much you win at the poker tables. Among them are your strategy and skill level, the games you choose to play and how well you can control tilt. Making money in poker requires a disciplined approach. No wonder poker is said to be a hard way to earn an easy living!
Putting in the hours and studying the game require dedication. Simply put: The more you want to win, the bigger your commitment to the game needs to be. Only those who put in the necessary work can overcome downswings and the inevitable variance. But, their reward is also going to be a big one in the long run.
With the advice provided in this post you will be well on your way to make some money playing poker online or at your local poker room. Additionally, you can jump to read more of our free poker articles to learn more about playing winning poker. Playing fundamentally sound poker to make money at the tables doesn't happen overnight, but with constant effort in studying the game and playing their best anyone can do it. Now it's up to you whether you'll pursue that. Good luck at both the virtual felts online & live poker tables at your local casino!
Make Money Playing Poker FAQ
Can you make good money playing online poker?
Poker is an easy game to grasp but takes a lifetime to master. It is certainly possible to make good money playing online poker, but it requires a tremendous commitment. To be a consistent winner and make money from poker, you should commit to studying the game, playing long hours, utilizing rakeback & poker bonus deals and choosing the games you play carefully.
How much money do poker players make?
A winning poker player at the low stakes games like NL25 and NL50 can expect to make around $300 – $1000 per month. At the medium levels like NL100 and NL200 you can start to make $1000 – $4000 per month. At the upper mid stakes and high stakes tables the sky's the limit, with the best poker players making anywhere between $10 000 – $100 000 a month. On top of these poker winnings, active players get rewarded with thousands of dollars.
Which poker game is the most profitable format to play?
NL Texas Hold'em is still the most popular game in poker rooms all around the world, and if you have good skills in this format, there's plenty of games where you can earn a lot of money at. Due to its popularity, No-Limit Hold'em has the biggest number of recreational players. Pot-Limit Omaha comes second in popularity and is also a very profitable format to play, especially if you're experienced in playing deep stacked PLO where edges against recreational players can be huge. Playing PLO might however result in bigger swings than NLHE due to the variance involved, and you have to be prepared to go through long stretches of break-even or losing runs.
Are cash games harder than tournaments?
Cash games are indeed harder to beat than tournaments, as the skillset required to beat cash games involves handling a lot of complex betting decisions on later streets. In tournament poker, the stacks are on average much shallower, resulting in less turn and river decisions compared to cash games. Therefore cash game players are more used to playing deep stacked poker, where the biggest decisions are made on later streets.
How to make regular profits playing poker?
Poker pros who regularly make profits playing the game use the following strategies to win as often as possible:
Play aggressively to both win large pots with strong hands and make your opponent fold a better hand when you have a weak hand
Play passively to win with a mediocre hand at the showdown
Game select the softest tables available at your stakes
Participate in promotions, rake races and find new poker rooms to play at
Study and improve your game regularly
How much money can you make on Pokerstars?
You can earn up to $1500 per month playing low stakes poker tournaments with $7 – $15 buy-ins or low stakes cash games like NL50 on Pokerstars. Pokerstars has some of the biggest guaranteed prize pools in tournaments that run daily, so getting a big payday can happen if you play tournaments with $100 – $200 buy-ins on their online poker site (for example Sunday million where the winner takes home +$100k).
How hard is it to play poker for a living?
Making a basic living at poker is not an easy job. It is even harder to have a lucrative lifestyle by being a poker professional, as there are very few millionaire poker players at the top of the food chain and the competition is fierce. You have to be ready to make big sacrifices if you choose to make a living playing poker. Many successful players have hired a poker coach to help them constantly improve their game. But, the bright side to playing poker for a living is choosing your own hours, traveling the world to play in different casinos and tournaments and being your own boss.
Is poker still profitable?
Poker is still very profitable even though there are computer software called solvers dictating optimal plays that require a lot of studying. The days of easy money in poker are long gone though. Nowadays you need to work really hard to earn a lot of money in poker, and the game is profitable only for players who have a professional approach to the game and are committed to improving their skills. Poker career might sound like an appealing choice for many players, but we recommend careful consideration before turning pro.
How can you improve your earning potential in poker?
Working on your game and fixing your leaks are essential ways to improve your earning potential in poker. Poker is a constantly evolving game where you will be quickly left behind if you don't study the latest betting strategies in your chosen game format. Therefore, it's recommended to watch training videos on YouTube or poker training sites, reviewing your own play, and discussing hands and strategies with other like-minded players. On top of striving to improve as a player, you should always be on the lookout for new cash bonuses, promotions and rakeback deals as they can significantly increase your earning potential in poker.
How many poker millionaires are there?
There are thousands of players who make more than $1 million or more from live or online poker tournaments per year. In contrast to 2016 when 104 players made over a million in live tournaments, the number is higher these days due to massive growth in poker tournament prize pools both live and online. However, estimating the exact number is hard, as full data from buy-ins and winnings aren't available publicly.
Is poker a skill game or a gamble?
Poker is a game of skill with a luck element involved. Luck plays a big role in your poker results short-term and this element of chance makes poker a form of gambling. In the long-term you can improve your odds of winning through skill, which is why the game is viewed as a skill game where poker professionals can make their living.
What percentage of poker players are winners?
At any stakes online, only the top 10% of the player pool are winning poker players. The players in the bottom 90% are either break-even players, small losers due to rake or massively losing players. Some of those poker players belonging into the top 10% are winners only for a while though – poor bankroll management and tilt might lead them to play stakes they cannot afford, and lose their bankroll as a result.
How often do good poker players win?
A good poker player can win between 60-70% of their sessions in micro stakes poker games like NL2 and NL5. Once you move to low stakes poker games like NL25 and NL50 even the best players at those levels don't win more than 60% of their sessions. A winning high stakes poker player may book a win a little over 50% of the time or 55% if they are the very best players at their stakes. The edges in poker are very thin, and as a result it takes hundreds of thousands of hands to estimate your winning percentage accurately.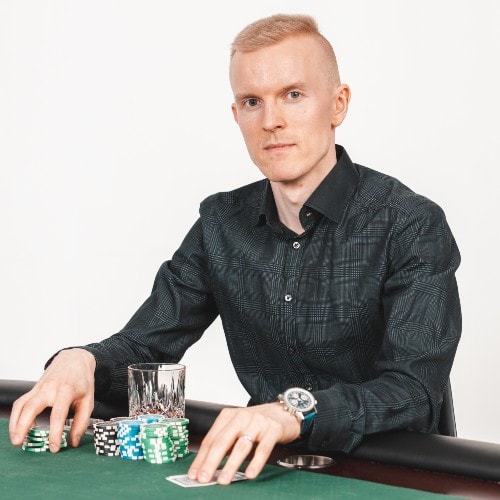 Johannes is the Editor in Chief at Beasts Of Poker and is an expert in both live & online poker. Johannes played online poker semi-professionally for 5 years while completing his Master's Degree in Technology.