Bitcoin
is one of the most volatile digital currencies you can trade and the first cryptocurrency to go mainstream. Many poker players are not familiar with the history of Bitcoin, which is why we decided to shed light on its history. Let's jump right into the beginning of Bitcoin:
Bitcoin began as a whitepaper named 'Bitcoin: A Peer-to-Peer Electronic Cash System'. The background of Bitcoin lies in responding to the Great Financial Crisis and the reliance of the financial world on banks. The idea of disintermediating the banks from transactions and not relying on third party information were important for Bitcoin, as it aimed to fix the instability in finance caused by fractional-reserve banking.
Who are the founders of Bitcoin
The founders of Bitcoin are unknown. The founder or founders of Bitcoin used a pseudonym Satoshi Nakamoto as the founder of Bitcoin whitepaper and developer of BTC. Satoshi hasn't revealed any personal information in his writings, although his written English is on a native-level.
According to Satoshi's writings, the coding work of Bitcoin began already in 20067. Domain Bitcoin.org was registered on 18 August 2008 and the whitepaper was posted to a cryptography mailing list in October 2020. Bitcoin network went live on 3 January 2009 as Satoshi Nakamoto mined the genesis block of bitcoin that had a reward of 50 bitcoins. The genesis block is also known as block number 0.
Bitcoin is coded so that every 210,000 blocks the rewards for mining BTC are halved. For the first 210k blocks, the reward was 50 BTC. With current hash rates, each halving takes place roughly four years after the previous one. So far BTC halvings have led Bitcoin to appreciate in price.
When did Bitcoin start to trade: Bitcoin exchanges
The first Bitcoin trading platform called Bitcoinmarket.com went live in 2010. The platform was proposed by a user called 'dwdollar'. The second exchange, called Mt. Gox, was launched in 2011 by Jeb McCaleb. Jeb converted his Magic: The Gathering themed site into an online Bitcoin exchange. Mt. Gox was later sold to a developer named Mark Karpeles and was later hacked for large amounts of BTC.
Over the years, the price of Bitcoin has seen large movements both ways. There have been both large downward spikes as well as several parabolic rallies. In the early days, BTC price was driven by black markets on the internet, such as Silk Road.
In 2010, Bitcoin faucets started appearing in the form of websites and apps that would reward users in the form of a satoshi. The first BTC faucet was developed by Gavin Andresen in 2010 and he named it 'The Bitcoin Faucet'. Originally, it gave out 5 Bitcoins per person. Typically users are required to complete simple tasks like captchas or play a mini game to win a BTC prize from a BTC faucet.
Taxation and regulation of Bitcoin
Taxation of Bitcoin depends on the country where you live. Countries such as China and India have been in the forefront of developing regulations around BTC. Some European countries tax Bitcoin price appreciation as capital gains tax that makes taxes due on a bitcoin transaction that is a realization event. In 2013, German Finance Ministry labeled BTC as a unit of account that is subject to capital gains tax if the taxpayer holds BTC for a period shorter than one year.
As the most popular cryptocurrency, Bitcoin is frequently used for gambling online such as crypto poker. For example, most of the private mobile poker games use Bitcoin to settle balances. BTC makes anonymous gambling possible and many poker players have started using Bitcoin for moving their money between different online poker sites.
History of Bitcoin FAQ
When was Bitcoin started?
Bitcoin was launched in January 2009, not too long after the big stock market crash of September 2008.
Who invented Bitcoin?
Bitcoin was invented by an unknown person or group of people using the name Satoshi Nakamoto. Satoshi's identity is still a mystery, although there is a lot of speculation on internet forums on the identity of Satoshi.
Can you play poker with Bitcoin?
Yes, there are many poker operators that have added Bitcoin and other cryptocurrencies in their payment methods.
What poker sites accept Bitcoin deposits?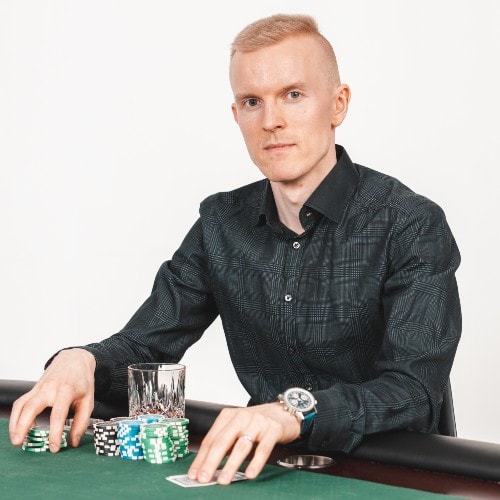 Johannes is the Editor in Chief at Beasts Of Poker and is an expert in both live & online poker. Johannes played online poker semi-professionally for 5 years while completing his Master's Degree in Technology.