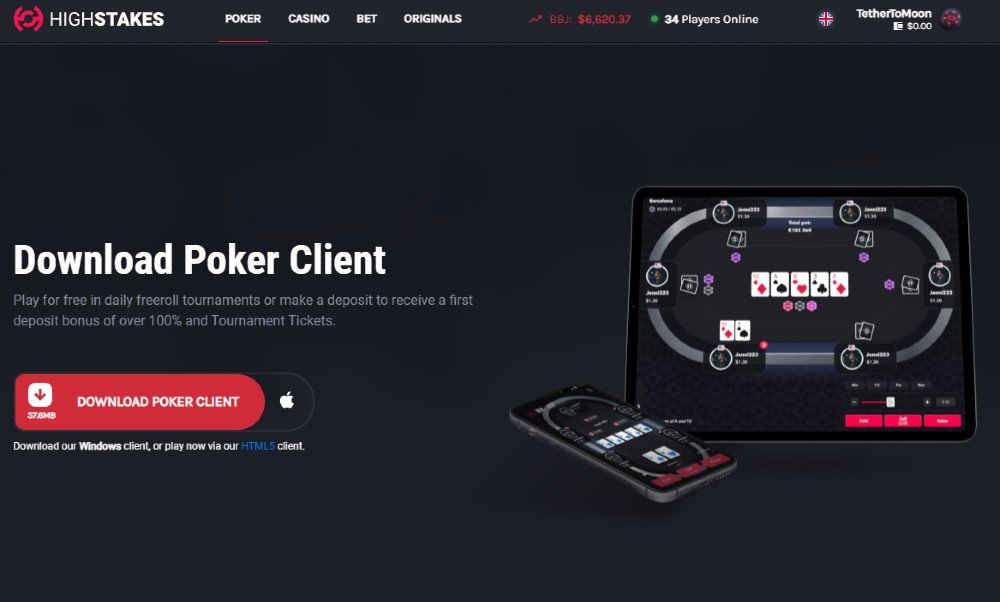 HighStakes Poker is a relatively new poker room established in 2018 by Luke Schwartz, a famous British professional poker player, and Joseph Cheong, a 2010 WSOP Main Event finalist. In the first few months of its existence, High Stakes operated under the GG Network, only to switch to the Tonybet Network in November 2018.
The poker room has a license from the Curacao Gaming Commission, the number one licensing body for poker rooms worldwide. From its name, the purpose of HighStakes Poker is to provide newbie and professional players with the opportunity to play actual high-stakes poker games and tournaments all-in.
Therefore, the site seeks to attract wealthy individuals and other high rollers, making it suitable for those who can bankroll online poker. High Stakes Poker doesn't shy away from offering higher stakes ranging from $1,000 to $2,000, although these stakes rarely run due to the player traffic being pretty small in the beginning of 2022. If you opt for private tables, your stakes can go even higher.
Even though the site offers games in Euros, U.S. dollar is used as a deposit currency. Consequently, the platform experiences the highest traffic during European peak hours.
This HighStakes Poker review aims to give you the details you need to decide whether or not this poker room is for you. Keep reading to learn more about how it does across the different areas:
Opening a HighStakesPoker Account
Setting up a HighStakes account is extremely easy. You don't have to be a tech wiz to do it. Once you sign up, you can claim a 100% welcome bonus of up to $2,000. There is also a $5 free cash reward, which you can use to try out HighStakes Poker offerings. Using the $5, you can play some cash games, SNGs, or MTTs, whichever you choose.
Here are step-by-step instructions to help you quickly set up a High Stakes Poker account:
Step 1: Initiate the Registration Process
Before initiating the registration process, you should clear cookies from your web browser. Open the High Stakes Poker home page where you can download the client. The homepage has a download button, which you should click and follow the subsequent onscreen instructions.
Step 2: Fill In Personal Details
Once you open the registration form, enter personal details, including username, email, country of residence, and password. Be sure to choose a strong password, possibly with capital and small letters of the alphabet, numbers, and special characters. You can use the password whenever you want to gain access to the platform.
A strong password should prevent hackers from accessing your account. Once you enter your details, you can accept the terms and conditions and confirm by clicking SIGNUP. Now you can move to the next step.
Step 3: Make the First Deposit
Once you complete the account registration process, you can log in and earn a weekly 27% flat Rakeback. Also, you can claim the 100% welcome bonus of up to $2,000.
Depositing money into your account is easy. In the poker client, go to CASHIER, and pick your favorite payment method and the amount you wish to deposit.
Players can receive the welcome bonus without necessarily providing a bonus code on the High Stakes Poker.
Step 4: Submit Account Details
The last step of the registration process involves submitting your username so that the site can adequately track your account. After submitting your name, you can log in and enjoy the HighStakes Rakeback.
Go to your VIP-Grinders account and log in. Please navigate to the Submit Usernames tab and click on it. Enter your username in the window that opens.
There's a drop-down menu from which you need to pick the suitable Skin. Click Claim Now to find the name of the Skin for which you're looking. Click SUBMIT to finish the process.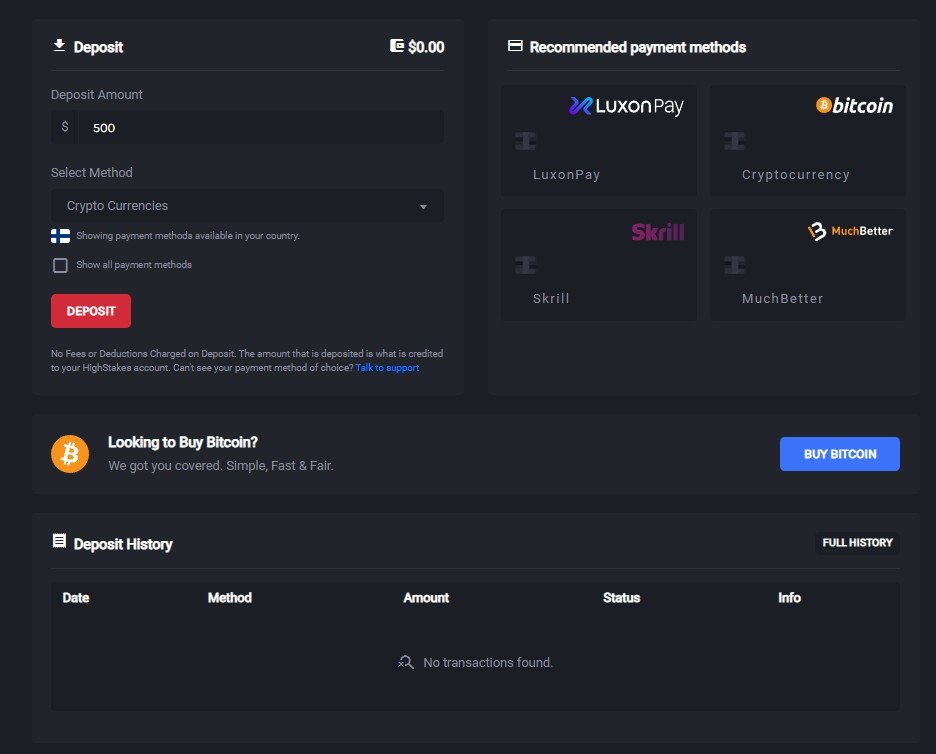 One of the biggest of High Stakes Poker is the wide variety of payment methods it supports. The payment methods include those that utilize fiat currencies and cryptocurrencies. Players can choose a payment method that best works for them.
Payment methods accepted on the platform include Neteller, PaySafe, Skrill, Luxon, Visa Electron, Bitcoin, Ethereu, USDT, USDC, Dogecoin, Visa, Paysafecard, Asian Banking, Dankorf, PaySafe Cash, Carta Bleue, CartaSi, and MasterCard.
Other deposit methods are Giropay, Epay Bulgaria, Direct Debit, Diners, Dankort, Maestro, Klarna, JCB, Direct idealA, NetPay, American Express, MuchBetter, Astropay Cash, Nordea Solo, and American Express.
The site has additional payment methods, including Indian Banking, Trusly, AliPay, Resurs, Rapid Transfer, Przelewy, and PostePay. The payment method you pick largely depends on what's available to you and in your country.
By providing a wide variety of payment methods, High Stakes Poker seeks to accommodate players from across the world. With many players participating in the poker room, it's possible to get someone to play with every time you log in to your account.
The good thing with the online poker provider is that it allows individual players to negotiate the maximum withdrawal amount. However, this privilege is only available to the high rollers who can deposit or withdraw any amount.
Players have to wait for varying lengths of time to make a withdrawal from the website. When withdrawing from eWallets, you might have to wait for 24 hours before receiving your funds. If it involves large amounts, you might have to wait for several days before the funds get deposited into your account.
HighStakes Online Poker Promotions
With HighStakes, players can enjoy special offers, attracting new players to the site (for example, the 27% fixed Rakeback and special poker freerolls). Here is a breakdown of the promotions and bonuses provided by HighStakes Poker when you join it:
Players signing up on the website for the first time can get a welcome bonus. After registering on the website, new customers should deposit the first amount in their accounts.
The site matches the first deposit by 100% up to $2,000. The bonus is generous and comparable to top poker rooms.
New players who join the site must play at a $25 rake (20% value) to get the first $5 bonus. The poker room keeps releasing $5 for every $25 rake as you keep playing. The welcome bonus lasts for 90 days after you join the site. Therefore, you should play as many HighStakes cash games as possible to clear the bonus before it expires.
Signing up through some HighStakes Poker review sites can qualify you for an interesting 27% Rakeback. High Stakes Poker pays the Rakeback every Monday into your poker account. That means that you need to increase the number of times you play to qualify for the Rakeback.
However, the 27% Rakeback is below the 30% industry standard. If you use the right strategies on this platform, Mondays will likely become regular paydays. The only condition is that you should be able to regularly deposit money and maintain the same playing volume weekly.
Did you know that you can boost your bankroll without necessarily depositing money? With freerolls, you can turn around a zero balance into one with adequate funds. New payers can begin with freerolls before growing their balances to significant amounts. Here are two of the exciting freerolls you're likely to enjoy on the platform:
$40,000 Exclusive Race: Once you sign-up through Beast of Poker, you can join the exclusive flagship race on top of the regular promotions. The race is worth $40,000, with the top-performing player getting rewarded with up to $3,000.
Poker Freerolls: Playing on the platform free of charge is the best place to start for those fancying their luck on the platform. The platform operates two private poker freerolls worth $250, which is one of the ways players get value on the platform without depositing their own money. The exclusive private freerolls target loyal players and the new ones depositing cash for the first time.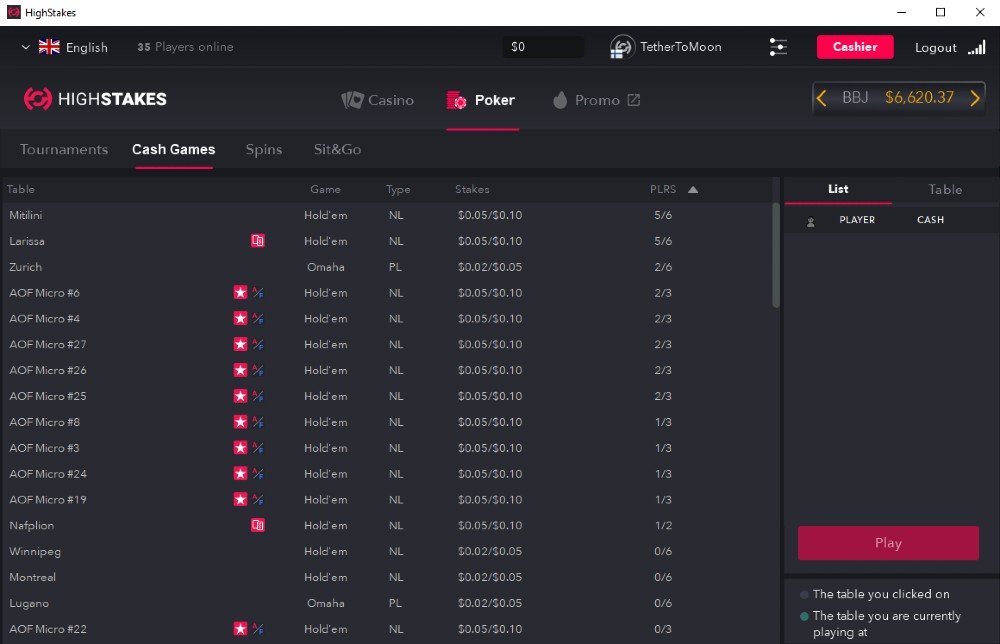 High Stakes Poker Software and Tracker Support
Playing cash games at High Stakes Poker is only possible after downloading and registering on the client software, one of the leading platforms for internet-based poker rooms. The client is used on other Tonybet network poker rooms, only differing in a dark color for the main lobby and tables.
You can access OFC in a separate tab within the lobby. The game menu provides three filters to help you pick a game to play. The lobby's layout makes it possible to choose tables you wish to play.
As you keep playing your favorite game, you can also view the other players' nicknames, making it possible to know who you're playing against. The layout also allows you to utilize waiting lists as you deal within the poker room.
Whether you play on PC or any other platform, it's possible to customize your bet sizes while still engaged at the table. You can also change the card deck in settings, which is impossible in other poker rooms.
High Stakes Poker makes it possible for you to play poker for real money from anywhere, using any device. You can access the platform on Windows, macOS, iOS, Android, and HTML5.
However, the platform doesn't allow players to use third-party tracking software. Therefore, you can expect to confine yourself to the options provided by the platform.
HighStakes Poker Game Formats
You can find cash games, MTTs, and sit n gos at HighStakes. The most common games are NLHE 6-max tables at low stakes between NL10-NL50, with higher tables running occasionally during European evening times when the traffic is at its highest. PLO tables and OFC tables are also available but they don't run all the time.
Tournament players can find both satellites and various forms of small stakes tournaments daily.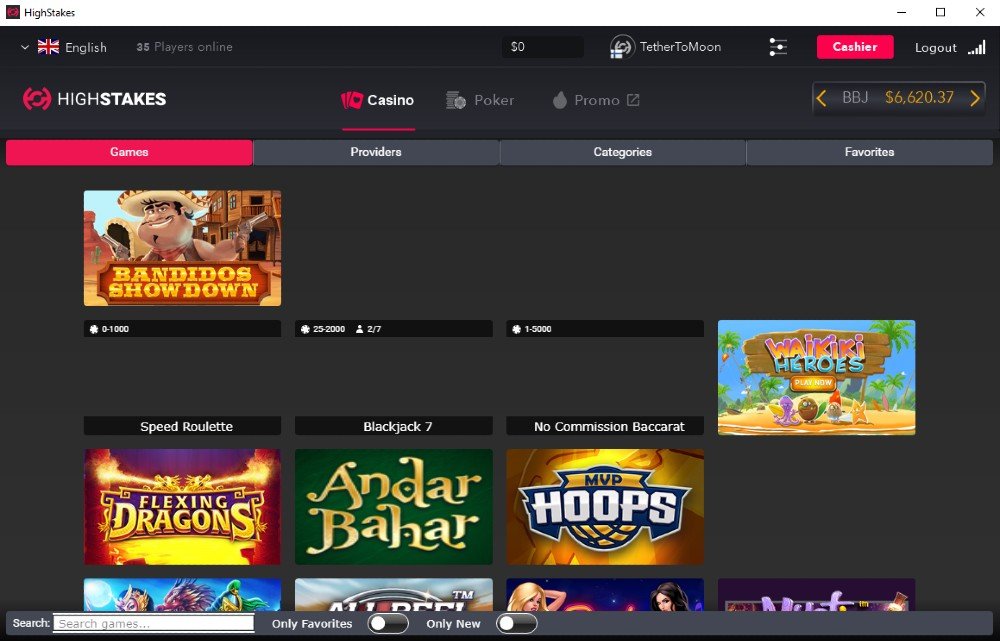 High Stakes Casino features some great games, which new players wouldn't want to miss. The platform has a collection of roulette, baccarat, slots, live casino, and betting. Here is a detailed description of the games you can play on the platform:
Whether played in brick-and-mortar stores or over the internet, roulette is the most popular casino game in the world. The HighStakes platform provides roulette in various forms, including Classic Roulette from OneTouch, European Roulette, and Live Roulette Gold.
Players can win a golden nugget after playing any of the available 39 options. The High Stakes Poker house edge for roulette stands at 5.26%. Apart from OneTouch, other roulette providers include Ezugi and Vivo. The stakes range from $0.01 to $10,000.
The HighStakes site provides traditional and modern versions of baccarat in the form of live dealer or virtual plays. Besides, the plays happen on desktop and mobile apps alike. The poker room has a 1.6% house edge on its 15 baccarat options, with stakes ranging between $0.01 and $10,000.
The online poker site has a great selection of slots available on any casino. Here, you'll find retro classics like Bloodsport and Dragon Tiger and the futuristic Neon2077. In high-stakes poker, most people winning millions of dollars play slots. A popular option is Texas Hold'em through which you can easily hit the jackpot. What matters is your knowledge of playing with free spins to your advantage.
The purpose of the live casino is to give you the brick-and-mortar experience while playing online. At HighStakes, the live casino provides poker, roulette, blackjack, baccarat, slots, and Sic Bo.
It utilizes an encrypted live feed of videos involving only you and the dealer. The live casino providers for High Stakes Poker are Ezugi and Vivo Gaming, which are the industry leaders. Therefore, players get the most authentic experience in the course of interacting within the live casino.
The live casino at HighStakes has nine live tables with a maximum transaction amount of $50,000. If you're looking for the perfect platform to play a live casino game with real money table games, this is it.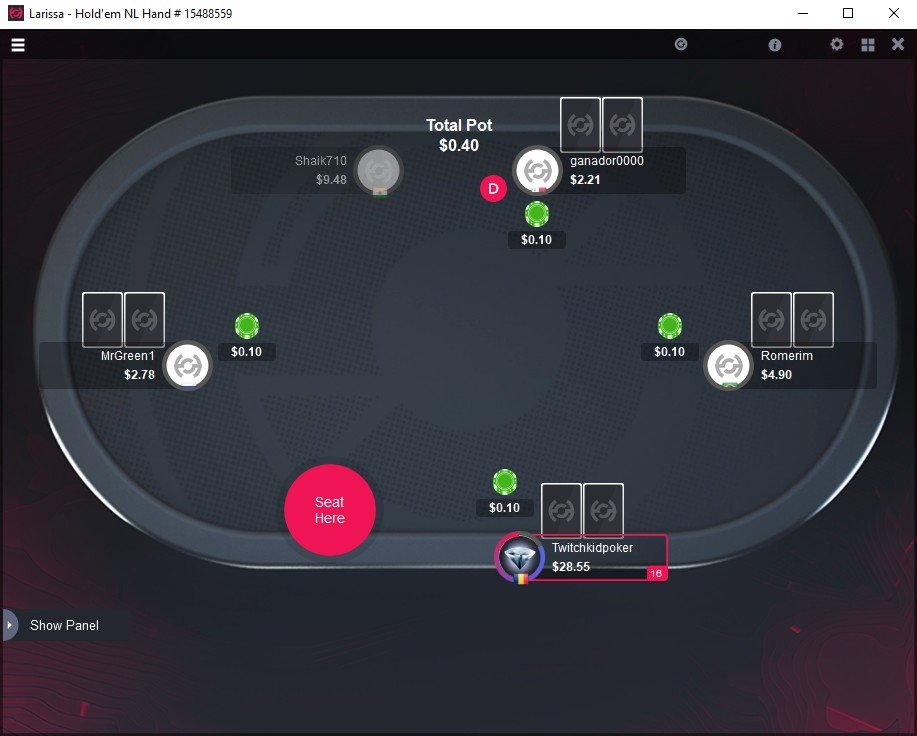 Reasons to Play HighStakes Cash Games
If you're a small stakes player, HighStakes Poker is ideal for you. The site has some of the softest low stakes tables on the web. Grinders and mid-stakes players will find more action elsewhere. Nevertheless, it doesn't hurt to create your account in advance to be prepared in case mid-stakes and high stakes games start to run regularly here.
The platform has a generous cashback offer with 27% fixed rakeback and a nice first deposit bonus. Therefore, you will likely profit from playing online poker at HighStakes. Join the action at HighStakes today!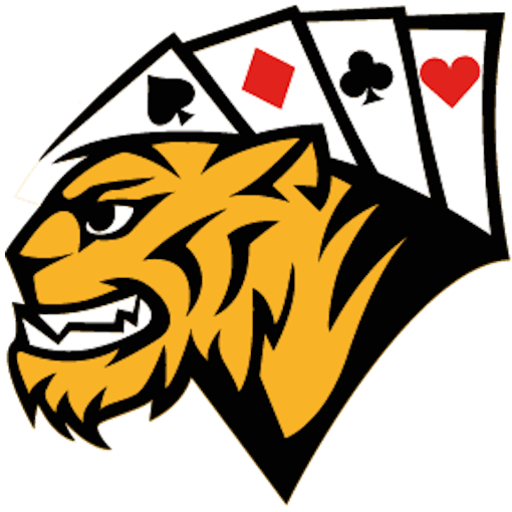 Editorial team curates and publishes in-depth reviews and ratings of online poker sites by using their extensive industry experience. Content is created by both in-house team of experts and outside authority contributors.