Course studied & Reviewed by JTsuited
If you've ever stumbled across a poker training site, it's likely you're overwhelmed about the information and all the different courses available for purchasing. There can be several courses on the same game format, and it's hard to pick the one that will actually step up your game to the next level. With BluffTheSpot, this is definitely not the case – their head coach and PokerStars nosebleed crusher MMAsherdog has produced only one course, which is the High Stakes course reviewed in this post. To grasp his approach to the game and learn how to play the most frequent situations at 6max No-Limit Holdem, you don't need anything else than this course – not counting in the Preflop Bible for hands charts, of course.
Why we chose to review the course from MMASherdog? There are simply no other coaches who are at the top of their career while putting out a course like this. That's why we sort of felt obligated to give you our opinion on it. In case you've watched YouTube videos from BluffTheSpot, you've likely noticed that even their free material is extremely good. Their paid content is doesn't fall behind in standards either, quite the opposite. Now let's jump into reviewing the actual course content so you know what to expect:
The course is aimed for both low and mid stakes players, but we believe everyone who takes poker seriously and wants to improve their game will benefit from it greatly. At $799 the price of the course is quite high. Nevertheless, you should be getting that back quite quickly in extra profit if you put in the work of studying this course with a proper effort (and obviously much more once you put in the volume after studying the course). As I mostly play stakes of €2/2 & €5/5 live and NL100 & NL200 online, this course had a lot of concepts where I had knowledge gaps or simply weren't aware of the correct strategy to use. 
For a player like me, this course contained some excellent material. It contains a total of 13 video lessons between 30-60 minutes long, and we think it's quite well sequenced: You can get both a wide grasp on the topic each video is about and each can be easily watched until the end without breaks.
The course is divided into following pieces of content:
Introduction
The Fundamentals
Studying with PioSOLVER
Live Poker
Theoretical Videos
Out of Position play from the Big Blind
Blind vs. Blind
In Position play
3Bet Pot in Position
3Bet Pots Out of Position as 3Bettor
3Bet Pots Out of Position as Caller
Live Play
500 Zoom session review Part 1
500 Zoom session review Part 2
High Stakes Hand Review
Wrap up
When you start the course from the intro and the fundamentals, those are basically sections that get you warmed up for the so called beef of the course, which is the theoretical videos and live play. Now for a player who hasn't been training a lot PioSOLVER like myself, I prepared for the theoretical videos by watching some Solver videos on YouTube before entering this section. Retrospectively, this was a bit of an over-preparation actually, since the course has one full video where MMASherdog teaches you how to use PioSOLVER. Don't worry if you haven't used PioSOLVER before taking the course, as you will learn quickly by studying the course!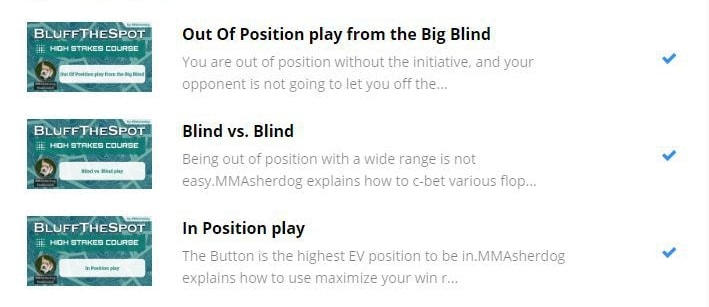 Mostly the theoretical videos deal with different board runouts in specific positions, and how you construct ranges with solver to play in those spots. By running simulations regularly with different boards, you can start to grasp how hard a specific range hits some boards, and when you should stay aggressive and when to be more careful (this is actually something that comes up a lot also in the live play videos from MMASherdog). By watching all these videos, you will get a good grasp on the logic of the solver. 
Eventually you can start predicting what kind of sizing it likes on different boards, and which boards are better for the OOP and IP player, and 3bettor and 3bet-caller. There is also a lot learn regarding how you should react to different sizings from your opponent in these spots. I found these videos relatively easy to follow, and taking notes during the videos is something I warmly recommend. Taking notes can help you apply the concepts in your own game as quickly as possible.
The important thing to take-away from the theoretical videos is developing a feel for solver-based optimal plays on different boards and runouts, which you can start to memorize (at least approximately) for different spots like after defending your BB, BvB play, 3bet pots in position and out of position etc.
The next section, live play, is my personal favourite of the formats presented in poker videos. In case you have a good instructor who can explain his thought process well, you watching them play and explain what is happening can give you big AHA moments. That's the case for me at least, and having played some amount of NL100 and NL100 Zoom on PokerStars it was great to see examples of how you should approach different spots both against recreational players and NL500 Zoom regulars (some of whom made quite interesting plays against MMASherdog during the live play videos!). 
I picked some tips that I will apply in my own game regarding check-back ranges, variables to consider in 3bet & 4bet pots on the flop and how to start playing more range-based strategy instead of just playing my individual hand. Some of the hands that were defended against 3bets were also such that I would perhaps fold preflop since I have a ton of leaks postflop, for example A8s on the button getting 3bet by the BB with a large sizing. Nevertheless, defending against 3bets in position should be something to study a lot since those spots come around quite often, and the live play videos helped me in spotting & fixing some leaks I had in playing against 3-bets.
As a cherry on top, there was a High Stakes Hand review video in the end of the course, where you could see some 10-40k pots being analysed against the likes of LLinusLLove, pokerkluka and prot0. The hands that were reviewed here seemed quite unorthodox as you would expect from the very nosebleed players, as they are playing on a level that is sometimes quite hard to grasp what's going on. Nevertheless, it's good to see how MMASherdog approaches playing against a high-level competition – just make sure to have strong fundamentals before you start getting too creative at the tables!
The course is wrapped with a short video of Frequently Asked Questions. This section can give a lot of players confidence in their grind, since most of the success in poker comes down to strong fundamentals after all. We're talking about things like a proper playing & studying schedule, not being too results-oriented, improving your skills, managing your bankroll, goal-setting etc. It's not rocket science, but doing all these things well is what separates the top 1% in poker from the rest. You have to have a good overall strategy in different areas of poker – just playing your hand well will not be enough. 
The holistic approach to poker in this course opened my eyes to what the best players in the world are doing better than good players – starting to apply these concept in my own game has both boosted my confidence and improved my skills. Needless to say: My winrate has improved too, and I see where my edge comes from more clearly in each spot.
Once you have studied this course, we would recommend you to also refine your preflop skills through the Preflop Bible which can be purchased together with the High Stakes course as it makes a great addition for solid study material. The course is a very rare one in the poker training industry in the sense that MMASherdog is one of the very few nosebleed regulars who still play at the highest levels online. That is, besides coaching students and producing training content! You can rest 100% assured you're learning from someone who not just talks the talk but also walks the walk. 
If you're looking to take your poker game seriously and start crushing the competition, this course is for you.