Fast fold poker goes by a different name on all the major online poker sites: Zoom Poker, Fast Forward, Rush Poker, SNAP Poker, Speed Poker, Fast Fold etc. The idea is the same in all of these fast poker formats: You get a new hand dealt instantly after you fold, at a new table with new players. This means you never run out of action and you'll see much more premium hands in an hour compared to traditional cash game tables.
Due to these factors, fast fold poker has become increasingly popular among online poker players. It's a very convenient format to play on your mobile as well since you don't have to wait for the next hand to be dealt in fast fold poker. Let's take a look at how you should play fast fold poker and what kind of factors you should take advantage of when playing: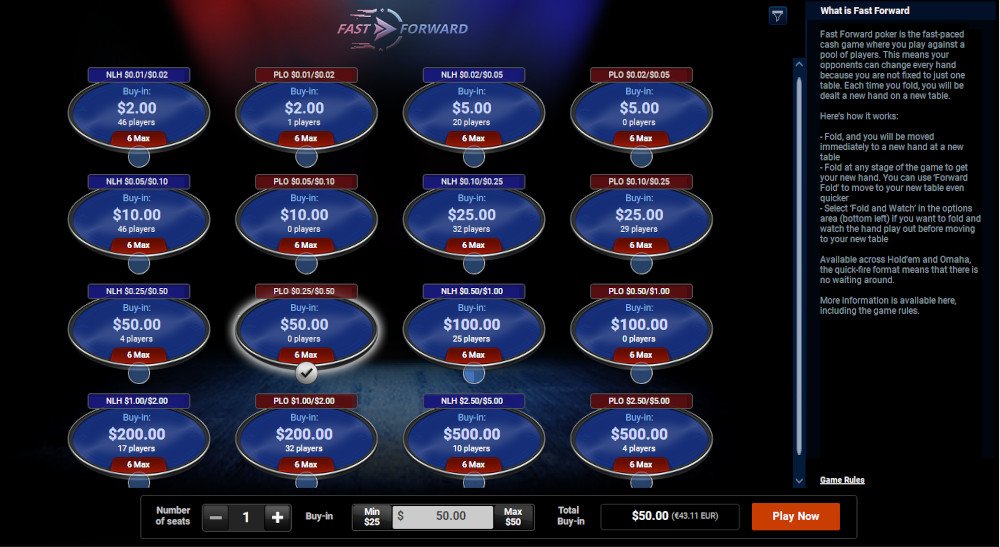 Fast fold poker or speed poker was first introduced to the online poker market in 2010 by Full Tilt Poker. It was quite a revolutionary way to play poker since you get transferred into a new table with a new hand waiting for you right after you've folded at the previous table. Instead of sitting down at a single table, you join a pool of players. This format allowed players to play a lot more hands than what was previously possible.
What's the difference between fast fold poker, Rush & Cash and Zoom Poker?
They're essentially the same format, it's just that every online poker operator has named their own version of the game differently. No matter which poker site you play fast fold poker at, you'll get dealt a brand new hand instantly after folding. The most common names for fast poker variants include:
What benefits does fast fold poker have?
The biggest benefit is the dramatically reduced time of sitting and waiting for premium hands. You can fold your trash hands instantly and get dealt a much higher number of hands per hour. This can greatly speed up your learning curve in poker and help you keep focused. Fast fold poker is also great for clearing deposit bonuses or amassing player points.
Does fast fold poker work on mobile devices?
Yes, most speed poker variants can be played on your iPad, iPhone or an Android phone. You'll be able to play lots of hands instead of just waiting around for the action to be finished on the previous ones.
Do I always get a new hand after folding?
There's only one exception to this: the Big Blind. You can't fold your BB before someone puts in a raise pre-flop. If one or more players limp preflop and nobody makes a raise, you'll get to see the flop for free from the BB.
Are there fast fold poker tournaments online?
Absolutely! Although fast fold is a more popular format in cash games, you can find tournaments in this format as well. In multi-table tournaments, the final table is obviously played in a regular poker format since you can't be dealt a new hand before the previous one is finished.
Is fast fold poker about skill or luck?
Like any poker format out there, fast fold poker has both elements of luck and skill with skill being the more dominant one in the long run. By following a solid 6-max poker strategy you can gain an edge against your opponents at the fast fold tables.
Is fast fold poker profitable?
If you're a skilled poker player, fast fold poker can be a lot of fun and profitable as well. You get to play 3-4 times as many hands per hour, which can translate into a higher hourly rate.
What's the best fast fold poker strategy?
You should stick to an ABC style of poker with solid opening ranges. Once you gain reads on your opponents after playing several rounds, you can start exploiting weaknesses in their game. Keep in mind that you'll likely be against less trashy hands on average compared to regular poker, since everyone can hit the fold button and be dealt a new hand instantly. This affects your fast fold strategy in terms of blind stealing: in some player pools, you can get away with wider blind stealing ranges than usual. Some players just auto-fold their marginal hands in the blinds.
Can you play Omaha with fast fold poker?
Many online poker rooms offer both No-Limit Hold'em and Pot-Limit Omaha versions of fast fold poker games. More exotic variants like Seven-Card Stud aren't available though.
What fast fold poker stakes can I play online?
The most common stakes running at online poker sites for fast fold are NL4, NL10, NL25, NL50 and NL100. Larger stakes like NL200 and NL500 also run regularly, but they have smaller player pools.
Is fast fold poker good for new players?
We recommend you to start with the slower-paced regular tables in case it's your very first time playing poker online. Once you get a grasp on which hands to play and how poker hand rankings work, you can move to fast poker tables to speed up your learning curve. After all, the more hands you play, the quicker you'll get good at poker.
What is the best HUD for Zoom Poker?
The best options for a HUD in Zoom Poker would be PokerTracker or HoldemManager. Both are compatible and easy to set up for playing on PokerStars Zoom tables, and they have a wide range of stats you can use to profile your opponents at the tables.
Are there more bad beats in fast fold poker?
You'll get the same amount of bad beats on average in fast fold compared to regular poker. However, since you play 3-4 times more hands per hour, bad beats will seem to occur more frequently. To handle bad beats, you should always keep perspective that no matter what happens at the table, poker is just a game after all. By managing your expectations on how often you should win in an all-in situation, you'll be better able to handle the inevitable streaks of bad luck in poker.
How many fast fold poker tables should I play?
As a rule of thumb, 2 or 3 tables at the same time will give you plenty of action and still give you enough time to think through your decisions. For some players who are used to multi-tabling, the sweet spot might be higher, for example 4 tables. Start from one table and try adding more tables as long as you feel comfortable.
Are there any downsides to fast fold poker?
Perhaps the most important downside is that you lack a major aspect of regular poker: the chance to develop reads on other players. You'll face many opponents you know nothing about after being moved to a new table. This can sometimes make the game feel a bit robotic in a sense. On most poker sites, fast fold poker tends to play tighter than the regular tables, and you can generally expect to face tougher competition.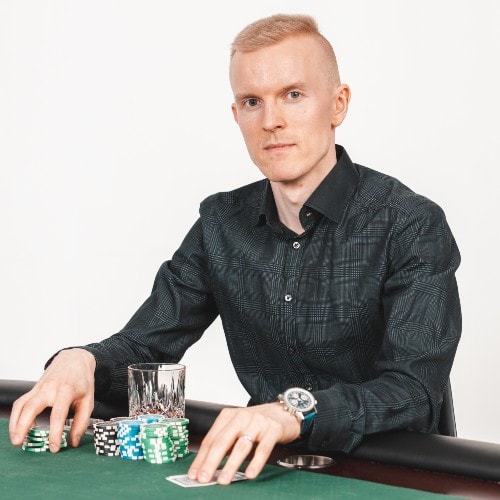 Johannes is the Editor in Chief at Beasts Of Poker and is an expert in both live & online poker. Johannes played online poker semi-professionally for 5 years while completing his Master's Degree in Technology.