Nationwide lockdowns have been all over the news lately, and social isolation rules have been implemented all over the globe. As we are seeing most casinos being closed for now, many live poker players are running out of options for playing. Since our mission is to help and inspire players in the game that we love, we've decided to focus on getting mobile poker apps to all live poker players who are forced to stay in a lockdown instead of playing at their local casinos. This guide will advise you on where to take your grind online if live poker action is no longer available in your country. As a cherry on top, we've thrown in some tips on how to make the most of your online poker adventure if you're used to playing just live poker.
According to our players, we're already seeing increasingly good action and more people joining the online games – some players even have virus-related nicknames at the tables! Besides getting you back in action, playing online poker through mobile poker apps will improve your skills as you get more hands in less time, which in turn results in more experience gained. Once the lockdown is over, our since hope is that you will return to live poker with more skills & confidence than you had before transitioning to online poker temporarily. Heck, who knows if you find it more profitable and decide to keep going?
Anyways, let's first kick this off with the top tips on how to prepare for playing online poker:
Pay attention to betting lines and showdowns
Once you've sat down at the poker table, you should adjust your strategy to maximally exploit the opponents you're facing. Before you can do this properly, you must observe what kind of mistakes they seem to be making. Information is power in poker, and a single showdown can tell you a lot about how someone approaches the game: You should leave no stone unturned here by not following all the action even when you aren't involved in the hand.
Many good players like to quiz themselves during hands what their opponents are holding, narrowing down the possible ranges as the hand progresses towards the river. We recommend starting this habit as soon as possible if you don't currently have it!
Attack capped ranges aggressively
What is a capped range and why should you care? Simply put, a capped range contains very few strong hands or no strong hands at all in a given situation. In a situation where your opponent has a capped range, you can bet with any sizing that is best for the hand you have in that spot, because the player with a capped range can't really fight you back aggressively as they don't have strong hands to do that with. And if you game select well, you will come around this situation often: playing it properly will definitely give a boost to your winrate!
The most common situation where someone has a capped range is when they raise preflop and check the flop, or when they just call from the blinds preflop and the flop comes with two broadway cards (which is favourable for the preflop raiser). Unless you're playing against some high-stakes crushers, your villains are likely not that good in defending their checking ranges i.e. checking some of the time with their strong and decent hands. Instead, they're likely to be weak once they start checking, and you should attack them aggressively in those spots.
To attack capped ranges properly, first you should identify when your opponent has capped their range. Then you choose the best bet size: For medium strength hands you can use small or moderate sizings, and with strong hands and bluffs you can utilize bigger sizings, even overbets.
Stay focused & calm during a bad run of cards
In live poker the downswings can last for a month or two in cash games, but you're not dropping tens of buy-ins unless the game is really crazy and you happen to run in the bottom five percentile or worse. In online poker though, the games are a bit tougher than at your average live poker table and the volume of hands is much greater during your sessions, which can result in much bigger swings.
Staying focused on the current hand you're playing is therefore even more important online, since the pace is faster and losing a lot quickly is likely to happen at some point. To strengthen your mental game, we recommend trying out a concept called Inchworm Learning. You can read our guide to Inchworm Learning here.
Play just a few tables at first
You've probably heard of online wizards who can mass-multitable like no tomorrow – that's something we don't recommend when first transitioning from live poker into online games! You will do just fine by starting with only 1-2 tables at first for two reasons. First, getting comfortable with reading the game and the players, as there are no verbal or body language cues available. Second, getting used to the poker app or client. Adding more than 2 tables might not even be necessary at all if you mostly play with a smartphone or a tablet!
Learn to make thin value-bets
If you're used to playing just full-ring live games, your starting hand ranges preflop and value-betting ranges postflop might need some adjusting to an online 6max game. Not only do the blinds come around more often, but due to less players being dealt a hand, you don't need as strong a hand at the showdown to win the pot on average compared to full-ring.
Sure, you will be facing much more marginal and tough situations in 6max than full-ring, but that holds true for everyone. In the end, the most disciplined players who can make good decisions in both clear and marginal spots will come out on the top!
There's a saying that practice makes perfect. Well, thanks to studies of K. Anders Ericsson, we now know that 10k hours of deliberate practice is what does the trick here, not just playing for 10k hours – you cannot just blindly put in the volume on autopilot and expect to become a true poker beast!
What you must do instead, is putting in countless hours of quality play, where your full attention is directed towards observing the game and playing your A-game. After your sessions, study the spots that you weren't sure about to develop your game and be better prepared for your next session. You should be patient with the results here and not be worried about realizing your potential in the first few weeks or months after transitioning from live poker to online games. It's a marathon, not a sprint!
Find a poker group to discuss hands
In any given field, people that have done exceptionally well are often part of a mastermind group where all members help each other solve problems and develop themselves through input and advice from other members of the group. Joining a poker group with like-minded players is simply one of the fastest ways to take your skills to the next level. Our guys at Team BeastsOfPoker have first-hand experience of working on their game in a poker group:
Okay, we've got our game plan down – now what? It's time to choose where to play! Here are our top three options with most suitable games for live poker players transitioning to online felts: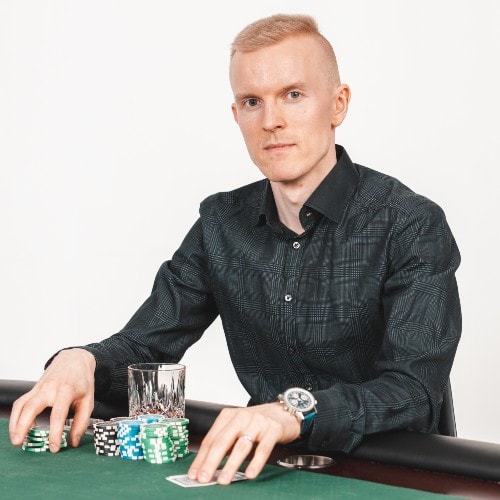 Johannes Turunen
Editor-in-Chief
Johannes is the Editor in Chief at Beasts Of Poker and is an expert in both live & online poker. Johannes played online poker semi-professionally for 5 years while completing his Master's Degree in Technology. He has also worked as a trader for a private sports betting syndicate and consulted numerous affiliate companies in finding new revenue sources.
Johannes takes care of all writing and research being of utmost quality here at Beasts Of Poker. He is also closely in touch with poker operators on a weekly basis to ensure the players have the latest promotions and bonuses readily available.
As a recognized expert in the field, Johannes has published his work on numerous industry publications like PokerNews and Poker.com and was nominated in the Hacker Noon's annual awards as a candidate for Contributor of the Year in Gaming in 2020.
All feedback and ideas regarding content at Beasts Of Poker can be sent to my email.