CoinPoker is an online poker site with an in-house cryptocurrency called CPH and based on Ethereum. It began operations in 2017 on a trialist play money basis before launching real money poker in 2018. It's a relatively new player in the online poker industry, but has picked up some traction lately. Unlike the traditional online poker sites, which utilize existing digital currencies, CoinPoker relies on CPH as its in-game currency on all tables.
The CoinPoker platform runs on blockchain technology, and their deposits and withdrawals are processed through smart contracts. Therefore, it can avoid banks and process payments instantly with no charges.
It is a minimalist poker room that has taken the crypto gambling world by storm, thanks to features such as customizable tables, hand-replayer, and a four-color deck. CoinPoker has a provably fair random number generator that allows users to verify the legitimacy of every deal using third-party software.
Even though industry players remain skeptical about crypto online poker sites, CoinPoker is one of the few that seems compelling enough to join. The purpose of this CoinPoker review is to provide an honest assessment of what to expect once you register and start playing at CoinPoker. Keep reading to get all the information you need to make an informed decision.
How to Register at CoinPoker
We've made a quick video showing you how to register an account & make a deposit at CoinPoker. The process is easy – check it out below:
CoinPoker doesn't have the traditional welcome bonuses based on percentage match-up or dollar amounts. Instead of deposit match-up promotions, the site offers many attractive freerolls and no-money entries to major tournaments like the Crypto Series of Poker (CSOP).
Furthermore, once players rake in a certain amount, including tournament fees, the entire bonus sum gets released into their balance. For example, raking in 100 CHP within 30 days qualifies you for a 1,000 CHP account credit. In USD terms, players must raise $0.53 to get $5.33 in their accounts.
Even though CoinPoker doesn't have the biggest welcome bonuses, its offer is a worthy boost, given that there's no requirement for you to deposit benefitting from it. That means that you can still play the freerolls to reach a rake target that qualifies you for the 1,000 CHP bonus.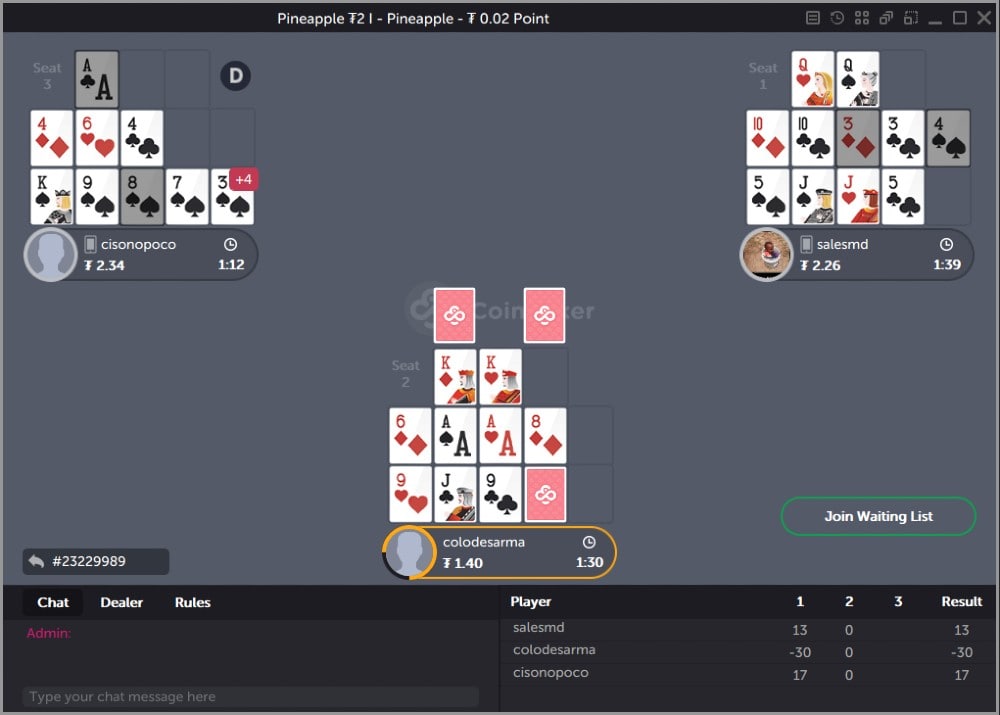 On its portfolio, CoinPoker offers ring games, multi-table tournaments, and Cosmic Spins, a version of lottery poker. Even though the site doesn't have the standards of Sit & Go games, it has some impressive poker series fit for newbie and experienced players.
CoinPoker doesn't offer casino games for the time being. They do have a sportsbook option for bettors though. In poker, players have to use CPH tokens, an in-house cryptocurrency token, to buy in and play all games. Here is a breakdown of the games offered on this platform: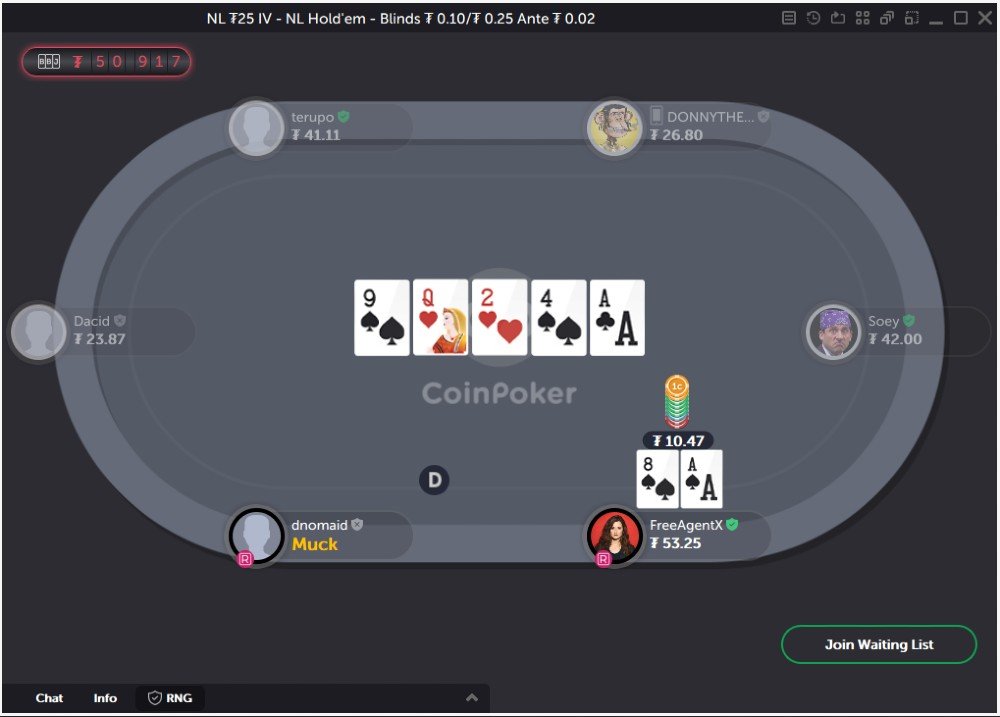 CoinPoker has cash games for Pot Limit Omaha, No-Limit Texas Hold'em Open-Face Chinese, and Pot Limit Five-Card Omaha. While the first two are readily available on most online poker sites, the latter two aren't so common. However, the gambling site lacks any form of split-pot Omaha, whether fixed or pot limit.
Standard PLO, PLO5, and NLHE tables take up to six players, while OFC Pineapple games have three participants. Listed blind levels can rise to 3,000/6,000 or $15/$30 even though the listed games go no higher than 500/1,000 or $2.75/$5.50.. In fact, the biggest cash game pot in online poker history was played here! Players can play between 5 CHP ($0.03) and 10,000 CHP ($55) per point in the OFC Pineapple.
European evenings are the peak hours on the platform, with about two dozen active tables predominated by micro-stakes. In terms of popularity, NLHE comes first, followed by PLO. OFC Pineapple has only a couple of active games most of the time.
CoinPoker offers lottery-style SNGs in the form of Cosmic Spins. A game requires only three players to start with the system randomly choosing a multiplier between 2x and 1,000x. Participants compete for a large prize pool with many buy-ins regardless of the selected multiplier.
Only the game-winner gets rewarded if the multiplier is between 2x and 20x. On the other hand, higher multipliers reward the winner with 80% and 10% each to second and third-placed winners.
Players require 500 chips to participate in Cosmic Spins with an initial blind level of 10/20. Each level lasts for three minutes enabling the rapid pick-up of the action. Therefore, you shouldn't expect to play Cosmic Spins for no more than a few minutes.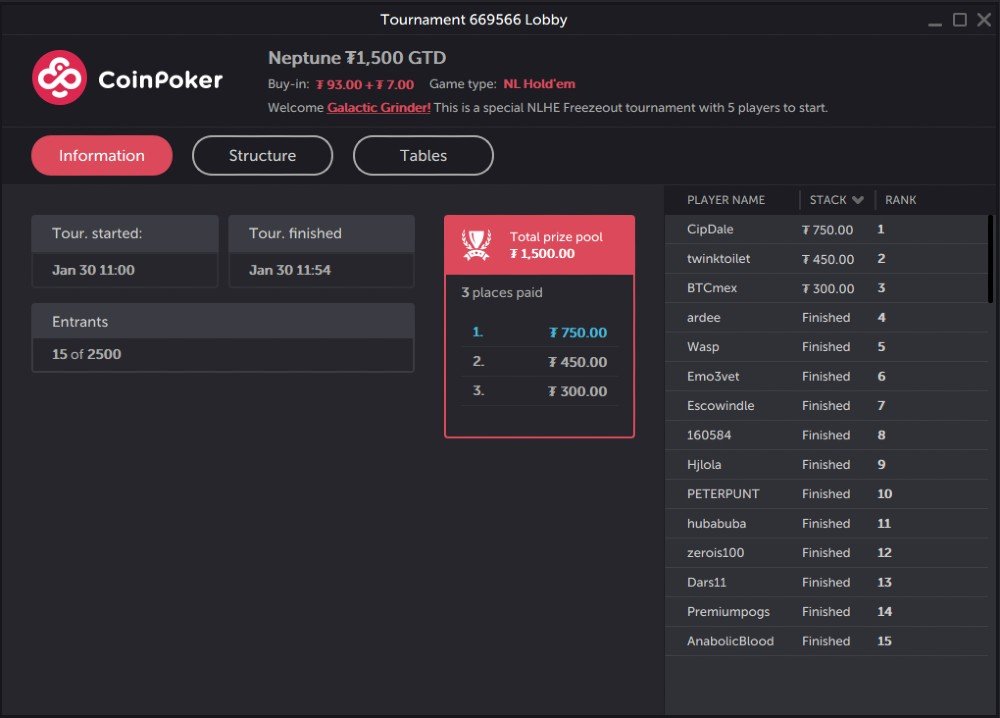 CoinPoker has a full list of multi-table tournaments with a 15-minute interval between 300+ player events. The gambling site's impressive tournament attendance is because of the free initial buy-in and an optional CHP rebuy on many tournaments.
The site names its MTTs after astronomical phenomena like Red Moon, Quasar, and the Milky Way. Each day, players have the opportunity to play a few dozen MTTs with 100 CHP ($0.58) to 25,000 CHP (145) buy-in.
Even though the tournaments are mostly NLHE contests, the site has a few PLO and 5PLO games opportunities. The tournament schedule mostly has rebuy events with a few freezeouts. Users may also participate in bounty MTTs.
On Sundays, the site has several special MTTS with the NoMercy Shooting Star R&A beginning at noon ET. Its costs 10,000 CHP ($58) to enter with a guaranteed 750,000 CHP and 100,000 chips on Isabelle Mercier.
An hour later, the Andromeda Sunday starts with a buy-in of 25,000 CHP ($145) with 400,000 chips guaranteed. The tournament allows a single rebuy with no add-ons.
There is also the Crypto Series of Poker, one of the smaller series on CoinPoker. Between March 22 to 29, 2020, there were 16 CSOP tournaments with 13 million CHP ($77,000) guaranteed. Although not as competitive as the tourneys from the larger offshore poker sites, the Crypto Series of Poker gives CoinPoker users something to expect every so often.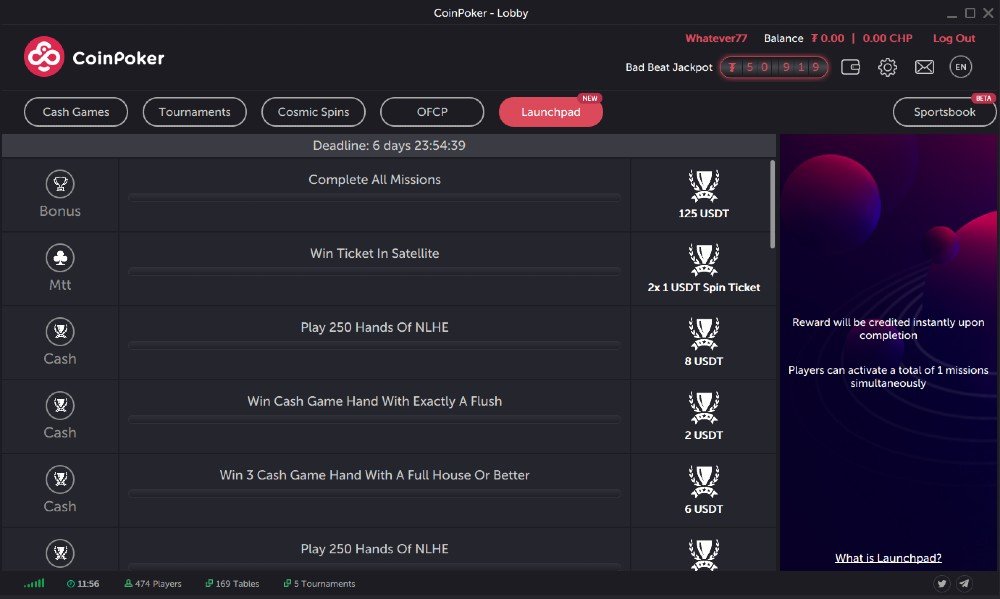 The rakeback deal through Beasts of Poker isn't the only promotion running on this site. The poker room has numerous huge promotions to incentivize players to stay loyal to the site. Here is a breakdown of some of the promotions you can expect from CoinPoker:
CoinPoker has at least one Flyby Freebuy Satellite tournament in the main lobby several times daily. Freeroll tournaments are free to enter with a rebuy and add-on option for just 25 CHP ($0.15).
Even though free of charge, the tournament awards the top-five participants with 500 CHP ($3) tickets to an 8,000-chip MTT, providing an opportunity to win bigger prizes. Target events may vary, but the buy-in and guarantee remain constant.
Of course, there is no way entering the Flyby Freebuys can make you rich. But if you want to build a poker bankroll from scratch, you cannot avoid them.
Galactic Grinders Leaderboard
Players occupying the top position weekly on the Galactic Grinders Leaderboard can claim part of the CHP 790,000 ($4,800) prize pool. The leaderboard is divided into PLO Cash, NLHE Cash, and tournaments, with the top-50 players in each division getting paid. You have the opportunity to participate in Galactic Grinders daily from Monday to Sunday.
Cash game players earn points by contributing big blinds in rake, and those with higher stakes benefit from the built-in multiplier system. Included in the PLO leaderboard are regular four-card games and five-card tables. The field size, buy-in amount, and a player's finishing position determine the points in tournaments.
The top players on the tournament leaderboard get to share a 215,000 CHP ($1,300) weekly, while those in the cash game leaderboard get a cut of the 287,500 CHP ($1,750) prize pool. Remember, the site has two cash game leaderboards.
CoinPoker also has a Bad Beat Jackpot that gets activated at every ring game table with at least three players dealt into the hand. Funding for the jackpot comes from 5% of the rake at each table. Players have to meet certain conditions to qualify – the winning and losing hands have to go to showdown and use both hole cards in each hand, forming the final five-card hand.
Activating the Bad Beat Jackpot depends on the current jackpot size and type of game. NLHE players at least an AAAKK to lose at showdown. As the prize pools increase, the minimum hand strength decreases. At the 4,000,000-chip limit, the qualifying losing hand drops to at most AAA55.
The situation is different in PLO games, where players need a more substantial hand to participate in the BBJ. Whereas four-card PLO players need any straight flush, five-card players need a seven-high straight flush or worse. Just like Hold'em, the hands lose their strength as the jackpot pool expands.
CoinPoker tries to maintain fairness by awarding a jackpot percentage depending on the game type and the stakes one is playing. For example, the lowest 5PLO stakes payout 1% of the total when a player hits the jackpot.
If you're playing an NL Hold'em game with stakes of at least 125/150, you're likely to get the entire BBJ prize. With the BBJ hit, the loser of the hand gets 50% of the funds, the winner receives 20%, other participants at the table share 20%, and the prize pool re-seeding gets 10%.
The CoinPoker platform has a freebuy tournament worth 1,000,000 CHP on the last Sunday of the month. While all players are eligible for the tournament, they have to meet certain conditions, including the following:
Rake 250 CHP after signing up as a new player
Win the main tournament and not freebuys or satellites
To the Galactic Grinders leaderboard with a paying position

Players need to earn their entry before the 72-hour cutoff to participate in the current month's freebuy. Otherwise, they will qualify for the 1,000,000 GTD the following month.
CoinPoker Rake: Community Contributions
Community contribution is the name given to the rake by CoinPoker. Community contributions vary depending on the type of game you choose to play. For PL Omaha, PL Omaha Five Card, and NL Hold'em, you get a 2% community contribution while OFCP games yield a 1% community contribution. Of course, the community contribution depends on the stakes involved. Here is a breakdown of what you can expect:
Tournaments and Cosmic Spins have a 5% house fee for players averaging the house take on all possible multiplier values. CoinPoker takes a maximum rake of 600 CHP at the highest stakes with low rake percentages, making the CoinPoker rake much better than other poker sites.
The situation is different in shorthanded and heads-up games where players play the total rake amount and not the lower cap. That makes CoinPoker a little less desirable than other poker sites.
CoinPoker is one of the few poker sites that engage in 'burning,' the act of taking 10% of community contributions and sending it to what is called a 'back hole' address. Once community contributions go to the black hole, recovering them is impossible.
Burning reduces the total outstanding CHP, which should essentially increase each CHP's value. It works similarly to stock buybacks, which enhance a corporation's share price.
CoinPoker returns the remaining 90% to the players paying community contributions in partnerships and community-centric promotional activities. CoinPoker is one of the few poker sites that sacrifices profit to keep its users satisfied. This means the aim of CoinPoker is not to make a profit for the time being, but to grow and improve the site. That's great news for the players obviously!
CoinPoker can keep its online poker business low cost and universally accessible with community contributions. The increased number of users improves the volume of play on the platform, helping CoinPoker grow further.
Most poker sites have some form of rakeback to incentivize players to keep grinding at the tables. In the case of CoinPoker, there's a 30% flat rakeback available to the players. Make sure to sign-up through Beasts of Poker to take part in exclusive promotions on top of the rakeback!
Your rakeback is credited to your account every Monday. It's paid in CHP.
CHP, a new entrant to the crypto world, is an in-house digital currency used in all games on the platform. The ERC-20 token relies on the Ethereum blockchain. That's because, when creating CHP, the CoinPoker team complied with the Ethereum Blockchain rules for tokenization.
Regardless of how you deposit funds on the platform, it's held in CHP. Therefore, fluctuation in the CHP price determines the value of the funds in our account. Unfortunately, CHP has an unimpressive price history, pointing to its inability to retain a steady value from the start. The market cap for CHP has been swinging around $11,000,000 in the beginning of 2022.
In May 2018, CHP was valued at $0.15 and had since declined drastically to slightly more than half a cent. That means that the token has reduced in value by more than 95%, trading at two cents.
Therefore, holding a balance at CoinPoker exposes you to the drastic price fluctuations in the crypto world with a less popular altcoin compared to Litecoin or Bitcoin. That's why players are advised to withdraw their winnings frequently.
Besides, it is impossible to buy CHP with fiat currency. Even though it is available on some less-known crypto exchanges like HitBTC, AllCoin, and KuCoin, there is no USD/CHP pairing. Instead, you need first to buy Bitcoin or Ethereum and use it to purchase CHP. Once you deposit in any other cryptocurrency, it automatically converts to CHP.
CoinPoker is mostly serving players and customers who are familiar with crypto. They are constantly adding new cryptocurrencies to their selection of deposit methods. It would help if you had a crypto wallet to make payments on CoinPoker. For example, those using Ethereum would need Ethereum wallets to deposit or withdraw funds from the site. Once you enter the amount of funds you're depositing, the CoinPoker website calculates the CHP equivalent.
How to make a deposit then? Click DEPOSIT and the system displays the address to which you should send the coins in QR-code and text format. Open your crypto wallet and initiate a transaction. There will be a blockchain confirmation of the transaction, after which you'll see the amount of CHP in your account.
Payouts at CoinPoker are possible via Bitcoin, Ethereum, USDT, or CHP. The process is similar to that of depositing to the platform. However, the platform limits weekly withdrawals to not more than 1,000,000 chips ($6,000).
You can only request a cashout via CHP, ETH, or USDT if you had used the same deposit method. Once you withdraw, the funds get sent to the wallet you had used to deposit. With Bitcoin payouts, the withdrawals materialize in users' accounts within a few hours. ETH, CHP, and USDT payouts are even quicker, taking only a few minutes.
If you opt for a CHP cash out, you'll have to convert your CHP to either BTC or ETH for you to spend the money elsewhere other than depositing back to Coin Poker. As you transform your winnings into spendable cash, you might take more time and pay a little more fee.
The poker client software at Coin Poker is provided by TGLab, a little-known gaming software development house. But that doesn't make it worse than the other poker software. The online poker room is compatible with Windows and macOS. Additionally, there's a mobile app for Android and iOS.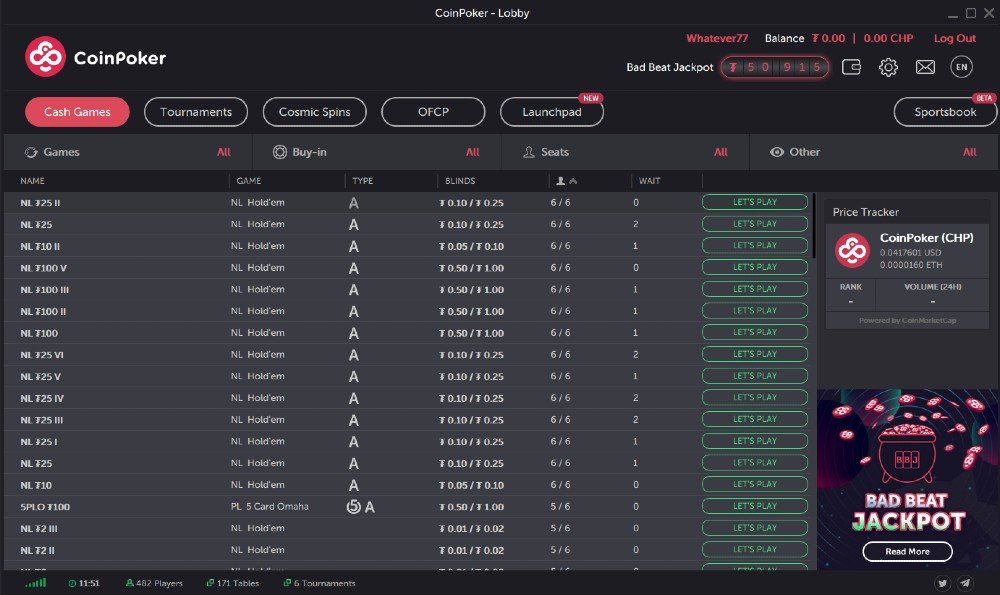 The main poker lobby has tabs on a top menu to select your favorite games. There's also a list of tournaments/tables in the rest of the window. The interface also has several filters to choose the games you wish to play precisely.
You can control the software settings using a gear whose icon appears above the lobby. You can see your account registration information in the profile section, including your screen name and email address. You can also upload an avatar if you wish.
This section allows you to customize the visual settings by choosing custom graphics, table backgrounds, and card styles. CoinPoker parlance, custom graphics are called community skins.
In the Advanced Options section, you can adjust the avatar display, auto-rebuy, chat, auto-muck, select sounds, and pick other settings.
The poker tables have the player nameplates arranged around the table and a display of chip stack values. You can play up to six games simultaneously when participating in multi-table tournaments. You can bet/raise, call/check, or fold as a player. You can adjust your bet size by moving a sliding bar or typing in a number.
Each table has a top-right icon that lets you resize the window, rebuy, tile, or cascade tables. The Chat function is next to Info, Options, and RNG on the bottom left. With RNG, you can enter a phrase to use the mechanism for allowing provably fair dealing.
CoinPoker works through a decentralized card shuffling technique, incorporating user input and allowing easy verification by all participants. The platform has a growing community whose members contribute to CoinPoker's card shuffling algorithm.
Thanks to the shuffling card algorithm, the arrangement of the cards is entirely random and unpredictable. Anyone can go back and check the order of the dealt cards corresponding to the legitimately generated deck, having specified input phrases.
Knowing that card shuffling was fair can give players the confidence to keep playing on a particular platform when playing poker. The good thing with CoinPoker is that the card shuffling mechanism is user-generated and verifiable.
How do you check the correctness of the deal at CoinPoker? After opening the hand history viewer, browse the hand you want and click Hand Hindsight. The window will display the seed and harsh information. As soon as you see it, click Validate Hand.
Decentralized Random Number Generation (RNG)
CoinPoker has a decentralized RGN system that helps players check if a deal they just entered is provably fair. It involves a random number generation system from CoinPoker and users. Players enter phrases that form part of the system's algorithm.
However, the decentralized RNG system is challenging to use. Players cannot easily verify the authenticity of other users' phrases. Since online poker rooms already have random number generation systems, the CoinPoker system isn't good or better.
CoinPoker Customer Support
The poker client has an envelop icon at the top. Clicking on the icon opens a support form, which you can fill with your email address and message. A customer support agent will respond to you with a solution to your issues.
You can also send an email to CoinPoker's support team at [email protected]. The poker room also had an official Telegram channel to join. Even though the website has a support link, it doesn't seem to go through.
CoinPoker is a crypto poker room that lets players use CHP tokens, an in-house cryptocurrency. It allows deposits and withdrawals using other digital coins, but players can only use CHP. The platform has a decentralized shuffling algorithm that will enable users to contribute to the card shuffling criteria.
If you're looking for an alternative platform to play Open Face Chinese Pineapple and Five-Card PLO, CoinPoker is all you need. It has an impressive sign-up bonus and other rewards, which you might want to enjoy.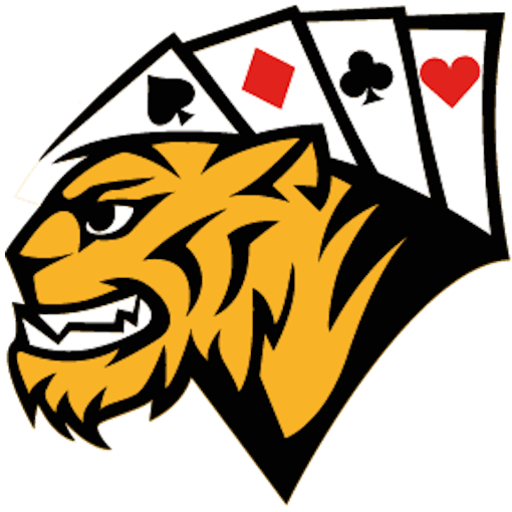 Editorial team curates and publishes in-depth reviews and ratings of online poker sites by using their extensive industry experience. Content is created by both in-house team of experts and outside authority contributors.