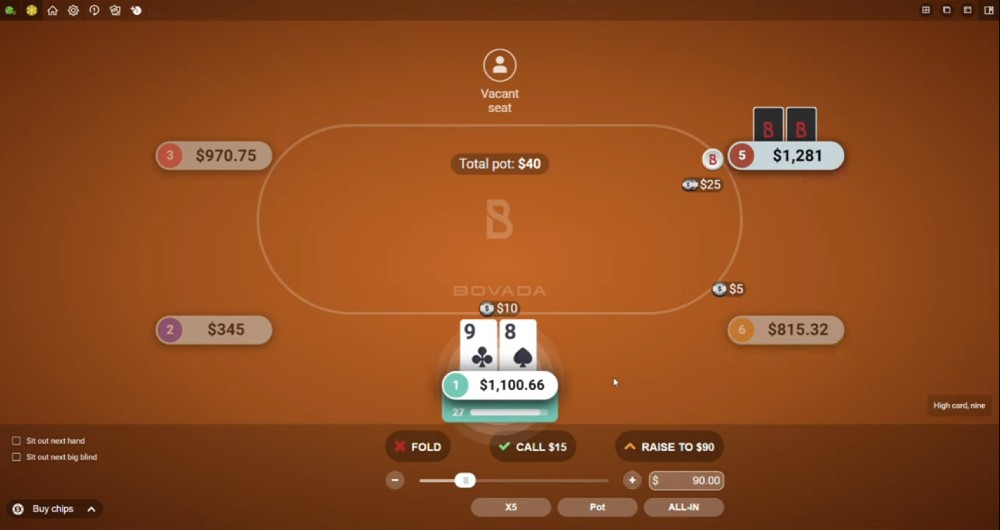 The Bovada poker, sportsbook and casino gaming website has been active for a number of years now and has always had a prime focus on serving the US market.
Founded in December of 2004, the company went by the name of Bodog back then. This served as one of the online world's best-known and popular poker providers. Fortunately, it managed to build up a reputation before it made the great leap to becoming Bovada in December of 2011. Today, it has its headquarters in Costa Rica and utilizes software from the PaiWangLuo network.
Throughout the years, Bovada has become the favorite of many players due to its general process of providing quick payouts. Support has always been a number one priority for players too, and Bovada has maintained a strong connection with its registered users.
It is key to note that the online poker site is not the holder of an official gambling license. While other platforms have got their hands on such, Bovada has opted to work against that and operate without one. It hasn't always been this way though, because the site did have a certificate from the Kahnawake Gaming Commission based in Canada. However, it unwillingly lost that poker license when the regulatory body opted to stop providing such to US-facing sites. Since then, Bovada took the decision not to acquire another one. This hasn't affected Bovada's player or traffic levels, though.
It remains as the number one platform when it comes to US poker traffic and provides anonymous tables to eliminate all HUDs. Of course, there is the speedy payouts that it can boast about, while the Bovada Poker mobile app also allows mobile gamers to enjoy what it offers. Unfortunately, not all tournaments are available through the mobile version of the online poker room and the software from PaiWangLuo can be a bit tetchy from time to time.
In this Bovada Poker review, we cover various aspects of their online poker room and how it operates. Read further for all the essential Bovada Poker info:
How to Sign Up at Bovada Poker
To open an account at Bovada poker and engage in playing the games there, the process remains very similar to that which occurs anywhere else. Simply follow this guide to proceed with your own registration:
Visit the Bovada Poker platform.
Sign up for a free account using the simple 1-page form.
Regardless of if you're choosing to play by desktop or by mobile, Bovada has a no-download software client in operation. So, you can proceed with logging in straight away if you would rather not download such.
Test out the play money games with some of the 1,000 free chips you're given after registering.
Visit the cashier page and make your first deposit. You'll also activate the 100% up to $500 welcome offer at the same time.
Start playing your favorite real money poker games.
While other sites may be drawing online poker players in with huge welcome bonuses, Bovada keeps things a bit simpler.
When you make your first deposit, you get an extra 100% in bonus funds up to $500 added to your account. The Bovada poker bonus is available to all new players and clears at 50% effective rakeback rate. Talk about an attractive bonus offer!
There is a bonus code required to activate this reward when you make your deposit, which is PWB500. To be able to benefit from this as much as possible, your first deposit would need to be $500 as well. That's quite achievable for regular poker players – at least, more so than other sites offering treble that amount. High-rollers may not find this to be of much incentive, though.
The welcome bonus will be released to you in $5 increments every time you earn 150 Rewards Points through poker game play. You can get the releases by playing in cash games, multi-table tournaments and SNGs. There is no wagering included on unlocked welcome bonus funds at Bovada. You have a period of 30 days in which to accrue as many of these points as possible, resulting in the platform releasing as much of the bonus as possible.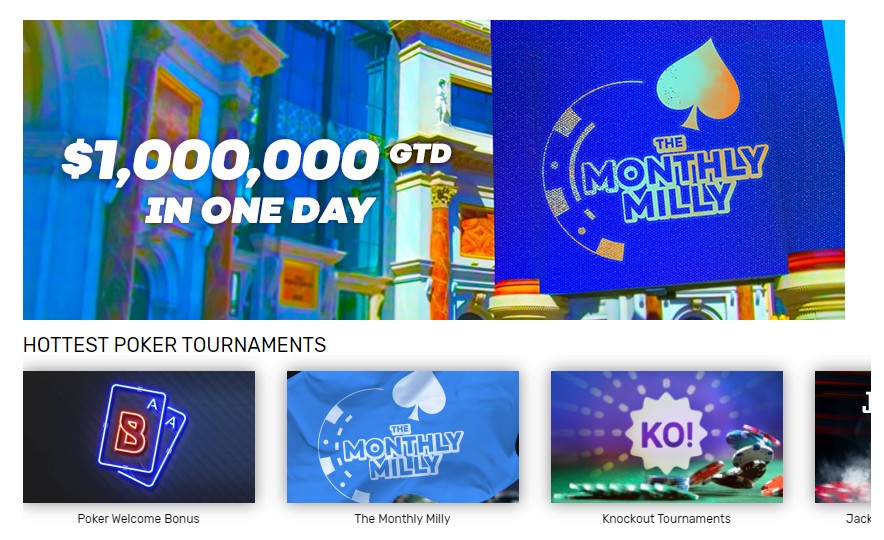 Why is Bovada Poker So Popular?
Despite the welcome bonus at Bovada not being as high as many other poker room offers, Bovada remains a popular site for people to join and play at. But why is this the case?
Well, the following points stand out about it: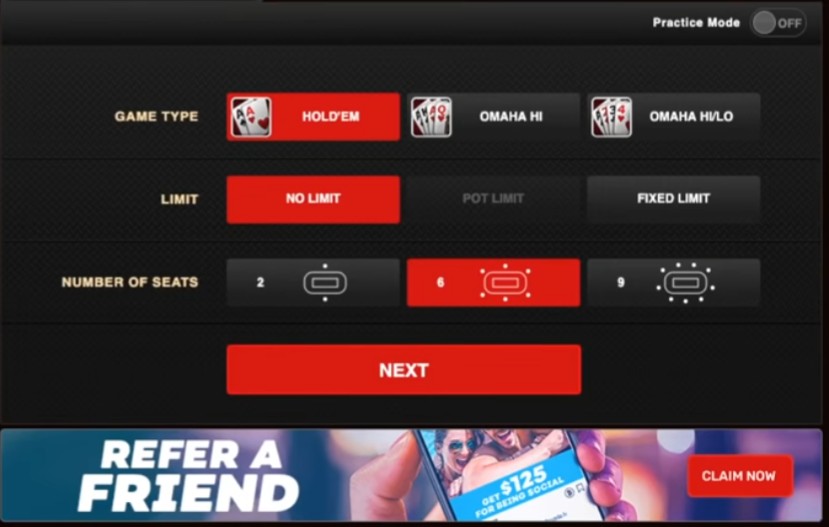 Accessing the poker room at Bovada will present you with an easy-to-navigate setup. Finding the right sort of poker game for you is key, and the lobby allows you to find a table with settings that cater to you. Prior to doing so though, you can customize the display to your own preferences. Different background colors and card fronts and backs can be chosen. You can also set to utilize a preferred seating option when you join a table.
PaiWangLuo software frequently operates at a high level, although a few issues have been present from time to time. This has led to some players not being able to connect to their preferred table.
While many online poker sites provide you with a huge lobby of games to select from, Bovada Poker works things differently. You choose the type of game you would like to play – cash or zone – the type of card game – Hold'em, Omaha or Omaha Hi/Lo – whether there is a pot limit or not, and the number of seats at the table.
The left-hand side of the software provides a menu for you to navigate between cash games, zone poker, jackpot sit and gos, standard sit and gos or tournaments. Once a table loads up for you, the graphics are undoubtedly very impressive, and you can access up to four tables in one go.
The poker client can be accessed through either a Windows PC or an Apple Mac, with download and instant play versions available. When it comes to mobile gaming though, only the instant play option is accessible. There isn't a downloadable mobile app available at Bovada Poker, so if playing by mobile, you just need to navigate to the site through the handset's web browser. Bovada was actually one of the first platforms to provide real money mobile gaming in the United States. Zone games and cash games can be played this way, but there are limitations when compared with the desktop client.
Key essentials that are left out in the app are tournament and SNG support and multitabling support. For this reason, our recommendation for use of the mobile version is Zone Poker where you don't have to wait for new hands to be dealt, even if you're playing just a single table.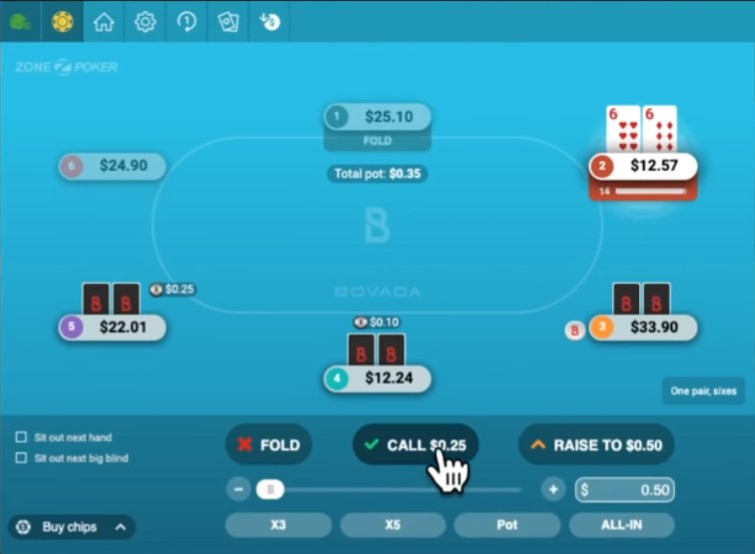 Traffic Overview and Games at Bovada Poker
When it comes to the competition for poker traffic, Bovada consistently wins out, operating as the #1 choice for many US gamers.
Of course, the effects of Black Friday did manage to knock out a lot of competition from the US market, and it seems like Bovada has gained a lot from this. Over the past few years, it can be said that the online poker room has grown considerably in traffic levels.
It helps that traffic on the PaiWangLuo network comes from Ignition and Bodog, making it one of the largest offshore networks in the world for US players to enjoy.
Difficulties do come when trying to report on specific numbers though, because Bovada no longer provides a list of cash games within its lobby. Therefore, it is near impossible to figure out how many cash players and tables are actually active at any given time. Furthermore, the site does not have any details on the total player count anywhere to see.
Peak traffic times at Bovada Poker seem to be between 7pm through to midnight EST, with Fridays and Saturdays drawing more people in. Anyone looking for plenty of competition will likely want to visit the online poker site on Friday night to experience this.
Figures from before Bovada introduced anonymous tables displayed it as being the third most traffic-heavy of any poker room in the world, and in the prime position within the US. In fact, it had around double the traffic of its nearest competitor in that market.
Of course, the anonymous tables have a lot to do with this being kept secret. Jackpot tournaments do fill up quite fast though, and games tend to only last for a few minutes. Less popular tournaments tend to bring at least 200 players, while the larger ones often experience traffic of around 900 – 1,000 tournament players. Bovada Poker is not the optimal choice for high stakes players, as the higher limit tables don't run that often.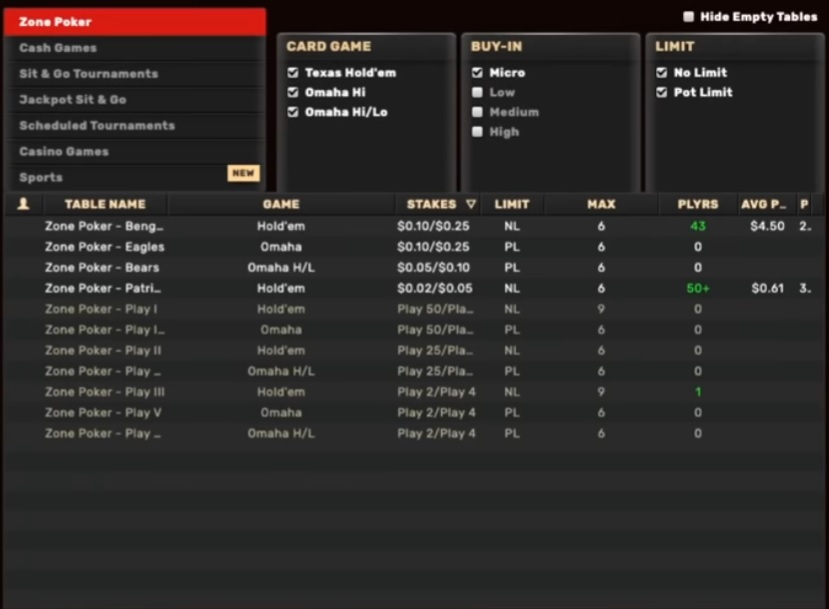 Bovada's Zone Poker is fast-fold cash game format for US players
For action lovers, Bovada Poker's version of fast-fold called Zone Poker can be quite addictive. As soon as you click the 'Fold Now' button, you will dealt a new hand at a different table, making waiting time minimal while you play. Limits up to $1/2 are running during peak hours at Zone Poker. This format is great in terms of bringing you some of the fastest action available in the online poker world.
Bovada Poker Tournament Schedule
The tournament schedule has a little bit of something for everyone: Guaranteed tournaments, satellites, turbos, bounty tournaments and so on. Bounty tournaments on Bovada Poker are called Knockouts, where approx fourth or third of the buy-in becomes a prize for knocking out a player. The good thing about Knockouts is that you can win your buy-in back even if you don't reach ITM by simply eliminating multiple players.
During the peak hours, you can find several tournaments win buy-ins between $3-100. Most of the tournaments don't have any rebuy or add-on options which is great news for old school poker players.
The biggest guaranteed prize pools in tourneys are naturally on Sundays. Highlights of these gtd MTTs include the $100k gtd, $50k gtd and $30k gtd turbo deepstack for buy-ins of $150, $250 and $50. These numbers might not be as high as on competing US poker sites like Americas Cardroom, but you can indeed win a nice pile of real cash if you make the final table.
Can You Use Tracking Software Such as HUDs?
Everything occurring at Bovada Poker is completely anonymous. Therefore, HUDs have been totally eliminated from the poker room. In fact, Bovada has had anonymous tables in effect since it was introduced to the US market in 2011. They don't provide table stats in the lobby anymore, which helps to keep bumhunters from attacking the weaker players.
Players can experience games at this site without the threat of being tracked by HUDs. This spans the entire range of games – cash games and tournaments alike. Everyone at a table is seen solely as player 1, 2, 3, 4 and so on, depending upon the number of players at the table. Leaving a table and visiting another one provides you with the same sort of experience. You're still anonymous.
Everyone is essentially placed on a level playing field when gaming at Bovada due to this. It works out ideally for beginners who no longer need to fear being tracked by gnarly sharks. Of course, if you are a player who likes to make use of a complicated HUD and figure out who your biggest competition is etc. then Bovada stands out as not being the ideal network for you to access.
How Much Rake and Rakeback is at Bovada Poker?
It was in 2017 that the Bovada poker room followed in the footsteps of other online gaming sites, increasing the maximum poker table rake. This saw it increase to $4 from the previously in-place $3. Of course, this had a small impact on player win rate, albeit a consistent one. At the same time, those players who can be considered as small fish and also break-even players tend to lose even quicker due to this. That's quite the bad thing for a site that doesn't have much appeal for high-rollers.
Today, rake is collected at $0.01 for every $0.20 in the pot, rather than $0.05 per $1 as it was prior to 2017. The maximum rake also adjusted on heads-up tables from $0.50 to $1, with changes also being experienced on pot limit and no limit tables. Stakes higher than $0.10/$0.25 on these tables changed from the aforementioned $3 to $4.
Bovada Poker is not so great when it comes to poker rakeback, though. Alas, it doesn't seem to be that concerned over attracting rakeback clients to its platform. While the increased win rate at the site will likely make up for the lack of rakeback in place, there is also the inclusion of VIP points which equate to roughly 3% in rakeback.
This Bovada Rewards System was altered in 2019, and every time you contribute a dollar of rake, you earn 15 rewards points. You also get 1.5 points per dollar of buy-in with jackpot sit and gos, and 15 points per dollar of fees paid to enter tournaments. You then ascend through different levels, with six grades on hand and three levels for the middle four of them. These are:
Starter –
0 points required
Rookie –
Level 1: 2,500 points required
Level 2: 5,000 points required
Level 3: 10,000 points required
Pro –
Level 1: 25,000 points required
Level 2: 40,000 points required
Level 3: 60,000 points required
All-Star –
Level 1: 150,000 points required
Level 2: 250,000 points required
Level 3: 500,000 points required
Legend –
Level 1: 1,000,000 points required
Level 2: 1,500,000 points required
Level 3: 2,500,000 points required
Hall of Fame –
5,000,000 points required
All levels and grades base themselves on lifetime points acquired, and different levels come with different reward points redemption rates, ranging from 2,500/$1 to 1,000/$1.
This rewards scheme seems to be in place instead of players being able to benefit from rakeback at Bovada Poker, which makes Bovada a bit different compared to most online poker sites.
Is Bovada Legal: Restrictions at Bovada Poker
Anyone accessing the Bovada poker rooms needs to be above the legal age limit for gambling within their home state. It is also the case that players need to be legally allowed to gamble, too.
You will also be restricted from signing up for an account at Bovada unless you are based within one of the following countries:
United States of America, Argentina, Bolivia, Brazil, Chile, Mexico, Peru, Venezuela
Players based in certain US states are also restricted from signing up to access poker at Bovada. They are:
Delaware, Maryland, Nevada, New Jersey, New York, Washington.
Promotions and Campaigns at Bovada Poker
Bovada Poker really does want to ensure that players have plenty to benefit from, which is probably why it hosts so many tournaments. Other than the welcome bonus, it can be said that bonus promotions and the like are fairly thin on the ground. This is most likely why the range of tournaments stands out like a sore thumb.
The Monthly Milly, as its name suggests, occurs every single month and gives players a chance to win part of the $1 million prize pool from a single event. A seat at a table can be bought for $535 or you can also qualify via numerous satellites that take place every day throughout the year, starting as low as $1.10.
Turbo tournaments are also on hand every day, with blinds increasing every few minutes. A range of starting chips can also be selected from. These include the $3,000 Guaranteed Turbo SS, the $2,000 Guaranteed Super Knockout Turbo and the $10,000 Guaranteed Turbo SS.
One of the largest draws for Bovada Poker is the Weekly Guaranteed Tournament, with $150,000 on offer every Sunday. Taking place at 4pm EST each week, a first-place payout in this tournament rewards you with $20,000. You can enter this by registering for a cheap seat, utilize your poker points, buy-in directly or even qualify for as little as $1. This is great news for casual players who want to try their hand at the bigger tournaments.
Should you be a high roller, you can enter into the $100,000 Guaranteed tournament, which is another weekly event. Buy-in directly to the tournament for $300 + $25 or win your way in by qualifying through satellites for $5 + $0.50.
Bovada readily boasts about its $2 million in weekly guarantees, with games to fit all kinds of playing style.
Are there other games than poker at Bovada?
Similarly to other big poker sites, Bovada has many games to choose from besides poker. Bovada Casino, Bovada Sports and Bovada Racebook are available to all players. New sports bettors can enjoy a 50% up to $250 bonus deal automatically without entering any bonus codes, or 75% bonus up to $750 if they opt to make a Bitcoin deposit. The terms and conditions are identical for using the bonus whether you use it at the racebook or for sports betting. Wagering requirements for the deposit and bonus money is 5x before you can make a withdrawal.
At Bovada Casino, you can grab a 100% match bonus up to $1,000 giving you plenty of chips to play with. Bitcoin-only offer for Bovada casino players is 125% match bonus up to $1,250 bonus reward. Deposit and attached bonus must be rolled over 25x in the online casino games, with slots giving you 100% percentage contribution to the rollover requirements. Sizable reload bonuses are available for BTC users as well.
Now back to poker – here's a good video review including gameplay at Bovada if you want to see how the action looks like & how their software works:
What others have to say about Bovada
Online poker players have written tons of comments about Bovada on various internet forums. Based on most comments, players think Bovada is a trustworthy poker site for Americans. Of course, there were some negative comments as well. Here's a few player comments we found online:
''It's the same thing as Ignition which is the best site to use in the US so yah. I play on Bovada and I think it's great''
-qylr on Reddit
''Yeah it's great, and they accept Bticoin. I also recommend buying holdemindicator.''
-hopscotchkingon on Reddit
''Sometimes MTT lobbies seem to take forever to update, which isn't generally a problem except in satellites. Anybody know of any trick to get them to update? I've tried keeping them open, closing them, minimizing them etc.''
-trangers on 2+2
''Should I be worried with bovada withdraw? In the past it has taken me 2-3 weeks to get my check, then it takes like upwards of 1 month for my bank to process it. That was when I cashed out like $1500. I'm going to be cashing out ~9k over the next few weeks – should I be worried?''
-pete9x on Reddit
''I downloaded two apps on my phone, had my money in my bank account 48 hours later with visibility the whole way. Not only that, but they also gave me a $200 bonus + offered priority assistance and a direct contact for any future withdrawals. Checks are limited to $3,000 each and they charge $100 per check after the first one. Go the crypto route and you'll have all $9,000 within 48 hours and they will hand hold you through the process.''
-Botboy141 on Reddit
Depositing money at the Bovada Poker site is an easy process to undertake. A set of standard supported payment methods are on hand for you to take advantage of, including:
The fact that Bovada has such a high level of support for cryptocurrency transactions will likely appeal to many players. The four supported digital currencies are some of the most popular in this area. Of course, if you're more of a fan of traditional payment methods, cards and other options are clearly available to use. Withdrawing money from the Bovada site can be done through:
The cryptocurrencies once again stand out here. They do offer a speedy deposit and withdrawal service to players. Of course, if you don't use these options, you will have to resort to the Check by Courier option, which takes longer to complete. Bovada covers the fee for the first non-Bitcoin withdrawal occurring every 90 days. Any others within this timeframe cost $100 for withdrawal fees.
Transactions through the different digital currencies or through vouchers are free of charge. All cryptocurrency transactions usually complete quite instantly, but will only take up to 24 hours at a maximum. Check by Courier withdrawals take approximately 10-15 business days once you have gone through the initial 24-48-hour processing period.
"An effective online website and easy-to-use software, despite its occasional connectivity issues. Great for beginners and those who prefer anonymous poker game play. Lack of rakeback won't work for some gamers, and the decision to have minimal high stakes options may mean that Bovada isn't the right platform for high rollers. Traffic levels remain at the peak of the US market though, and it's great that it accepts cryptocurrency transactions so readily. Long withdrawal timeframes for anyone not using cryptos will likely turn some people off, on the other hand."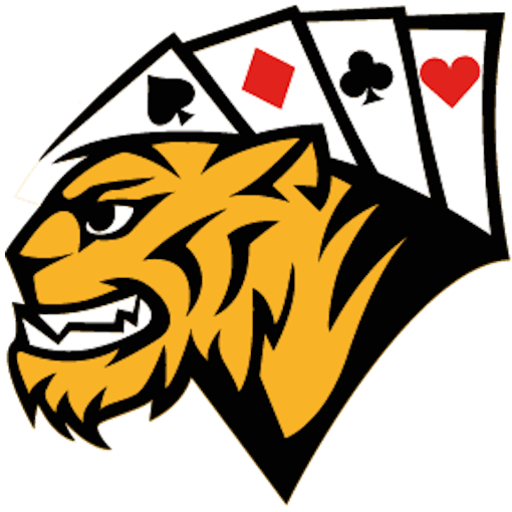 Editorial team curates and publishes in-depth reviews and ratings of online poker sites by using their extensive industry experience. Content is created by both in-house team of experts and outside authority contributors.
Anyone accessing the Bovada poker rooms needs to be above the legal age limit for gambling within their home state. It is also the case that players need to be legally allowed to gamble, too.
You will also be restricted from signing up for an account at Bovada unless you are based within one of the following countries:
United States of America, Argentina, Bolivia, Brazil, Chile, Mexico, Peru, Venezuela
Players based in certain US states are also restricted from signing up to access poker at Bovada. They are:
Delaware, Maryland, Nevada, New Jersey, New York, Washington.