Best Poker Training Sites
LEARNING EXPLOITATIVE STRATEGY
In case you're searching for the best poker training sites that will help you climb the stakes fast, you're not alone. Thousands of players are in your shoes, and are faced with dozens of options – it's pretty hard to choose which one to go with! Luckily we have compared the different options available, and this post was written to present you with a list of the best ones. Besides having catchy names, the best poker training sites can take your poker game to the next level in 2020. The training sites included in this article can help players who are occasional tournament players but want to start winning, full-time poker players looking to move up in stakes or anywhere in between.
Long gone are the days when people who were committed to making it as a professional poker player had to learn new poker strategies by learning just from their own experiences. First it was poker books and strategy articles on magazines, then online poker forums and after that video training content on both poker training sites and live streams on Twitch. Nowadays popular poker legends like Daniel Negreanu, Phil Ivey, and Fedor Holz have their own Masterclass poker courses. Tactics on how to crush poker tournaments or cash games can be learned online. Immersive poker learning experiences are just a few clicks away if you happen to have a computer or smartphone with an internet access.
Even if you're not particularly talented in the psychology of the game or the math side of it, accessing the proper training will help you develop your skills on your way to becoming a true crusher or even a poker pro, going from Zero to Hero. Or, since you're reading our review, shall we say from a pet to a true poker beast! Now what you need is courses and training videos from the best poker coaches available in your chosen game format, with content that is specifically designed for your current level of buy-ins, whether that is micro stakes or high stakes.
What are the Best Poker Training Sites in 2021
The poker training sites presented in our review are not necessarily in any particular order. If you choose to go with any of these poker training programs and really put effort into studying their materials, you're very likely to increase your poker edge & get better results fast. 
Let's get started – here they are:
Why did we choose these particular five? When you're trying to find out what is the best poker training site, there are a bunch of ranking factors you should consider. Based on our experience, the following criteria are what make a poker training site a great choice:
Do the instructors have a proven track record of winning in their main game format
Are the poker training program materials & videos produced with quality
Do they provide testimonials from real students
How often they update their poker courses
Scroll down or click any one of the training sites to read all the essential details on each poker training site & what specific game types and topics they cover.
Our team first came across BluffTheSpot's video series on YouTube, as they happen to post quite advanced poker video training materials there, for free. We wondered if some of that free poker training content and information should really not be available openly. Out of curiosity, we wanted to see how good their paid poker courses are as the free ones are something the majority of players could as well pay for. It turned out, these guys know their stuff – and there is a logical reason behind it, as we found out!
The head coach for BluffTheSpot is MMASherdog. In case you haven't heard of him, he is one of the biggest high-stakes No-Limit Texas Hold'em winners on PokerStars, winning over $1M in 2018. He can be regularly seen at the highest stakes online  battling it out with the sharpest minds in No-Limit Hold'em. It's hard to find poker coaches with his skill level. Now, which other poker training site can say that they have a head coach who is still pretty much at the peak of his poker career?
The motto of BTS is 'Dedicated To Fuel Your Poker Success'. They have plenty of coaches with great results in online poker, such as mnl1337, Runchuks, RunLikePanda and many others. You can choose whether to study their courses independently or to join their Coaching For Profits program, where you not only have the access to their poker training materials & resources but also to 1-on-1 coaching, group coaching sessions and a library of over 300 poker coaching recordings from the past with thousands of hand histories analyzed. 
If you're looking to become a winning player at the low stakes poker games, BluffTheSpot Lab has everything you need. For advanced Texas Hold'em cash game players, High Stakes Course from MMASherdog can help you take your game to the next level. Alternatively, you can apply to their staking program if you're currently playing at buy-in levels between NL10-NL200 and are willing to work hard to crush bigger stakes in Texas Hold'em cash games.
BluffTheSpot in a nutshell
Best suited for:
NLHE or PLO cash game players
Student testimonials:
'MMASherdog's poker training content is set up in a nice, clean structure. He's very strong theoretically, but what's more important is that he can also put it into words nicely. I picked up some important concepts that you need to know from the first couple videos and am looking forward to the rest of his series!' – Steven 'SvZff' Van Zadelhoff, Winner of WCOOP 2017 Main Event
'MMASherdog is one of the top 10 online cash game players in the world at No-Limit Texas Hold'em. He articulates his thought process very well.' – 'NLZWERVERNL', High-stakes online professional
'MMASherdog has been one of my toughest and most consistent opponents over the past few years. Poker content has never been produced from a player of his calibre before. This poker course should be a solid investment for aspiring players on their quest to the high-stakes tables.' – 'Bit2Easy', High-stakes online professional
Where to sign-up:
To sign-up for BluffTheSpot poker training courses & materials, just click here.
Follow a Clear Path Proven By Hundreds of Winning Players
Overwhelmed by the huge amount of bad poker training videos online? Get well-selected strategy videos every month, instant feedback from personalized quizzes and join a community of highly motivated players & top-level coaches.
In case you watch any poker videos on YouTube, it's pretty much impossible that Doug 'WCGRider' Polk hasn't popped up on to your screen at some point with his humorous but on-point videos. As a founder of Upwsing Poker and a content producer, Doug Polk is the perhaps the most visible character of this poker training site. He is a former high-stakes HU crusher in Texas Hold'em and he's become somewhat of a poker celebrity in the last few years. Doug teaches some of the courses at Upswing Poker, such as the Advanced Heads Up Mastery. Another co-founder of the site is Ryan Fee, who produced the legendary poker guide called '6 Max NL Strategy Guide' back in the day. Since their launch in 2015, Upswing Poker has grown into a pretty large business and they have signed more coaches such as Alex 'Kanu7' Millar, Matt 'Checkmate' Colletta, Andres 'Educa-p0ker' Artinano, Jake Abdalla, Nick Petrangelo, Kane Kalas, Chris Wehner, Dylan Weisman, and many others. The coaches of Upwsing poker write and publish also free poker strategy articles regularly.
While Upswing Poker has a variety of courses available, their main product is the Upswing Poker Lab. Upswing Poker Lab is an Texas Hold'em membership course that has comprehensive sections for each area of the game. In our opinion, it's suitable for both beginners and winning poker players as long as they know the poker rules. Although there's no free trial, you can try the Lab risk-free with 30-day money-back guarantee. The content of the Upswing Poker Lab gets fresh updates each month. The lab can be broken down into 6 different modules:
Module 1: Lab Core Strategy
Module 2: Advanced Lab Strategies
Module 3: MTT's (Multi-Table Tournaments)
Module 4: Live Poker
Module 5: Mini-Courses
Module 6: Plays And Explains
One of the best poker training tools included in Upswing Lab is the hand range viewer. Using this learning tool you can check which hands you should be playing from a particular starting position. This means no more guesswork during your pre flop decisions! A Pot-Limit Omaha version called PLO Lab available for everyone who prefer being dealt four cards instead of two.
Other popular courses available on Upswing Poker include:
Crush the Baron: As the name suggests, Crush the Baron course breaks down the strategies of one of the greatest 6-max cash game players of all time, namely OtB_RedBaron. The course is taught by Andres 'educa-p0ker' Artinano.
Advanced Heads Up Mastery: Heads-up poker strategies and tactics are explained step by step by Doug Polk in this Upswing Poker course. One of the most advanced HU courses available online.
Advanced Cash Game Strategy with Kanu7: This massive poker course contains over 36 hours of content from Kanu7. Alex 'Kanu7' Millar has been one of the biggest winners in high-stakes cash games in recent years. He developed an elite level cash game course together with Upswing Poker. Inside the course, you can find the 286 preflop solutions Kanu7 uses in-game, obtained from his personal poker solver for calculating game theory optimal plays.
Play Like LLinus: This Upswing Poker course is basically a follow-up course on Advanced Cash Game Strategy. The poker course is a compact one with 4 hours of video content teaching you the strategies of Linus 'LLinusLLove' Loeliger who is generally regarded as the end-boss of 6-max Holdem cash games.
Short Deck Course: Short Deck Poker is a popular game format among Asian players. The training content inside this course is produced by Kane Kalas. a high stakes player who has battled it out in some of the biggest games available online. The course will help you develop a winning approach and skills needed to crush 9 and 6-handed as well as HU short deck tables.
Upswing Poker in a nutshell
Best suited for:
NLHE, PLO, 6+ and Mixed games cash game players, MTT players
Student testimonials:
'Overall, I rate it 9/10. Unlike Cardrunners and RunItOnce, there isn't a bunch of random content by random people with various strategies sprinkled in. The poker training modules are highly consistent and comprehensive, which is exactly what I was looking for. The best part of the Upswing Poker training program is that you get access to the Facebook group, and get to discuss whatever you want, and guys like Fee and Joey Ingram actually participate and answer some questions of students.' -TheMicroDonk
'If you think your basics need a brush-up, or perhaps you're curious about what Upswing Poker Lab could bring to your poker game, by all means check out their poker training course! If you're a grizzled veteran, in order to prevent yourself from feeling like you're treading water in a sea of poker training content, I suggest that you aim for some of their more specialized cash games and mtt training materials.' –W. Shillibier
Where to sign-up:
To sign-up for Doug Polk's Upswing Poker training courses and materials, just click here.
Want to be the best poker player at the table?
Get professional, systematic & dublicable poker strategy that delivers world-class results. With 30-day moneyback guarantee.
If you play poker tournaments, Raise Your Edge should be your number one choice for an online poker training site. Their head coach Benjamin 'bencb798' Rolle is one of the biggest online MTT winners in recent years, winning poker tournaments both online and on the live felts. He has shipped trophies like $1.1M in WCOOP 2016 SHR and made deep runs in events like WSOP Main Event online. Patrick Leonard has said that bencb is likely the best tournament poker coach in the world!
The flagship tournament course of Raise Your Edge is called The Tournament Masterclass, which includes a structured study plan, bencb's personal range charts and over 20 hours of content in the Apprentice Class version. If you purchase the Expert Class version, you'll gain access to over 50 hours of poker training content and exclusive VIP discord channel with bencb. This MTT training course jumps directly into pre flop range analysis, and almost every situation imaginable is covered here in an interactive format: What to open from each position, how to continue against 3-bets and 4-bets. The MTT course is being updated continuously so you will always be aware of any new poker strategies for tournament poker. In addition, you will get access to the range viewer built by RYE, which can come very handy in analysing different spots.
To get the full benefit from a RYE Tournament Masterclass, you should already have an intermediate level of poker knowledge about multi-table tournaments. That means you should be familiar with concepts like hand ranges, ICM, hand reading, pot odds etc. before buying this top poker course.
Other popular courses available on Raise Your Edge include:
Live Cash Mastery: This course is created specifically for live play, covering topics like pre flop strategies, how to play versus all types of opponents, isolating and overlimping, playing deepstacked and many more.
Bounty Beast: Since online poker tournaments with bounties have become wildly popular, having an advantage over players who are merely guessing the correct plays can put lots of profits in your pocket. The training course is compiled from poker solver work and analysis from coach 'w3cray', covering theory on bounty & knockout tournaments, math and tools and hand reviews in practice. This course is a great choice for improving your tournament play with bounties.
Raise Your Edge in a nutshell
Best suited for:
MTT players, Live Cash Game players
Student testimonials:
'I bought RYE when I was fairly new to poker in general, especially online poker. After the first three training videos, I immediately noticed I was doing much better in the fields. Their range viewer is an amazing learning tool for improving your skill level, used by experienced regs and beginners alike. It's truly a site that can fulfil needs for all types of poker enthusiasts and deserves the place among the best poker training sites 2020 available – Bravo!' -T. Torrim
'Do you want to improve your poker skills? Do you want to feel as if you were the top poker player at the table, every time you sit down? It took me from you average small to mid-stakes player, doing ok, to someone who is now competing at the highest stakes against real beasts – thanks to bencb and the whole RYE team for the incredible training content!' –Jaime Staples, partypoker Team Pro
Where to sign-up:
To sign-up for Raise Your Edge poker training courses and materials, just click here.
Take Your Game to the Next Level
For bencb798 poker was a way to live a life of freedom and pursue his passions. If you're serious about achieving your poker dreams and winning tournaments, getting elite MTT content is your best choice without a doubt.
Run It Once is a training site founded by Phil Galfond. Many old school Pot-Limit Omaha players have learned their first lessons of PLO from Galfond's videos on Bluefire Poker. Galfond is basically a legend among PLO poker community and has amazed the poker world with his results timer after time. Nowadays he can be seen battling it out on The Galfond Challenge against some of the best poker players in the world, playing Omaha at nosebleeds stakes of course.  RIO is ranked as the top paid poker training program by Poker News, a trustworthy poker industry publication. The quality & quantity of their instructors is quite astonishing, including names such as Ben Sulsky aka Sauce123, NovaSky, Jeans89, Jason Koon, Stephen Chidwick and our very own BeastsOfPoker ambassador Joni 'bustoville' Jouhkimainen.
The memberships of RIO are divided into three different levels: Basic, Essential and Elite. When you join RIO with the basic version which is free, you get full forum access to their poker forum. We recommend reading through the answers & comments on RIO forums – the free poker content posted by both coaches and members has some pretty valuable information for serious grinders. On the Essential level, you get 5 Essential videos per week and access to the Essential Library which contains 1533 poker training video clips. On the Elite level, you get access to 9 new Elite videos per week and to the Elite Library containing 2405 poker training videos from some of the best coaches you can find. First 2 minutes of each training video can be checked out free before you make the purchase decision. Their video content can be watched also through the RIO app in case you want to study poker with your phone or tablet.
For low stakes players, the recommended choice is the Essential level. The Elite level in turn is targeted towards high-stakes players. RIO gives great value for all players who are already good in their poker fundamentals and are looking for ways to improve their game further in specific areas of poker.
Run It Once in a nutshell
Best suited for:
NLHE, PLO, 6+, Mixed games, OFC and LHE cash game players, MTT players
Student testimonials:
'The most important part of the training program is the Forum. A lot of really good people are going to help you. And despite the fact, that you are a micro or low stakes player, they give you the best advice according to the limit you play online poker at. On the other hand, there are so many things that you can learn from a poker player who plays higher stakes. You learn how to think in ranges, how to use the right betsize etc. Bluffing frequencies and balancing and all that stuff, you simply don't have to use it on the lower limits. That simple it is!' –Zoty79
'There may not be many training videos of below 50NL, but watching low to mid stakes videos is just as valuable, if not more. Felipe, and Simon Couling have done plenty of <100NL videos. Go check them out. If they can get me from 10NL to 1000NL, anyone can do it!' –Chael Sonnen
'Run It Once, turned me from playing 4NL to 400NL. I think it's definitely worth it. Knowledge is power. Use it wisely~' –Mushmellow
Where to sign-up:
To sign-up for RunItOnce poker training courses & materials, just click here.
Advanced Poker Training is basically like a virtual personal trainer in poker, as it trains you to play poker hands against computer opponents. This way the training software will allow you to get real-time advice and feedback on your decision-making and point out potential improvement areas in your game. You can even choose the type of players you have most trouble with, and set the poker trainer to include AI opponents with that style. For example, if you have trouble playing against maniacs, just set the training to include that kind of opponents, and you will learn how to beat them in no time!
The trainer is started with a screen that allows you to adjust the different factors of the table, after which you move on to the table to start the training. The trainer has weekly reports to follow how your game is progressing, and personalized training plans to point out which areas still need more focus. By upgrading to the premium account you get access to many training options of value that are not available in the free version.
During the poker training, you can always click the 'brain-button', which opens the thought process of your advisor for the current spot you're facing. This comes handy in tough situations where you're not quite sure what the optimal play is. Advanced Poker Training is an excellent choice for players who want to learn poker by doing, and who want to exploit various types of opponents at the online poker tables. You can learn the correct adjustments against various player types pretty quickly with their poker training software.
Coaches of APT include names like Mike Caro, Jonathan Little, WSOP 2016 Main Event winner Qui Nguyen, Scott Blumstein, Ed Miller, and Alex Fitzgerald aka 'Assassinato'. Jonathan Little produces courses for other poker training sites as well. A good example of such a course would be 'Cash Game Master Class'. Ed Miller has produced poker training material for Red Chip Poker crash courses and written several poker books that have taught Texas Hold'em strategies to thousands of players all over the world.
Advanced Poker Training in a nutshell
Best suited for:
NLHE cash game players, SNG players, MTT players
Student testimonials:
'It's not a perfect simulation, but I really like that you can practice particular spots with repetition. After I lost a couple live pots recently with AK, I went in there to play AK hundreds of times in a row just to get more comfortable with how to make decisions in different spots with AK. Similarly you can set it up to practice a ton of hands OOP. … or only with small pocket pairs… or only with suited connectors.' –MattP
'This is a great tool to just try different moves. One thing I like to do is to play every single hand (not using the deal only playable poker hands), just to get myself into some tough situations. Just play a bunch of hands, use the advice feature, use the session reports to see where you're making mistakes, and really put some thought into those mistakes to figure how you could have done better. Even studying a single hand history for 10 minutes can have a great impact on your overall game.' –bigburge10
Where to sign-up:
To sign-up for Advanced Poker Training courses & tactics, just click here.
What is the best poker training site for Pot-Limit Omaha
Very few training sites focus exclusively on PLO4 or PLO5. There is one PLO membership course that stands above others called PLO Mastermind. PLO MM is our preferred choice for learning Omaha cash games or tournaments.
Some of the online poker veterans have lived the days when it was enough to raise preflop and take down the pot with a c-bet to print money at the full-ring tables. Unfortunately, those days are long gone. Reading a poker book or two and playing an ABC game learned on a poker forum isn't going to cut it anymore. Working in a structured way on your poker game is a must if you want to become a winning poker player. The most efficient way to do that is signing-up to a poker training site and studying their materials prepared for your preferred game format. These training materials will help you rise in stakes and win more at both online tables & when playing live poker at your local casino.
Most of the monthly memberships cost around $30-99 per month. Increasing your poker edge doesn't have to be that expensive after all! If you want long-term success, utilizing the best poker training sites is highly recommended. Get started today – happy training and see you at the tables!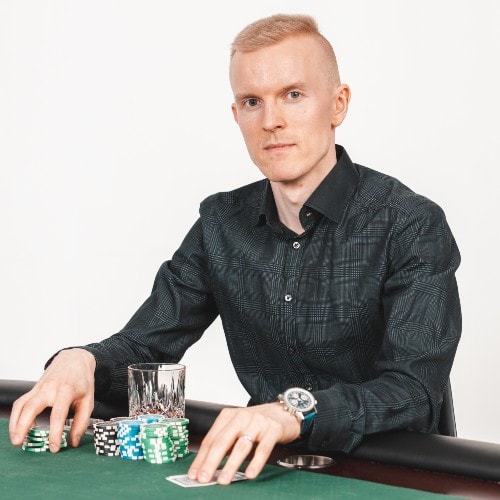 Johannes is the Editor in Chief at Beasts Of Poker and is an expert in both live & online poker. Johannes played online poker semi-professionally for 5 years while completing his Master's Degree in Technology.