Finding a truly unique poker app is difficult. Even though poker's popularity has soared in recent years, you'll rarely find an app that offers a one-of-a-kind experience. Enter Beluga Poker.
A new app, Beluga allows you to win real money, any day of the week, at no cost. It runs tournaments every day, offering enticing prize pools of up to $50,000. Participating in these turbo tournaments is free, as you don't need to pay for any entry fees.
The most exciting part? You can play a mini-game on Beluga Poker called Whale of Fortune. In this format, you play a three-handed game with two other players. The winner of game gets to spin the wheel with four different prizes: $100, $500, $5000, and $1,000,000. A whopping million for winning the Whale of Fortune!
As Andrew Shore, Beluga's founder, stated in a recent interview, the idea for the app was inspired by Trivia HQ. Founded in 2017, HQ app allowed users to play for free, with the winners walking away with life-changing amounts of money. The prize pools would sometimes be split if there were multiple winners of the trivia games. Players received multiple-choice questions, and they had 10 seconds to give a correct answer. As time passed, the questions became more difficult. Beluga poker follows a similar model to Trivia HQ.
Andrew boasts of a lot of experience not only in playing poker but also in developing apps. Back in the days, he was a high-stakes player, and he also co-founded Drafters, a leading online fantasy platform.
How does the Beluga app earn revenue?
The app has huge giveaways, and its players don't pay any entry money. In the world of online poker sites, Beluga's model seems too good to be true. But as Andrew notes, the app can sustain itself without needing any payments. It gets its revenue from the sale of extra lives, add-ons, and sponsorships.
What makes Beluga Poker different?
In 2006, the United States' Gambling Act banned online poker. Small steps have been made since then. The country's first-ever poker game became legal in 2013. States like Nevada, Delaware, and New Jersey legalized online poker in the following years, but still, many Americans can't play online poker, as a majority of states have brushed off efforts to lift the game's ban.
If you're an American poker player, you'll be glad to hear Beluga is legal worldwide. You can play from wherever you are, even in states that have banned Poker. Given you don't have to purchase any of the app's games, the app is not categorized as real-money poker. This means playing the game is within the law.
Navigating the platform is stress-free. After firing up the poker app, you'll be met with some tournaments and you can join them without having to complete many requirements. The tournaments are easily playable — you don't need to jump through hoops to start enjoying them.
Withdrawing money from the app is equally as hassle-free. You need to have a PayPal account so that the app can process your withdrawal request. Operators fund your app's account automatically after you win some money. You need a balance of more than $10 to start cashing out. The funds reach your PayPal in 2-3 days. To prevent fraud, Beluga may sometimes require you to send verification documents if you've won huge prizes.
Playing online tournaments can be tedious at times. Some live tournaments can run for the better part of the day, averaging between 8 and 12 hours a day. With more players taking part, you can expect an even longer running time. You'll often end up exhausted, both physically and mentally, after participating in online games.
Fortunately, Beluga offers daily tournaments that last for only a couple of minutes. Opening the app, you'll find games that only take between 20 and 30 minutes. If you're lucky enough to compete for the full 3 minutes, you'll most probably take the prize. Wheel of fortune, a mini-game that accompanies the tournaments, runs for a maximum of only 3 minutes. By the end of the 3 minutes, winners can walk off with tournament payouts up to $1,000,000.
Beluga Poker FAQ
What is Beluga Poker about?
Beluga Poker is a mobile poker app where you can play to win real money for free. The app is developed by Beluga Gaming Technologies Inc.
How to sign-up on Beluga Poker?
To start playing, just download the Beluga Poker app from the App Store or Google Play. Fill your details and phone number and you're ready to join a tournament!
Who can play on Beluga Poker?
Anyone over 18 years of age living in the US or Canada can play on Beluga Poker.
Is Beluga Poker legal in the US and Canada?
Yes, it's legal because all the games offered on Beluga Poker don't require any purchases to participate.
How long are the daily tournaments on Beluga Poker?
Daily tourneys on Beluga Poker take around half an hour to complete. The Whale of Fortune only takes a few minutes to finish.
Are the prizes on Beluga Poker real?
Yes, the prizes are real money and paid in Canadian dollars (CAD). The prize money comes from advertisements, tournament sponsorships and in-app purchases.
How to withdraw winnings from Beluga Poker?
Cash outs on Beluga Poker can be done through PayPal. The minimum amount for withdrawal is equivalent of $10.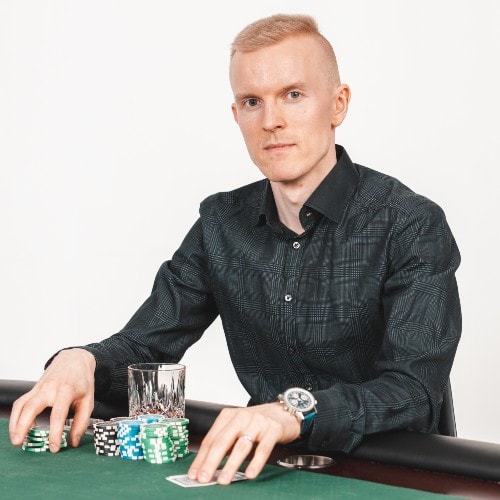 Johannes is the Editor in Chief at Beasts Of Poker and is an expert in both live & online poker. Johannes played online poker semi-professionally for 5 years while completing his Master's Degree in Technology.